These rich Malted Chocolate Brownies feature malted milk powder in the batter and chocolate-covered malt balls on top for a double dose of malt flavor.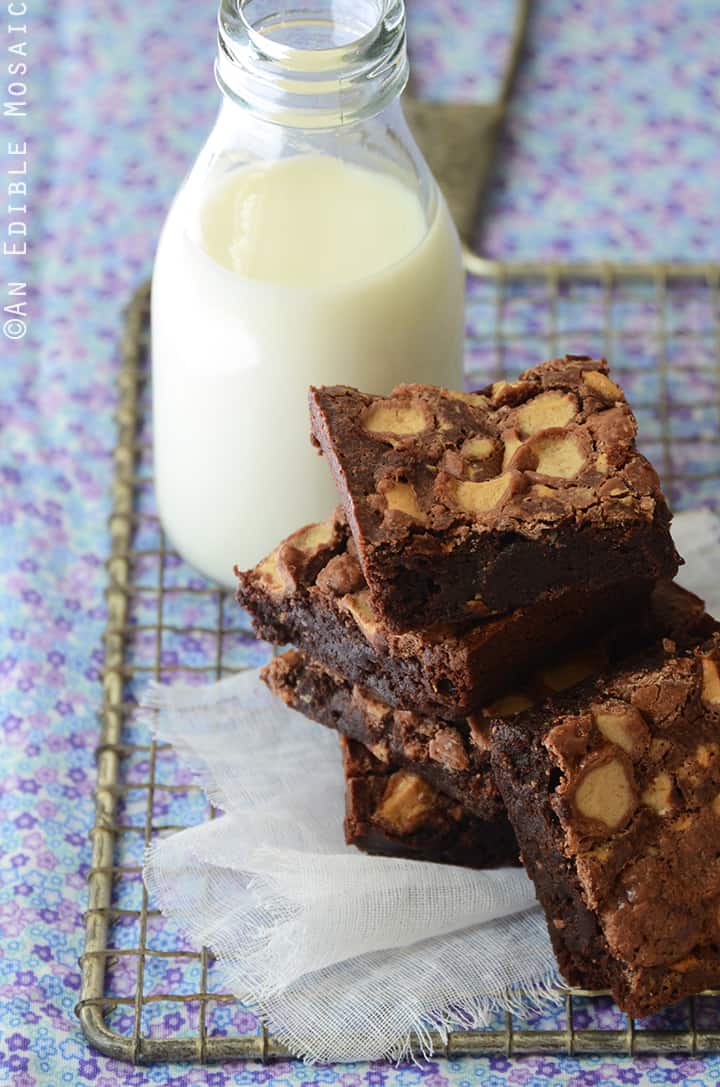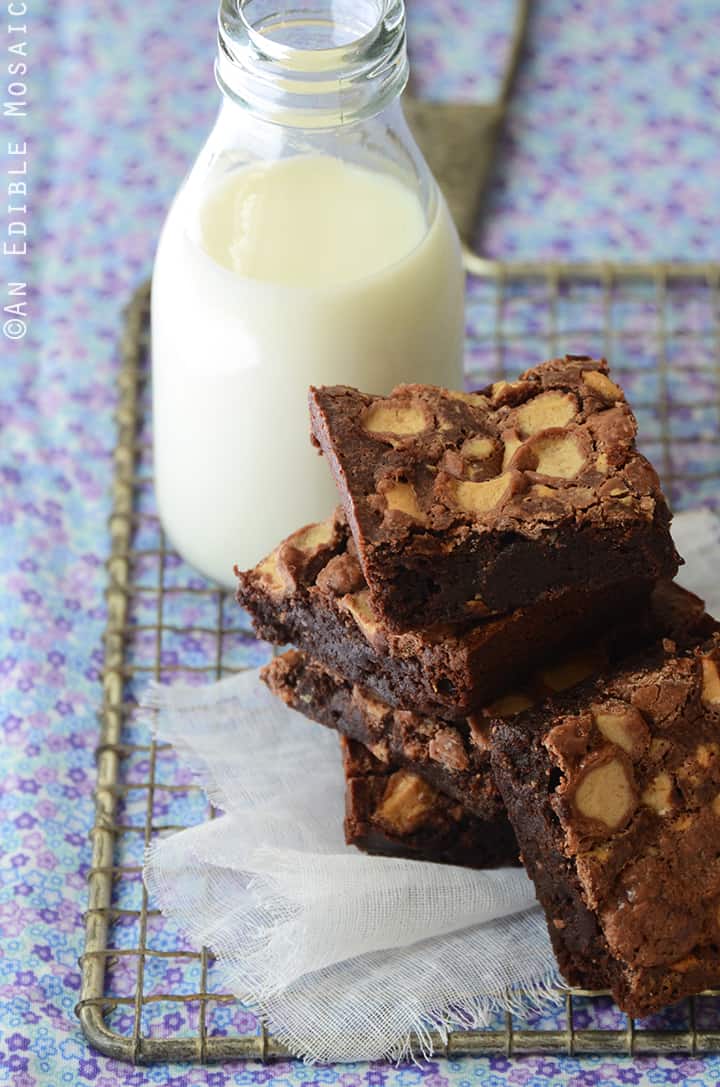 When we were kids, my mom used to tell my sister and I that I was born older. And I was secretly like duh, Mom, that's obvious…I'm the older sister.
But as an adult, I get what she meant: I'm an old soul.
I prefer a quiet evening at home with a few close friends rather than being in a crowded noisy place full of strangers. My perfect afternoon involves me curled up on the couch with a good book and a cup of hot tea. I'm perpetually cold since coming back from Kuwait last summer, so even in this crazy heat you'll usually find me dressed in layers, which I admit, is a challenge to pull off without looking frumpy, lol. And I tend to want to feed people like an Italian grandmother.
Especially when it comes to things like brownies.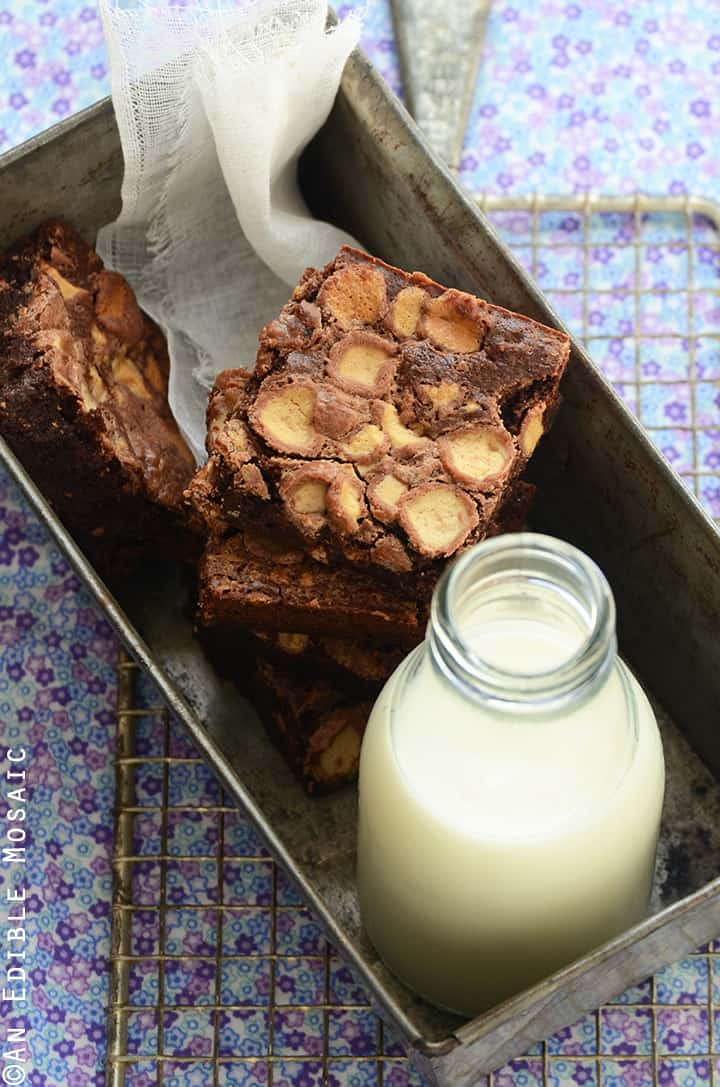 I adapted this recipe from Alice Medrich's recipe for Best Cocoa Brownies (because they are fabulous) from Bittersweet (Artisan; 2003), as seen on Food52. The malt flavor is a fun, somewhat nostalgic addition for me because as far back as I can remember, my mom loved chocolate-covered malt balls.
Mom, this recipe is for you.
Malted Chocolate Brownies
Prep time:
Cook time:
Total time:
Based on Alice Medrich's recipe for Best Cocoa Brownies, these rich, deep chocolate brownies feature malt flavor baked in and chocolate-covered malt balls on top.
Ingredients
10 tablespoons unsalted butter
1¼ cups (250 g) sugar
¾ cup + 2 tablespoons (65 g) unsweetened natural cocoa powder (not Dutch-processed)
¼ teaspoon salt
1 teaspoon pure vanilla extract
3 large eggs
4 tablespoons all-purpose flour
4 tablespoons malted milk powder
5 oz (140 g) chocolate-covered malt balls (such as Whoppers), coarsely chopped
Instructions
Preheat the oven to 325F; line an 8 by 8-inch baking dish with 2 pieces of parchment paper so that it hangs over all 4 sides.
Add the butter, sugar, cocoa powder, and salt to a medium saucepan over medium-low heat. Cook until the butter is melted, stirring frequently. Cool 5 minutes.
Whisk in the vanilla extract, and then whisk in the eggs 1 at a time. Whisk in the flour and malted milk powder.
Pour the batter into the prepared dish and then sprinkle the chopped chocolate-covered malt balls on top.
Bake until set along the outside, but a wooden pick inserted into the center comes out moist with a bit of batter, about 25 to 30 minutes.
Cool completely (preferably 8 hours or overnight) before cutting.
Notes
Recipe inspired by and adapted from Alice Medrich's recipe for Best Cocoa Brownies from
Bittersweet
(Artisan; 2003), as seen on
Food52
.