Peanut Butter and Jelly Bars feature the classic favorite flavor combination in a delicious treat that's perfect for snacking or school lunches.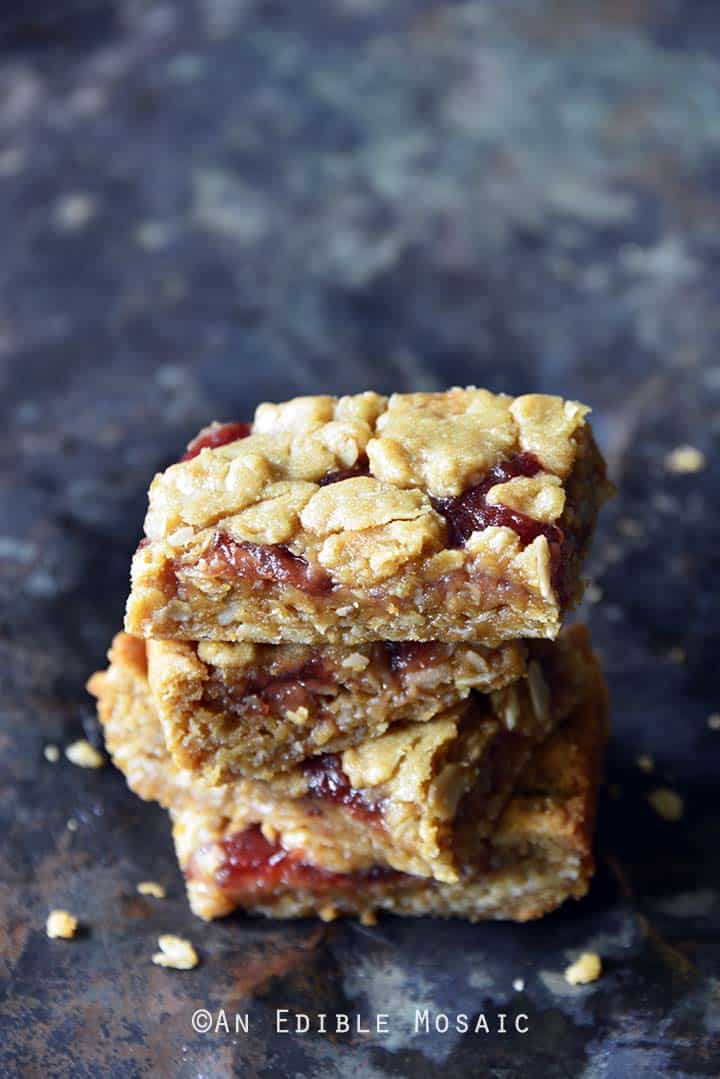 When it comes to keeping packed lunches interesting, the struggle is real. As a kid I remember getting bored with nearly every type of sandwich my mom packed. And I was bored within the first month of school starting!
But in my defense, the sandwich rotation was typically just turkey or tunafish, with the occasional pb&j thrown in if I was lucky.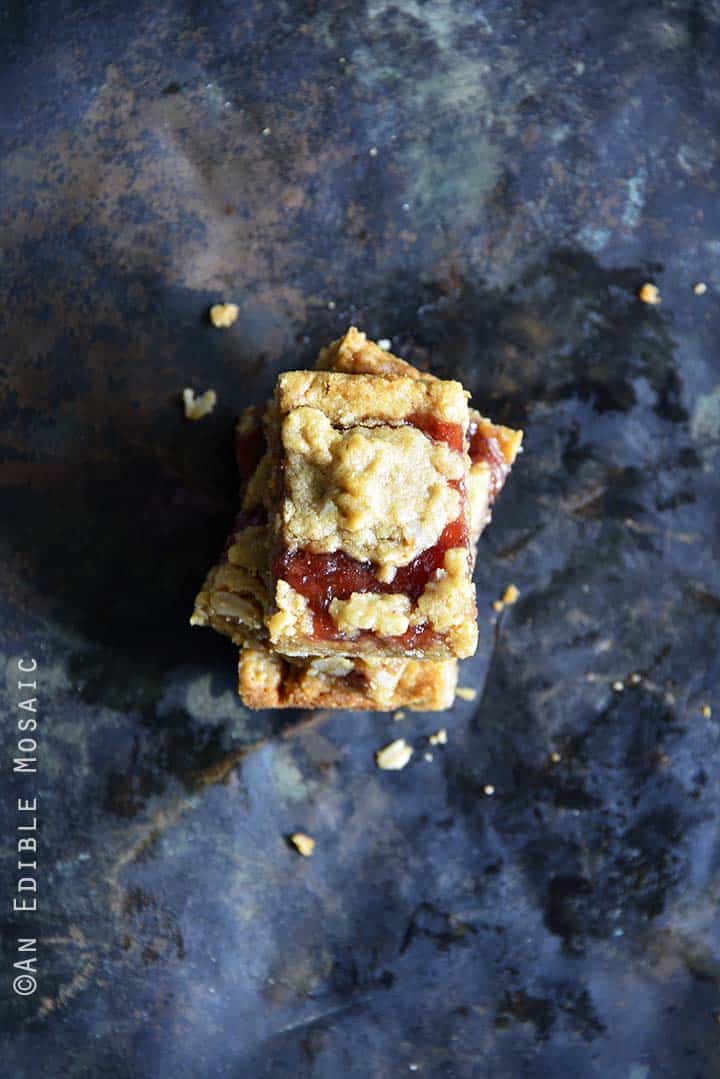 Lunchtime dessert was usually some kind of fruit. More often than not it was an apple, or if my mom was feeling adventurous, grapes. And beyond that, I really don't remember the contents of my school lunches. I want to say milk? Maybe. Probably, because my mom was a real milk-pusher from the get-go.
Talking to my niece, school lunches these days are a lot more exciting!
Word on the street (or, more accurately, word from my niece, lol) is that kids now pack things like salad bowls, hummus, and cheese and crackers. Exotic fruit is the norm, and my niece even adds things like a square of dark chocolate for dessert and sparkling water to drink. Whoa, that's fancy. These kids blow my mind, lol.
Peanut Butter and Jelly Bars Recipe
School lunches have come a long way! These Peanut Butter and Jelly Bars fit in quite nicely with the upgraded school lunches kids eat now.
With the delicious blend of nutty peanut butter and sweet strawberry jam, these bars are a crowd-pleaser! Brown sugar with notes of molasses is the perfect sweetener here. They're subtly scented of vanilla. And they have oats to bump up the flavor and nutrition!
Who wouldn't love one of these jam bars tucked into their lunchbox for dessert, right?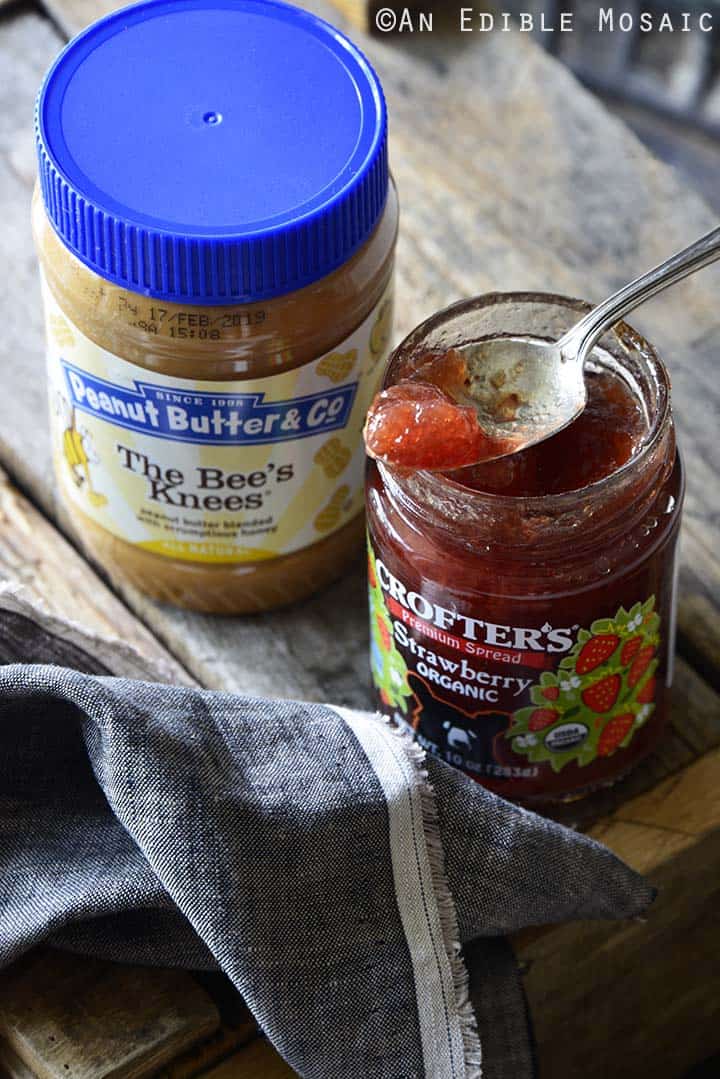 More Lunchbox Treats and Snack Ideas:

Did you make this recipe? Please rate it and leave a comment below because I love hearing from you! You can also tag @anediblemosaic on social media. To stay up-to-date FOLLOW ME on Instagram, Twitter, and Facebook. Xoxo, Faith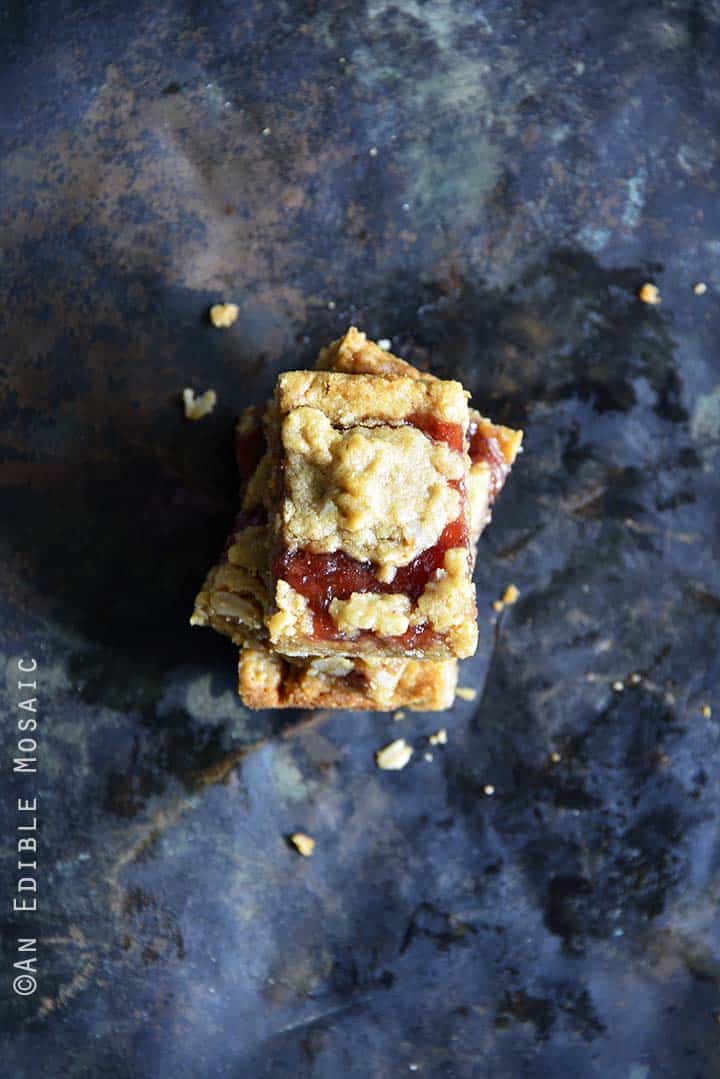 Peanut Butter and Jelly Bars
Peanut Butter and Jelly Bars feature the classic favorite flavor combination in a delicious treat that's perfect for snacking or school lunches.
Instructions
Preheat oven to 350F; line an 8 by 8-inch pan with 2 pieces of parchment paper so it hangs over all 4 sides.

Cream together the butter and sugar in a large bowl, and then beat in the peanut butter, egg, and vanilla. Sift in the flour, salt, and baking powder, and beat just to combine, being careful not to over-mix. Stir in the oats.

Press 2/3 of the dough into the bottom of the prepared pan. Spread the jam on top, leaving a rim of about 1/4 inch all the way around. Crumble the remaining 1/3 of the dough on the top.

Bake until the bars look golden along the outside, about 32 minutes for gooey bars in the center, or up to 38 minutes for more set bars, being careful not to over-bake.

Cool completely before cutting and serving. Store any leftovers wrapped at room temperature for up to 3 days.
Faith's Tips
Feel free to switch up the flavor of jam for whatever your favorite is!
Nutrition
Nutrition Facts
Peanut Butter and Jelly Bars
Amount Per Serving
Calories 229
Calories from Fat 108
% Daily Value*
Fat 12g18%
Cholesterol 25mg8%
Sodium 103mg4%
Potassium 133mg4%
Carbohydrates 26g9%
Protein 5g10%
Vitamin A 192IU4%
Vitamin C 1mg1%
Calcium 24mg2%
Iron 1mg6%
* Percent Daily Values are based on a 2000 calorie diet.
This post was first published on An Edible Mosaic on September 6, 2017. I updated it with more information on August 21, 2020.
Disclosure: This post contains Amazon affiliate links to products I believe in. Even though it doesn't cost you anything extra, I will receive a small amount of money from the sale of these items. Thank you for helping to support An Edible Mosaic!