We all know not to judge a book by its cover.
I think that same adage should wholeheartedly be applied to food.
Admittedly, these cookies are kind-of homely. They're lumpy and sort-of bulbous, and they have little black specks that make you wonder what are those black things? And then upon closer inspection ohhh, chia seeds…ok, they're edible. (Because this time of year I'm always a little nervous about ants! But no, they're just chia seeds and we're all good.)
But nevermind all that.
These cookies are like the nectar of the gods, in cookie form.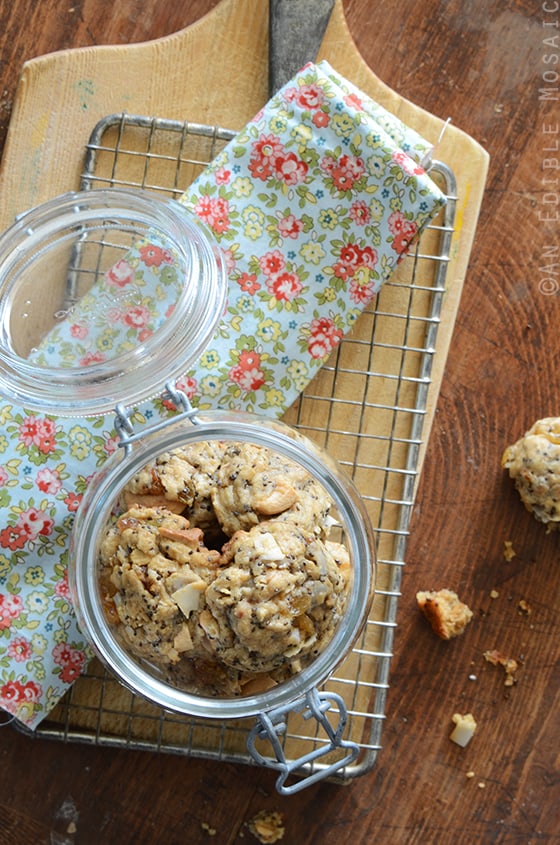 They're slightly crispy outside, chewy inside, and flavored of honey. Golden raisins were the perfect choice of dried fruit here because not only do they help to keep these cookies chewy, but their flavor just sort-of melds into and enhances the honey flavor of the cookie. Granola adds lots of flavor and some crunch, and coconut flakes, toasted cashews, and chia seeds add nuttiness.
If you're going to have a cookie, these are a healthier choice than most. They're full of healthy fat, high in protein, and a decent source of fiber. They are great fuel for a long hike or bike ride, and are the perfect thing to bring camping. (They keep well if stored in an airtight container at room temperature, and to extend their shelf life even longer, store them in the fridge and bring them to room temperature before serving.)
They're also the kind of cookie that you'll feel pretty good about stocking your pantry with so that you have a go-to snack for the kiddos when they want a sweet treat.
The Ultimate Granola Cookies
Prep time:
Cook time:
Total time:
Yield:
About 3½ to 4 dozen cookies
Ingredients
½ cup (120 ml) melted coconut oil (or light olive oil)
½ cup (100 g) coconut palm sugar (or lightly packed light brown sugar)
1 large egg
1½ teaspoons pure vanilla extract
1 cup (128 g) all-purpose flour
½ cup (55 g) almond meal or flour
½ teaspoon baking soda
¼ teaspoon salt
1½ cups (150 g) Bob's Red Mill Honey Oat Granola
¾ cup (45 g) unsweetened coconut flakes
½ cup (70 g) golden raisins (sultanas)
½ cup (70 g) chopped, toasted cashews
¼ cup (50 g) chia seeds
Instructions
Preheat oven to 350F; line 2 large baking sheets with parchment paper or silpat liners.
Stir together the oil, sugar, egg, and vanilla in a large bowl.
Add in the all-purpose flour, almond meal, baking soda, and salt and stir to combine. (The dough will be wet.)
Stir in the granola, coconut flakes, golden raisins, cashews, and chia seeds. (The dough will be quite thick.)
Use a 1½ tablespoon-sized scoop to measure out the dough and roll it into balls; arrange the balls of dough on the prepared sheets, leaving about 1½ to 2 inches between each ball.
Bake the cookies 1 sheet at a time until the cookies are golden on the bottom, set around the outside, and still look just a touch doughy in the center, about 8 minutes, rotating the tray once.
Cool the cookies for a couple minutes on the tray, and then transfer to a wire rack to finish cooling.
Store in an airtight container.
Disclosure: I received the granola that I used in this recipe for free from Bob's Red Mill. I did not receive compensation for this post and I was under no obligation to review the product; as always, opinions stated are my own.