Is anyone else a huge fan of Cinnabon? You know, that fantastically delicious, yet diabolically tempting baked goods store in the mall that smells like a cinnamon paradise? Their cinnamon buns are like heaven, in baked-good form. Fresh, warm dough, swirled with cinnamon and cascading with sweet cream cheese frosting. As much as I truly adore Cinnabon, it's just not feasible to eat it as much as I'd like to (sadly, a Classic Cinnabon roll has a whopping 730 calories…not exactly a girl's best friend). So I did what I do best and remade it into a healthy (or at least much healthier!) oatmeal breakfast (or lunch/dinner/dessert, if you so choose). If you're a fan of cinnamon buns, give these oats a try…now when I pass the Cinnabon store I can walk by happily (still inhaling deeply, of course), knowing that my Cinnamon Bun Oats can be whipped up in a flash at home.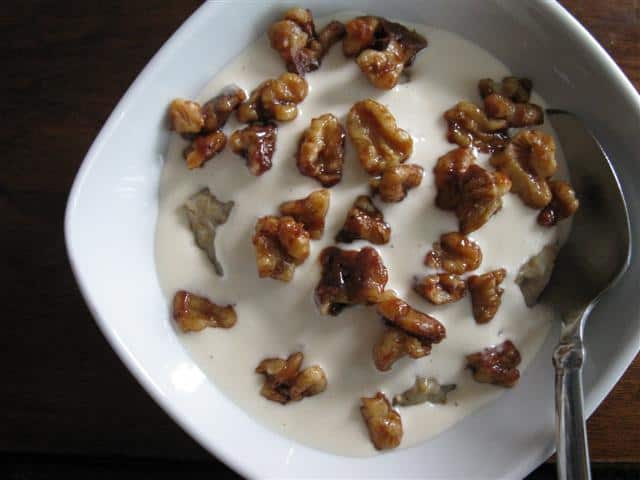 Cinnamon Bun Oats
(Yield: 1 serving)
Oats:
¼ c steel cut oats
½ medium banana, thinly sliced
¾ c water
Dash salt
Dash cinnamon
Cinnamon-Brown Sugar Roasted Nuts:
2 TB coarsely chopped walnuts or pecans
1 tsp brown sugar
1 tsp water
½ tsp butter
Pinch cinnamon
Pinch salt
Vanilla Cream Cheese Frosting:
1 oz Neufchatel cheese, at room temperature
1 TB milk
¼ tsp pure vanilla extract
1 tsp brown sugar
For the nuts: In a small pan, heat the brown sugar, water, butter, cinnamon, and salt over medium-high heat until it bubbles. Add the nuts and stir to coat the nuts with the sugar mixture. Cook for 3-5 minutes until the liquid is mostly gone and the nuts are completely coated. Spread in a single layer on wax paper and allow to cool to room temperature.
For the frosting: Whisk together all ingredients.
For the oats: In a small pan, combine all ingredients and heat on medium-low heat for about 12 minutes (stirring frequently with a whisk) or until it reaches your desired consistency.
Top the oats with the frosting and nuts.