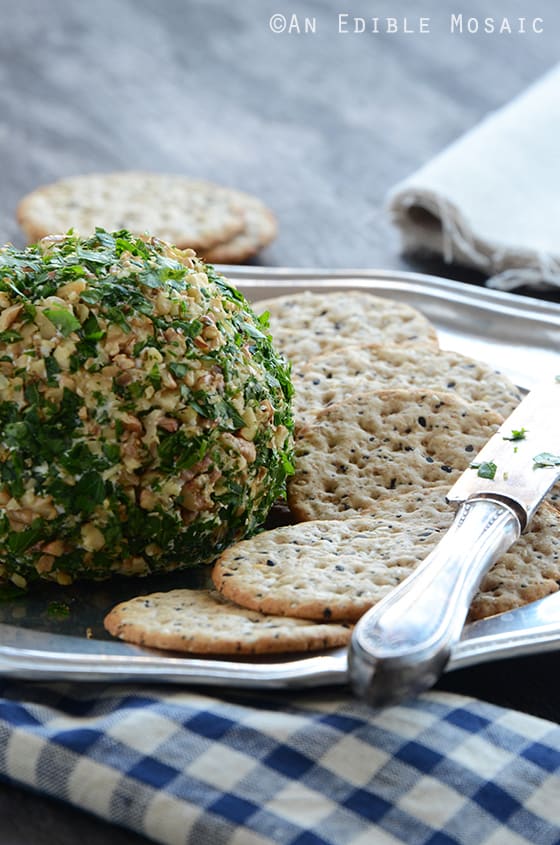 Around the holidays, I've noticed that in addition to loads of requests for cookie recipes, new appetizer ideas are always high in demand. Parties are frequent, and what better to serve than a spread of appetizers where people can come and go as they munch and chat, eating little bites from their favorite dishes.
I don't think I've ever been to a holiday party that didn't have at least one cheese ball – which is good, I happen to adore them! (And truth be told, they are always one of the first things to disappear from a big buffet spread.) A while back I shared a recipe for a Cheddar Cheese Ball Appetizer. The flavors going on in that (like Cheddar, Worcestershire, onion, and paprika) are always a hit, but if you want something a little more complex (and every bit as addictive), this Date, Walnut, & Blue Cheese Ball is perfect.
In this mix, dates add a touch of sweetness to balance the sharpness of blue cheese. Lemon zest brightens it up, and just a touch of fresh onion and garlic powder make a savory addition. The cheese is rolled in a mixture of fresh parsley and toasted walnuts, which add both a fresh bite as well as a nutty crunch. Just a heads-up, I've also made this with toasted pecans (instead of walnuts) and everyone enjoyed it that way as well.
Do you have a favorite cheese ball recipe?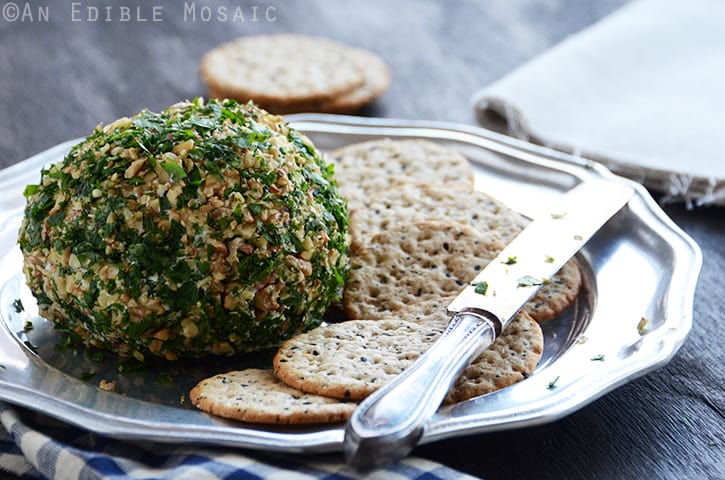 Date, Walnut, and Blue Cheese Ball
Yield:
1 large cheese ball, about 10 to 12 servings
Ingredients
Cooking spray
1 cup (4 ounces) crumbled blue cheese
1 tablespoon nonfat buttermilk
8 ounces ⅓-less-fat cream cheese, softened
3 tablespoons minced pitted Medjool dates (2 to 3 dates)
1 tablespoon minced sweet onion
½ teaspoon fresh lemon zest
¼ teaspoon garlic powder
¼ teaspoon kosher salt
⅛ teaspoon black pepper
¼ cup minced fresh flat-leaf parsley
2½ tablespoons finely chopped walnuts, toasted
Instructions
Lightly spray the bowl of a food processor with cooking spray (to help prevent the dates from sticking). Combine all ingredients except the parsley and walnuts in the prepared food processor's bowl; process until combined (it doesn't have to be completely smooth).
Line a small-medium bowl with plastic wrap. Pour the cheese mixture into the plastic wrap-lined bowl, wrapping it to form a ball. Refrigerate until chilled, overnight in the fridge or about 1 hour in the freezer.
Combine the parsley and walnuts in a shallow dish. Unwrap the cheese ball and gently roll in the parsley/nut mixture, coating well.
Serve immediately along with crackers or bread, or cover and refrigerate until ready to serve.