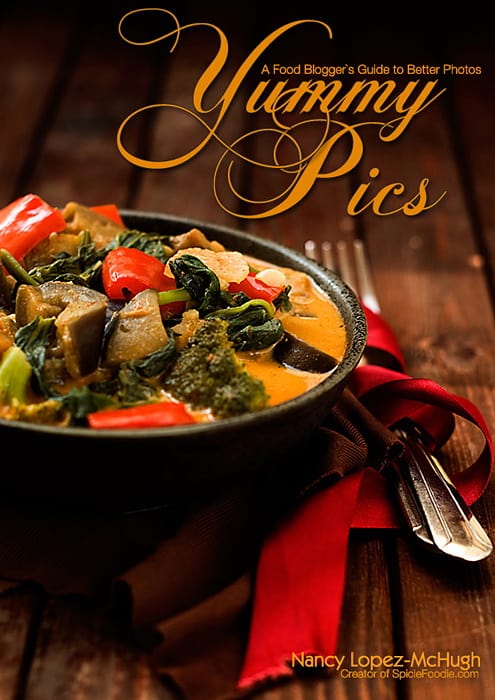 Holiday season is in full swing and you are going to love me – I have the perfect holiday gift idea, either for yourself or for any food blogger you know! You are in for a real treat today because I'm sharing my review of Nancy's beautiful food photography eBook Yummy Pics!
Have you looked back through my archives at my first posts? Focusing in particular on the pictures? (Ironic that I use the word focus, since it seems like I didn't know about that feature of the camera back then…true story, lol.) Take a look back, and you'll be amazed at the evolution of my photos.
In large part I credit this to inspiration from my fellow food bloggers; there is no more talented bunch of people that I know of. Throughout my time blogging, I've come across many blogs with photos that are nothing short of captivating. These are the blogs that make me not only want to run into the kitchen and make their food, but first grab a cup of coffee and sit down and really delve into their blog because I just don't want to leave!
Nancy's breathtaking blog Spicie Foodie is just that. A never-ending source of beauty and inspiration.
Samples from Yummy Pics by Nancy Lopez-McHugh
I was following Nancy's blog three years ago and marveling at her photos since that time. Actually, I remember having her site up on my computer screen and time after time Mike happening to glance over and every single time ask me whose site that was because the photos were so good. And I'd tell him again and again – it's Spicie Foodie! Nancy's photography has always been truly artful…beautiful composition and use of light along with all of its dynamic qualities.
When Nancy announced she was coming out with a photography eBook Yummy Pics I was thrilled. Through my photography I try to use light, color, and props to evoke a certain mood or scene; however, that being said, I am completely self-taught and have never even taken a basic camera course. I don't always fully utilize my camera's capabilities, and this is something I am aware of and know I need to work on. Reading through Nancy's book was completely insightful.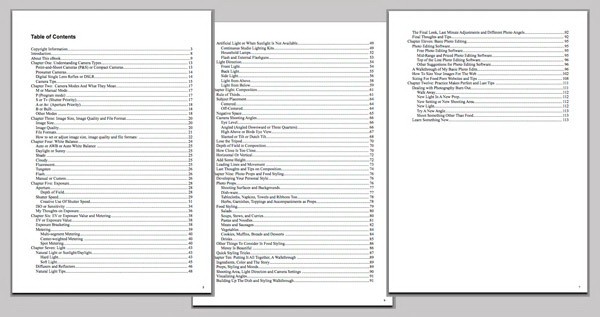 Table of Contents from Yummy Pics by Nancy Lopez-McHugh
In her beautiful book she covers the following topics:
Camera Types
Camera Modes
Image Size, Quality, and File Format
White Balance
Exposure
EV or Exposure Value and Metering
Light
Composition
Photo Props and Food Styling
Basic Photo Editing
Practice Tips
Of course with gorgeous photos throughout the whole book, and much, much more!
Samples from Yummy Pics by Nancy Lopez-McHugh
Here are just a few of things I really enjoyed:
The practical approach to photography that Nancy promotes. She discusses how the kind of camera you use isn't the most important factor in determining the quality of your photography, and she talks about what factors are important. (So there is hope if you use a point-and-shoot!)
Samples from Yummy Pics by Nancy Lopez-McHugh
Her section on shutter speed was very helpful for me. I like playing around with aperture to adjust depth of field, but shutter speed is something I've really only played with when taking a couple outdoor night shots. Nancy beautifully demonstrates the use of shutter speed pertaining to food photography when you want to show motion, such as when mashing potatoes or dropping an object into a glass of water. (She also gives an incredibly helpful tip for point-and-shoot cameras in this section!)
Nancy's chapter on light is fantastic. When I first started blogging I thought I needed a bright sunny day to have enough lighting to get good pictures; now, like Nancy, my favorite days to shoot are overcast days – in particular, dark and stormy days! This line of thinking about shooting with hard light (or direct sunlight) is a common misconception among so many food bloggers, and Nancy does a wonderful job of talking about different kinds of light and how to use them to your advantage.
I'll admit it – shooting with artificial light intimidates me more than a little. After reading Nancy's section on this I was determined to start trying to work with it though. I'm not where I want to be yet but I will continue practicing, and now at least I feel like I have a good resource to turn to for guidance.
I loved Nancy's discussion on the Rule of Thirds and the examples she gives to illustrate the rule. Then it is so helpful to see the example photos she gives to show that sometimes breaking this rule can also result in gorgeous photos.
It can be a lot of fun to experiment with different camera shooting angles, and Nancy provides great examples for many different angles. If you're just starting to get into food photography, this is a lot of fun to explore.
Something I don't often think of is creating visual movement in my photos. Nancy gives a wonderful description of how to do this using lines and points of interest, along with some gorgeous examples.
Nancy talks about developing your own personal style for your photography, and looking at Nancy's photography you can tell she has achieved that perfectly. Nancy says of her photography: "The color schemes and light in my photographs are a bit mysterious, sometimes wacky, experimental, and often times sultry, romantic, moody with splashes of dark and bright colors." She encourages getting inspiration from other sources but ultimately taking that inspiration and making a unique style that is all your own. Nancy mentions a quote from Ansel Adams, which poignantly describes this: "A great photograph is one that fully expresses what one feels, in the deepest sense, about what is being photographed."
You probably know that the food I photograph for my blog is real food – food that was most likely a meal for my hubby and me not moments after I finished my photo shoot. Nancy is the same way, and it's because of this that I found her section on food styling so informative. She talks about styling foods that many people often have trouble with, like soups, pastas, and drinks. She also gives a great tip on shooting vegetables – her shots demonstrating her technique are incredible!
Through my photos I like to try to evoke an emotion or convey a scene, and Nancy does a beautiful job of explaining how every element of the photo can be used to depict the story you're trying to tell. Something I really enjoyed was a "walk through" that Nancy did to show the different propping elements of a photo as each prop is added in.
Samples from Yummy Pics by Nancy Lopez-McHugh
Nancy's expertise really shines through in this lovely book. The way she wrote it is very approachable even for beginner photographers, but it also holds great value for more seasoned food photographers who want to hone in on improving specific photography skills. If you enjoy food photography or are trying to improve your food photography, this book is a wonderful tool. Nancy is a truly talented photographer and a wealth of information.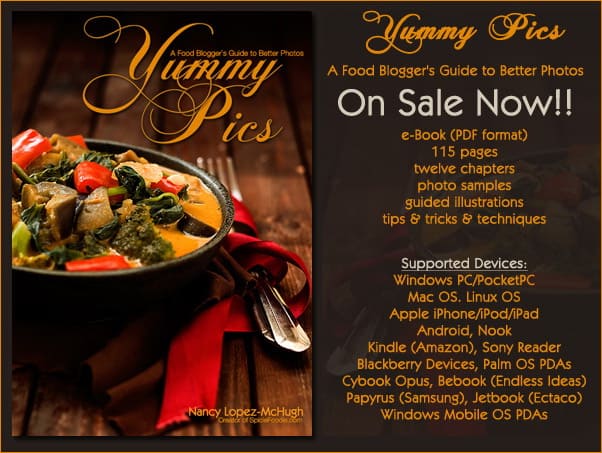 Nancy's book can be purchased here, and it will be the best thing you can do for your food photography. And if you're not a food photographer or blogger, this book would be the perfect holiday gift for any food blogger you know!
Head over to Nancy's blog Spicie Foodie where you'll find more of her breathtaking photography along with her tantalizing recipes. While you're there, be sure to tell her congrats on her beautiful book!
Photo Courtesy of Nancy Lopez-McHugh
All images in this post are the sole property of Nancy Lopez-McHugh and Spicie Foodie. Please to not use images without prior written consent. Thank you.
Nancy has kindly offered to give away one copy of her beautiful eBook, Yummy Pics: A Food Blogger's Guide to Better Photos, to one lucky winner! (Note to My Food Blogger Friends: This is like gold! Get ready to be amazed.)
Here are the rules to enter:
1) Leave a comment on this post telling me you'd like to be entered in the giveaway.
2) For a second entry, follow Spicie Foodie on Twitter or follow An Edible Mosaic on Twitter.
3) This giveaway is open until December 5 at 5AM EST.
4) The winner will be chosen randomly and notified via email.
5) If you win, you agree to do a review post for Yummy Pics on your blog. The post should include the link to the book's purchase page; Nancy from Spicie Foodie will provide you with the details.
Good luck to all!