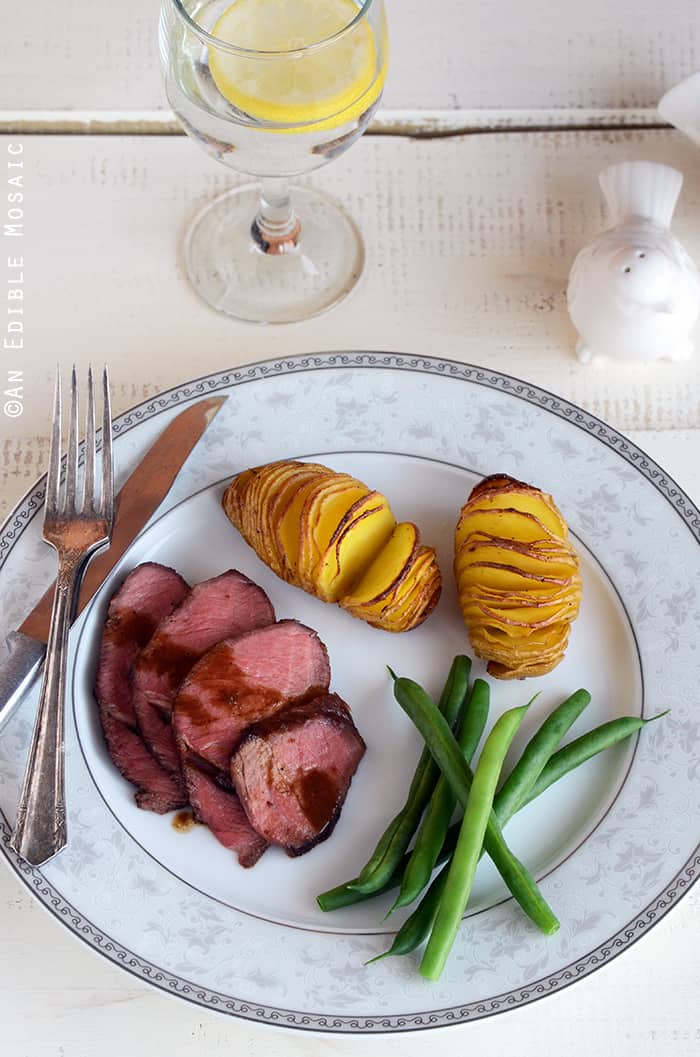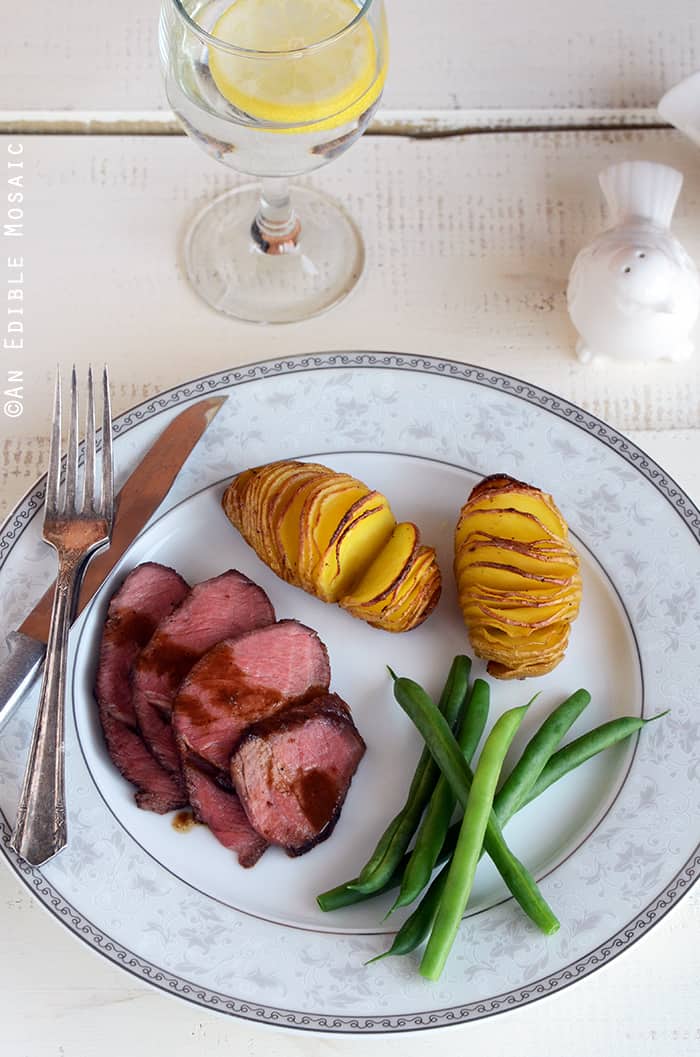 If you've been following my blog for a while you probably know that I'm not the biggest meat eater; in general I really don't make roasts (except roast chicken, which is a specialty of mine). For the most part I gravitate towards fish or veggie-based meals, so I don't blame my hubby at all for being completely impressed (actually, shocked is probably a better word) when he came home to this lovely roast beef one day.
I served it as the main course along with Baby Hasselback Potatoes and blanched green beans as part of my Valentine's Day Menu…
A while ago, I came across a really helpful article on roasting meats of all kinds in the Holiday 2011 issue of Wegmans Menu Magazine. The article talked about the different kinds of roasts and cuts of meat available, as well as how to season and cook the meat. Since I'm a complete newbie at making roast beef (other than pot roast, but that's completely different), I also looked up info on how to make roast beef online; two of the most helpful articles I found were on Chowhound and Ochef.
In the end I decided on a two-step cooking technique that resulted in what we thought was the perfect roast. Before I get to the actual cooking technique, I want to mention another important factor: the meat's temperature. I let the meat marinade at room temperature for about 30 minutes before I cooked it; letting the meat come to room temperature before cooking helps it to cook more evenly and prevents drying out on the outside when the inside is still raw. (Note: You can marinade your meat for a couple hours in the fridge if you have the time, but remember to let it sit out at room temp for the last half hour before cooking.)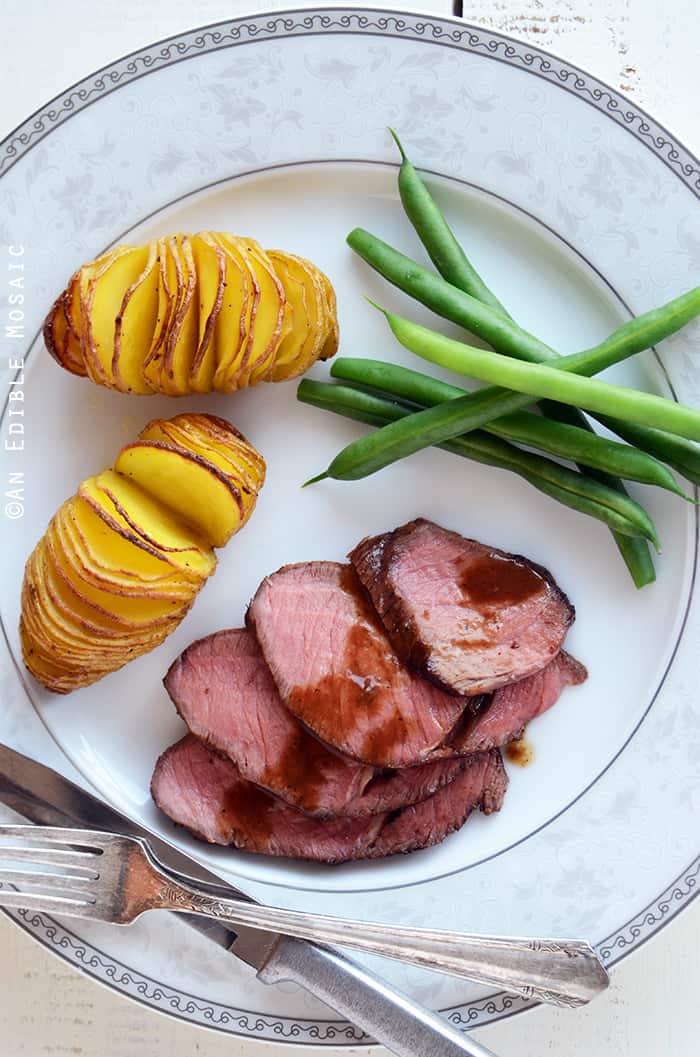 Ok, so now for the actual cooking process. To get a nice sear all around, I first cook the roast in a very hot skillet on the stovetop, and then to ensure a nice tender roast, I finish cooking it in a low oven (225F). A lot of the flavors I used in the marinade are the same flavors that I used in my Bean and Barley Salad, but you can marinade your roast with any flavors you like.
A Note on the Doneness: I cooked this roast to medium doneness, and at this temperature (225F) this roast (1 pound) took about 45 to 50 minutes in the oven and registered about 140 to 145 on a digital instant-read thermometer (the temperature will rise about 5 degrees while the meat rests after it's removed from the oven). Adjust the cooking time accordingly if you prefer your meat cooked to a different level of doneness.
Re-Heating Leftovers: If you're only serving this roast to two people, you will most likely have leftovers. They make a fantastic cold sandwich the next day, or you can reheat them very briefly in simmering beef stock.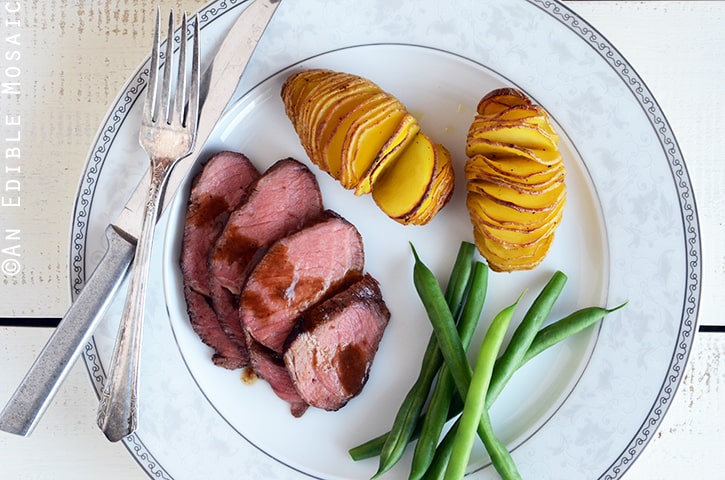 Spiced Sirloin Roast for Two
Yield:
Serves 2 generously
Ingredients
1 (1 lb) boneless beef sirloin roast
2 tablespoons sesame oil, divided
1 tablespoon soy sauce
½ tablespoon rice vinegar
1 teaspoon maple syrup
1 clove garlic, grated on a microplane
¼ teaspoon sweet paprika
⅛ teaspoon hot paprika or cayenne pepper (more or less to taste)
¾ cup beef stock
1 tablespoon unsalted butter, at room temperature
1 teaspoon all-purpose flour
Sea salt (or coarse salt) and black pepper
Instructions
Marinade the roast at least 30 minutes before you want to cook it. To do so, in a small bowl, whisk together 1 tablespoon sesame oil, soy sauce, rice vinegar, maple syrup, garlic, sweet paprika, hot paprika, ¼ teaspoon sea salt, and ⅛ teaspoon black pepper. Put the roast and the marinade in a zip-top plastic bag and let it sit at room temperature for about 30 minutes, rotating the bag every so often.
Preheat oven to 225F. Remove the roast from marinade and pat it dry with a paper towel (discard the marinade). Add the remaining 1 tablespoon sesame oil to a medium oven-safe skillet over high heat; once the oil is hot, add the roast and sear on both sides, about 2 minutes per side.
Transfer the roast to the oven (in the same frying pan you seared it in) and cook until it reaches your desired level of doneness. For about medium doneness, at this temperature this roast (1 lb) took about 45 to 50 minutes and registered about 140 to 145 on a digital instant-read thermometer (the temperature will rise about 5 degrees while resting). Transfer the meat to a cutting board and let it rest about 10 to 15 minutes at room temperature before slicing (and then be sure to slice across the grain).
While the meat rests, make the pan sauce. Mix together the butter and flour in a small bowl and set aside. Put the pan that you cooked the beef in over medium heat; add the beef stock and use a wooden spoon to scrape up all the brown bits from the bottom of the pan. Whisk in the butter/flour mixture and cook until the sauce is reduced by about ⅔. Strain the sauce if desired, then season to taste with salt and pepper. Serve the sauce drizzled over the beef.