I want to give a huge thank you to my very sweet friend Karyn of French Charming. Karyn's blog is full of beautiful eye candy and nourishment for the soul too. Karyn's positive outlook and inspirational ideas always bring a smile to my face. She is one of the most truly genuine bloggers I have had the pleasure of coming across, and reading her blog feels like catching up with a very dear friend. In addition to all of this, she is amazingly generous (she recently hosted 5 fabulous giveaways for 5 days in a row!). Karyn recently sent me a stunning tote bag that she made. She is so talented, take a look at that lovely craftsmanship! And if that wasn't enough she was so generous to include a cookbook too! Thank you so much, dear Karyn! XOXO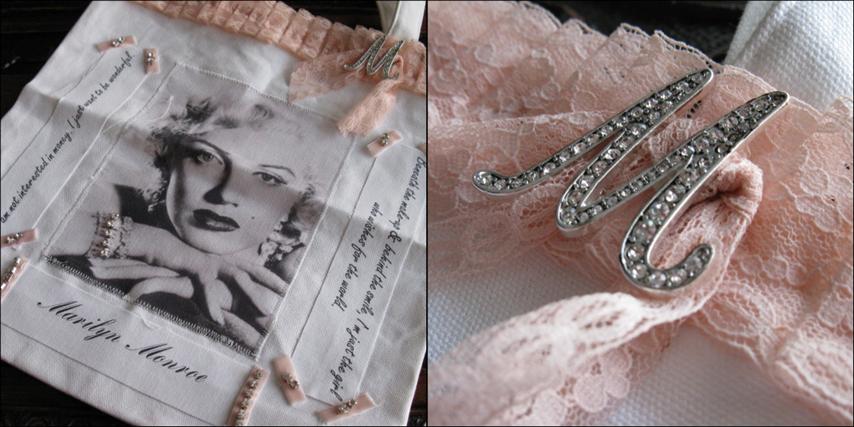 I recently made Layered Pea Salad, but not the traditional kind. Think of this as a Layered Pea Salad all dressed up for a fashionably late St. Paddy's Day party. For what seems like forever now, I've wanted to make and post my variation on this classic recipe. This is my all-green, healthy version. The liberal amount of mayo that is abundant in most Layered Pea Salad recipes is replaced with a mixture of creamy avocado and plain yogurt. I added broccoli for flavor and if I'm being honest, mostly because it's green, but you can use any veggies you like. :) I think this would be even better with some toasted sunflower seeds sprinkled on top for a little crunch and nuttiness.
Layered Green Salad
(Yield: About 10 servings)
6 c chopped green leaf lettuce (about 1 medium-sized head)
1 (16 oz) bag frozen peas, thawed and patted dry in a clean kitchen towel
3-4 c chopped broccoli
2 Haas avocados
1 TB lemon juice
1 c plain, low-fat yogurt
1/4 to 1/2 small sweet onion, grated (add as much as you like or omit this is you prefer)
1 tsp dried dill
1/2 tsp each salt and garlic powder
1/8 tsp black pepper
2 TB fresh minced chives (garnish)
9- by 9- by 2-inch casserole dish
Blanch the broccoli for 60 seconds in salted, boiling water; immediately remove the broccoli with a slotted spoon and transfer it to a bowl of ice water to cool. Once cooled, drain the broccoli and pat it dry with a clean kitchen towel.
In a food processor (or by hand), combine the avocado, lemon juice, yogurt, grated onion, dill, salt, garlic powder, and pepper until smooth.
Spread the lettuce in the bottom of the dish; spread the broccoli on top of the lettuce; spread the peas on top of the broccoli; spread the avocado mixture on top of the peas. Garnish with the chives.