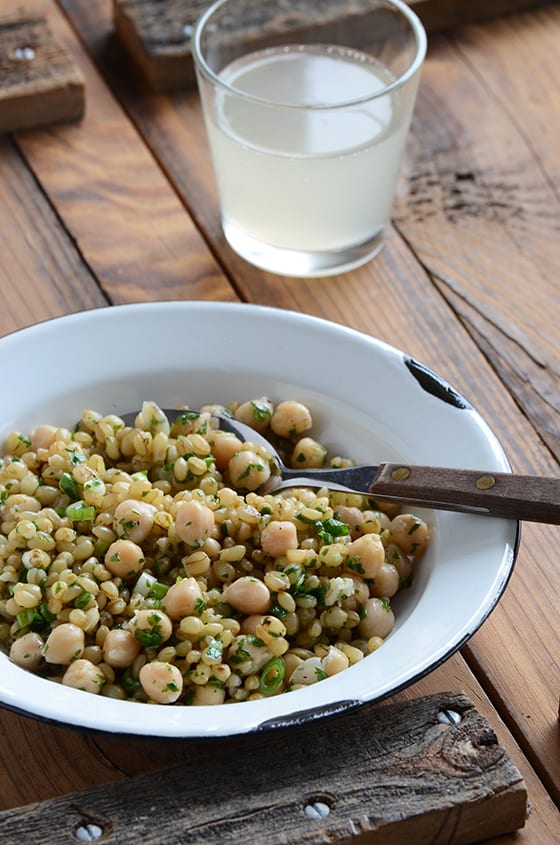 First I have to thank all my wonderful readers who sent me emails, messages, or comments on my big announcement that was hidden at the bottom of my last post. If you didn't catch it, Mike and I moved to Kuwait. We are thrilled to be starting a new chapter of our lives and I am excited to bring you updates as we explore our new home. Can I just say that I have the best readers ever?
Ok, so let's talk about this salad.
Along the lines of my Strawberry Black Bean Salad, Pardina Lentil, Green Apple + Kale Salad, and Greek-Flavored Butter Bean Salad, this is the same kind of hearty salad that keeps well. I love to keep this type of salad on hand for quick, healthy lunches throughout the week.
With this particular salad, the flavor is especially bright and fresh thanks to a generous amount of parsley and lemon juice. This salad is vegan and completely wonderful as-is; however, if you happen to have a bit of crumbled feta or goat cheese in the fridge and want to add a sprinkle, your secret will be safe with me.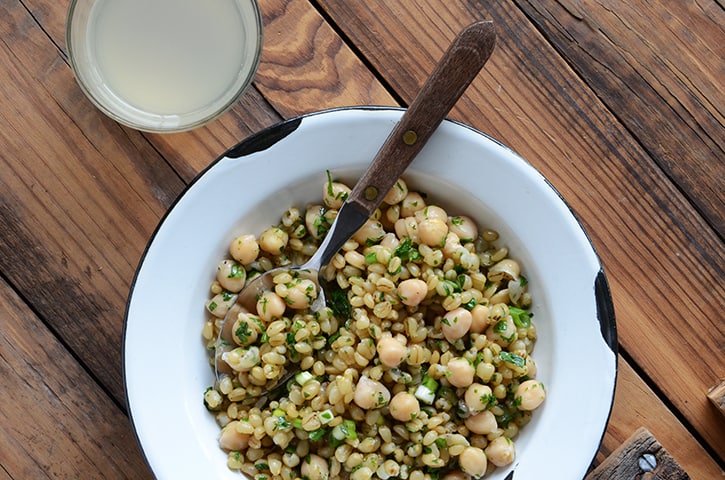 Lemony Chickpea + Herb Wheat Berry Salad
Prep time:
Cook time:
Total time:
Yield:
4 lunch-sized servings, or 6 to 8 side dish-sized servings
Ingredients
1 cup (200 g) wheat berries
1 teaspoon coarse salt, divided
4 cups (1 liter) water
1 cup (180 g) cooked chickpeas, rinsed and rained
1 bunch (about 6 medium) scallions (white and green parts), thinly sliced
½ bunch fresh parsley leaves, minced
3-4 tablespoons fresh lemon juice (adjust to taste)
4 tablespoons (60 ml) olive oil
¼ teaspoon ground black pepper
Instructions
Add the wheat berries, ½ teaspoon salt, and water to a medium pot; bring up to a boil, then cover the pot, turn the heat down to low, and cook until the wheat berries are tender, about 1 hour, stirring occasionally. Drain, rinse under cold running water, and drain again.
Combine the wheat berries and all other ingredients (including the remaining ½ teaspoon salt) in a large bowl; refrigerate until serving (this salad is even better the next day!).