Polish Cold Beet Soup (Chłodnik) is a variation of red borscht that's served cold during hot summer months. Its sweet/sour flavor is refreshing and its rich pink color makes it as pretty as it is delicious.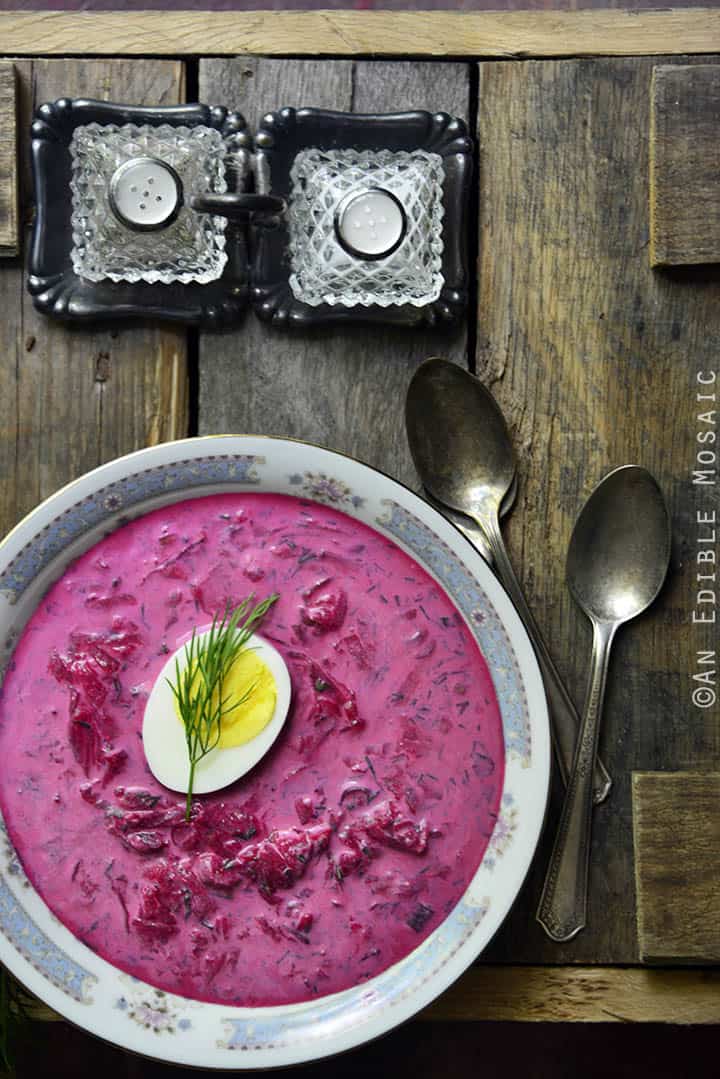 Here you go. The waitress set down huge bowls of cold borscht and hurried off. It was the prettiest shade of fuchsia with flecks of fresh green dill peeking through, and quartered hard-boiled egg adorned the top of each bowl.
Mike and I were in Poland about to tuck into our first meal; I have to say, it was a doozy. I've always been a fan of beets, but this soup took the humble root vegetable to whole new heights for me. (And we might have also had a big platter of house-made pierogis, served steaming hot drizzled with butter and sprinkled with caramelized onion…bliss.)
This soup is a variation of red borscht (check out my recipe for the hot version of borscht here), not to be confused with white borscht, which is a classic Easter dish that usually features egg, sausage, and potato. The flavor of this cold borscht came as a complete surprise to me. I'm not sure if I was expecting something bland or overly sweet, but it was a pleasant sweet/sour mix, mitigated slightly by the rich, creamy mouthfeel of the broth. The flavor was enhanced by a touch of garlic and brightened by fresh herbs, the main one I tasted being dill. At the end of my first taste, a slightly peppery twang hit the back of my palette and I thought of radishes (only to find out later that this soup does usually contain radish!). It was so refreshing and such a beautiful marriage of flavors.
As we walked around Warsaw's Old Town after enjoying our meal, I couldn't help but think about making my own version of this soup once we got back home. But before I get to the recipe, here are a few photos I snapped from our trip…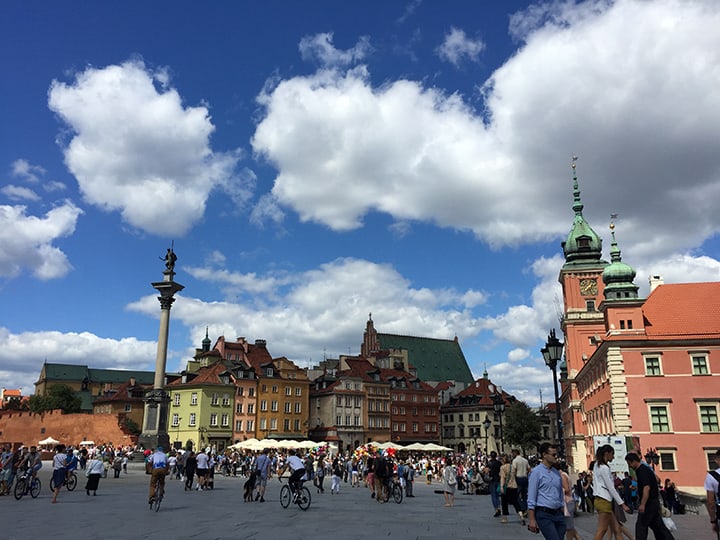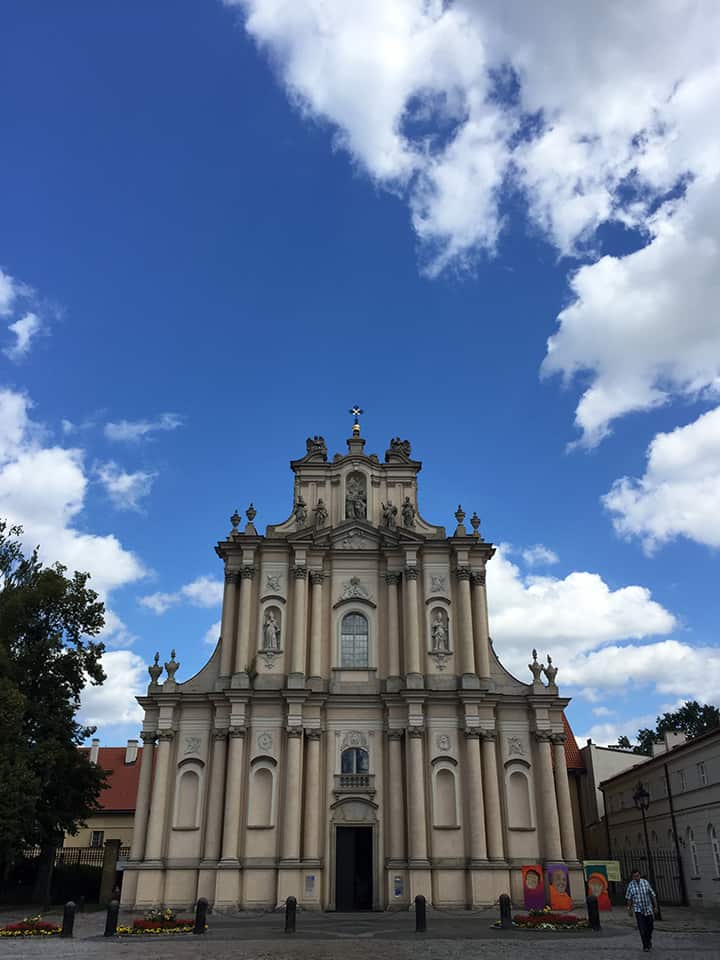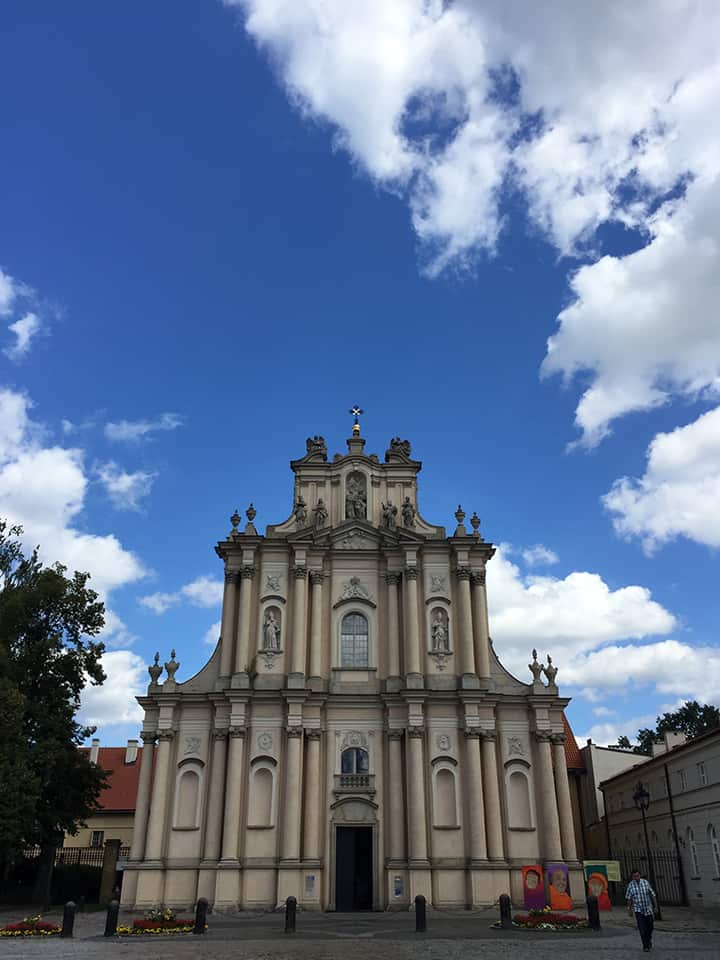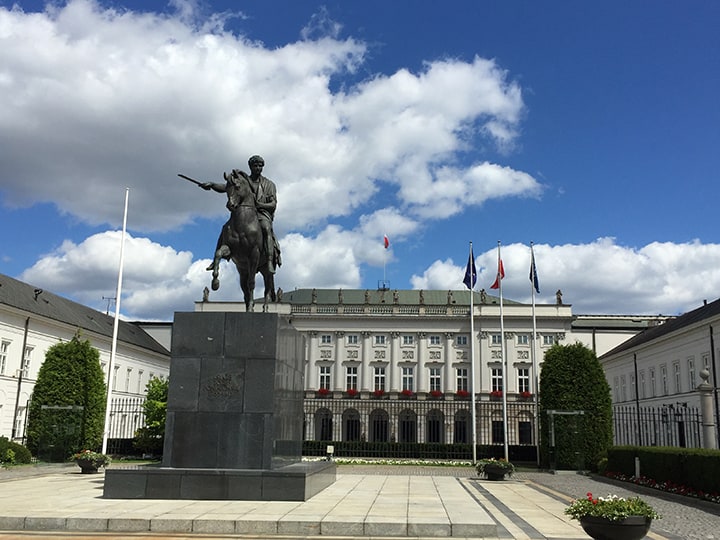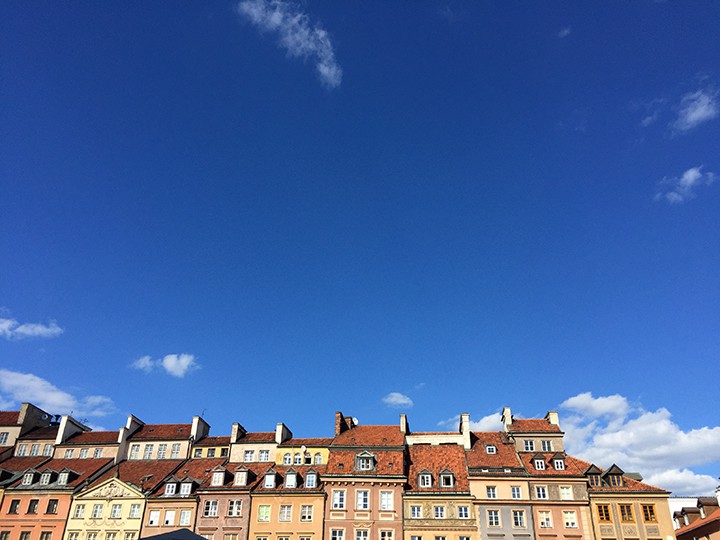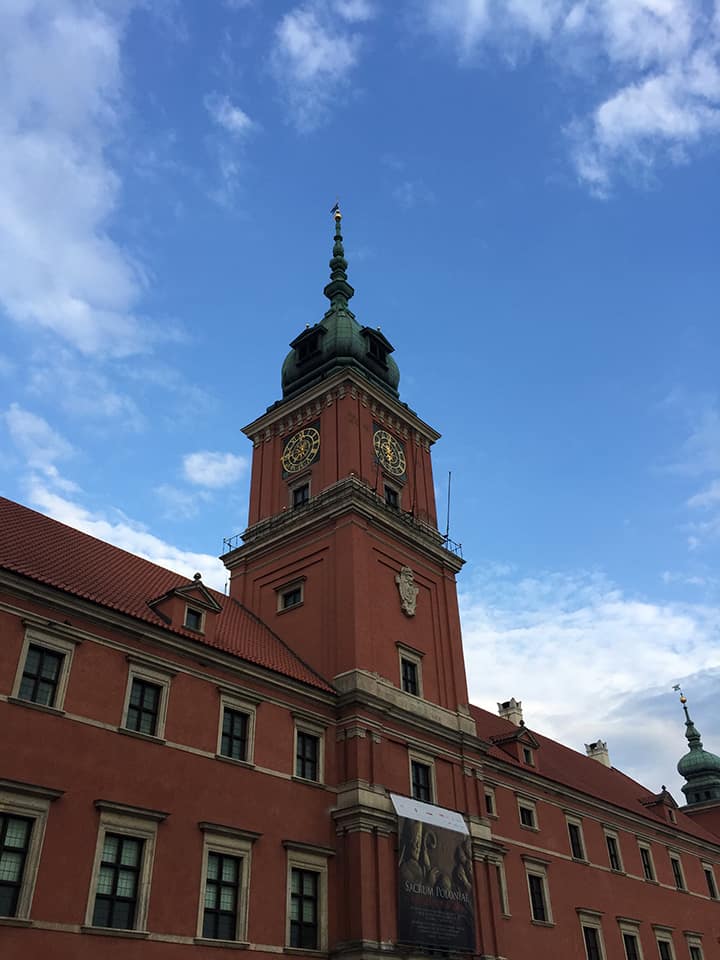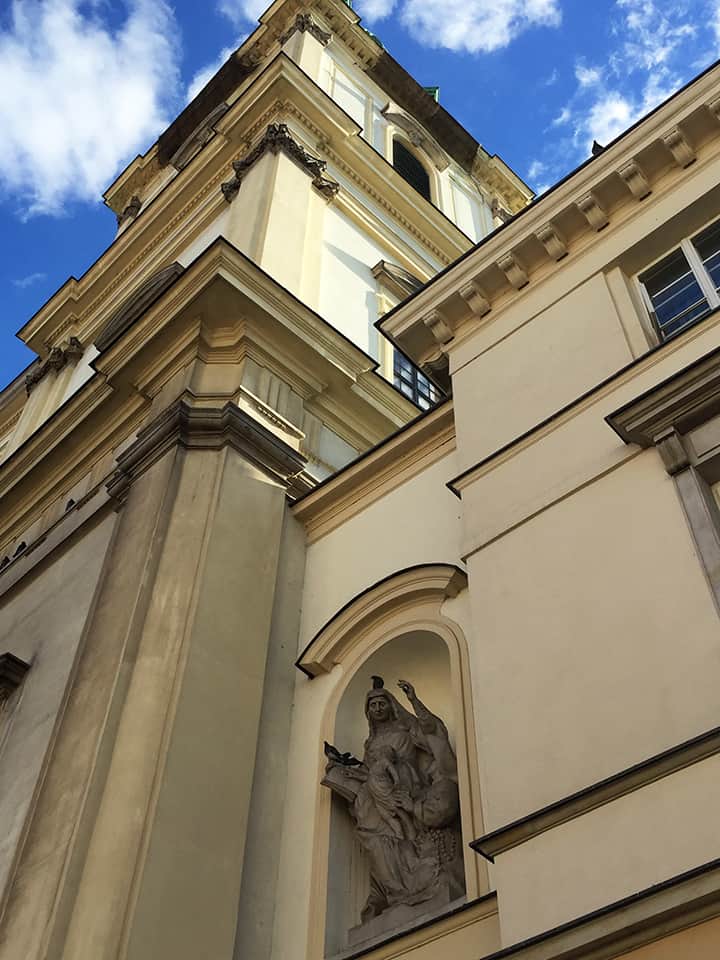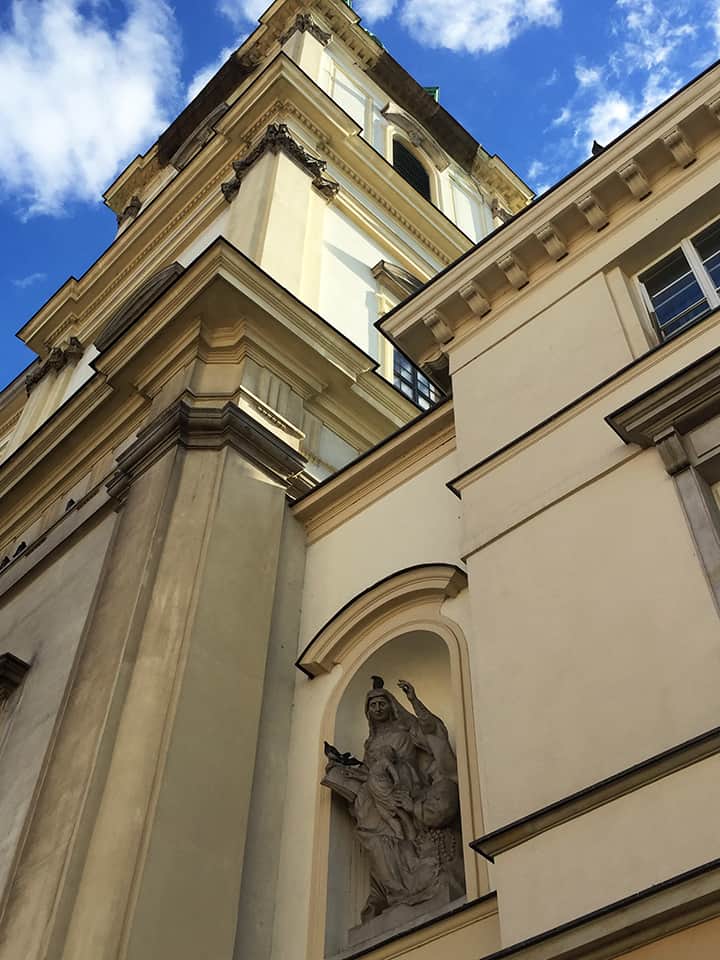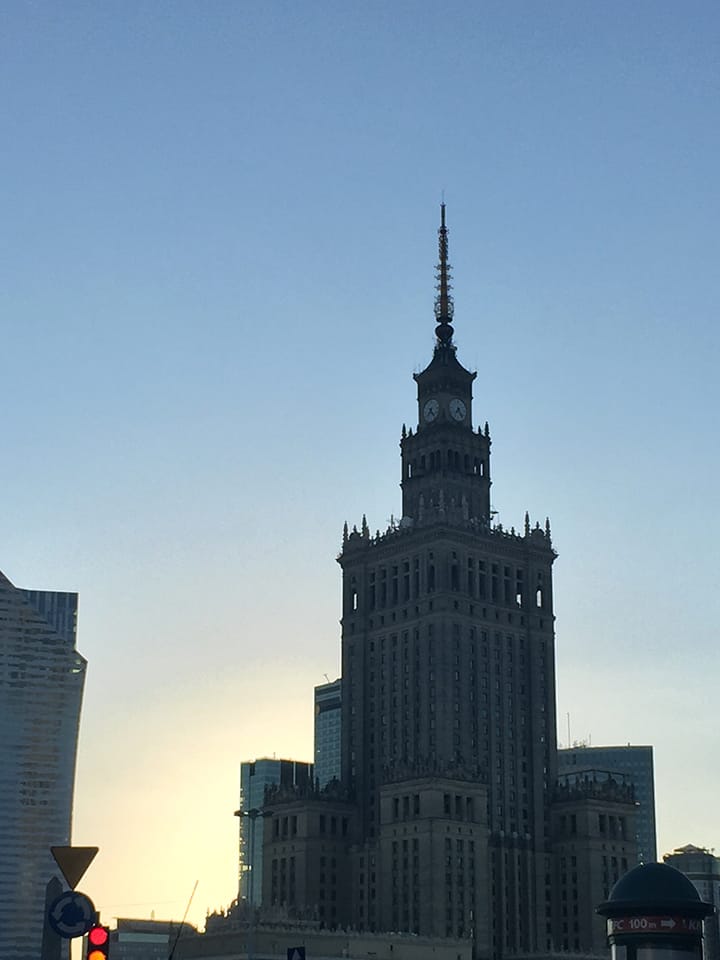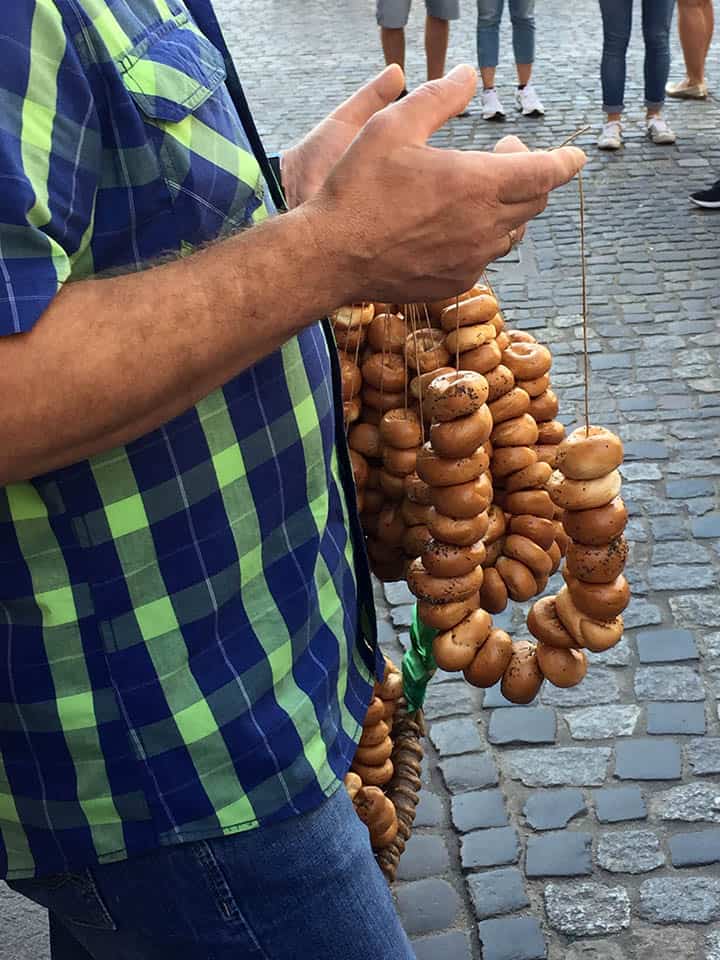 Just a couple things to note about my recipe. As is traditional, my recipe calls for kefir which is gaining popularity these days, so many of you are probably familiar with it (I bought it at my regular grocery store – shout out to Wegmans! I heart you). However, if you can't find kefir at your local grocery, you can substitute 1 1/2 cups plain yogurt thinned out with 1/2 cup water or milk.
Another thing, the original version of this soup uses Smetana, an Eastern European dairy product similar to sour cream here in the U.S., but with a higher fat content. To compensate for our sour cream having a lower fat content (and therefore a different flavor and mouthfeel), I added a little whipped heavy cream.
And one other thing I want to mention; I know the addition of sauerkraut or kosher dill pickle juice sounds weird, but just go with it. It perks up the other flavors like nothing else and IMHO, maybe even makes the soup.
My version of this dish was adapted (a little from here and a little from there) from the following sources, and in the end I think it tastes pretty dang similar to the version I had in Warsaw:
This one is definitely a must-try before the weather turns cooler! I hope you enjoy it as much as I did.
Polish Cold Beet Soup (Chłodnik)
Prep time:
Cook time:
Total time:
Polish Cold Beet Soup (Chłodnik) is a variation of red borscht that's served cold during hot summer months. Its sweet/sour flavor is refreshing and its rich pink color makes it as pretty as it is delicious.
Ingredients
1½ lbs/680 g (about 4 medium) beets (beetroot), trimmed, scrubbed, peeled, and grated on a box grater
2 cups (475 ml) chicken or vegetable stock (use vegetable to keep this dish vegetarian)
4 radishes, trimmed, scrubbed, and grated on a box grater
4 scallions, green and white parts, thinly sliced
1 to 2 cloves garlic, crushed
½ English cucumber, peeled and grated on a box grater
¼ cup chopped fresh dill
¼ cup (60 ml) heavy cream, whipped to soft peaks
¾ cup (180 g) sour cream
2 cups (475 ml) plain kefir
½ cup (120 ml) strained sauerkraut or kosher dill pickle juice (from sauerkraut or pickles in the refrigerated section, not canned)
3 tablespoons fresh lemon juice or 2 tablespoons organic raw, unfiltered apple cider vinegar
¼ teaspoon salt
¼ teaspoon black pepper
For Serving:
Hardboiled eggs, peeled and halved or quartered (1 per serving)
Fresh dill
Instructions
Add the beet and stock to a medium saucepan (the liquid should barely cover the beet). Cover the pan, bring up to a boil, and then turn the heat down and simmer until the beet is tender, about 15 minutes. (You can add a splash of water if necessary.) Cool completely.
Combine the cooled beet, radish, scallion, garlic, cucumber, and dill in a large bowl.
Fold the whipped heavy cream into the sour cream, and then whisk in the kefir, sauerkraut or pickle juice, lemon juice, salt, and pepper.
Pour the kefir mixture into the beet mixture and stir to combine (it will turn a pretty shade of pink).
Taste and add additional salt, pepper, and/or lemon juice if desired.
Cover and chill 2 hours (or up to 3 days) before serving.
Serve the soup with hardboiled egg and fresh dill on top.
Photography Note: I shot all travel photos in this post with an iPhone 6; I would have loved to tote around my DSLR to get better quality shots, but it's heavy and it just wasn't feasible. You are welcome to use any photos from this post for educational purposes if you credit me (Faith Gorsky/An Edible Mosaic), with a link back to this page as the source.