If you're looking for a new twist on a classic favorite side dish, Creamy Dijon Potato Salad with Herbes de Provence is the answer!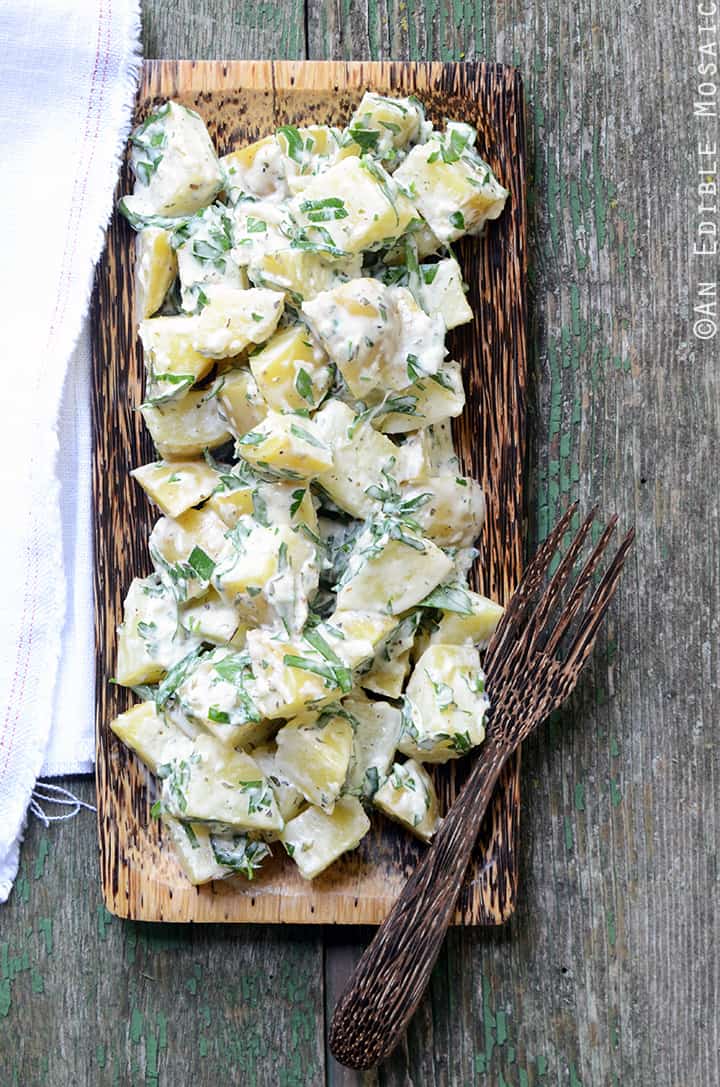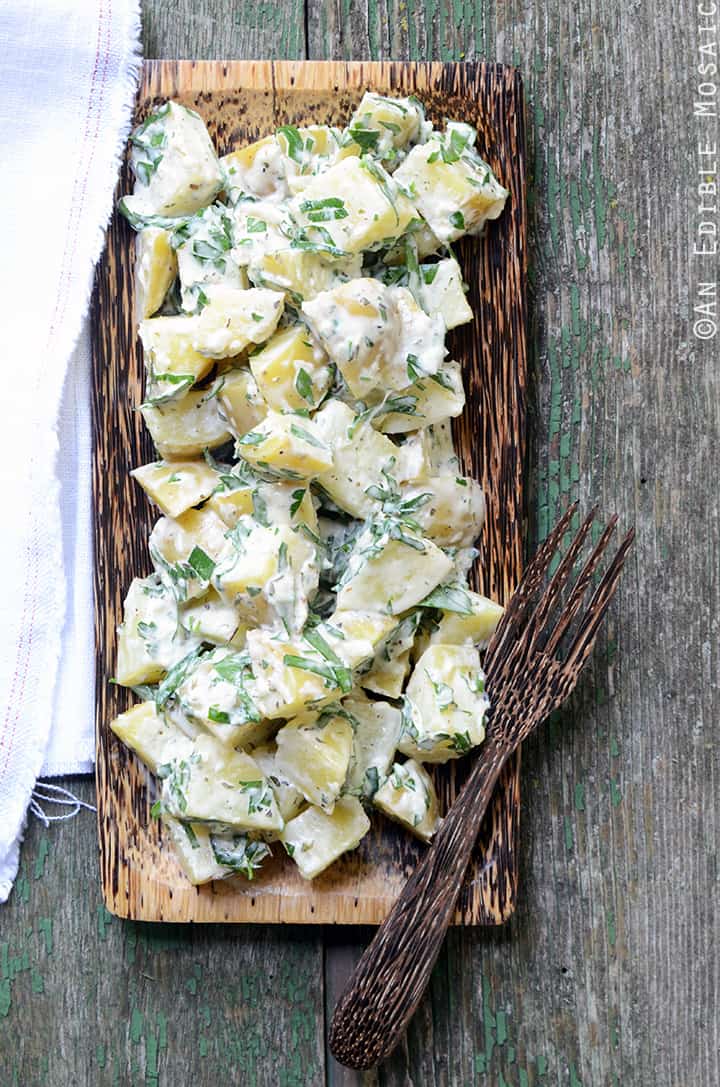 If you follow me on Instagram, you know that when Mike and I were in Paris there was no holds barred on things like bread and cheese (come on, it's Paris).
We tried to make up for it by walking seven to ten miles a day (and that wasn't even our sole means of transportation; we typically took the Metro three or four times a day too! What can I say? Paris is big and there's a lot to do). And although Mike didn't join me in my efforts, I also tried to offset our bread/cheese/pastry intake by eating a huge salad for lunch and a mixed green salad along with whatever protein I had for dinner.
And every single mixed green salad I had there came with the same creamy Dijon-based vinaigrette that I never tired of because it was so dang good.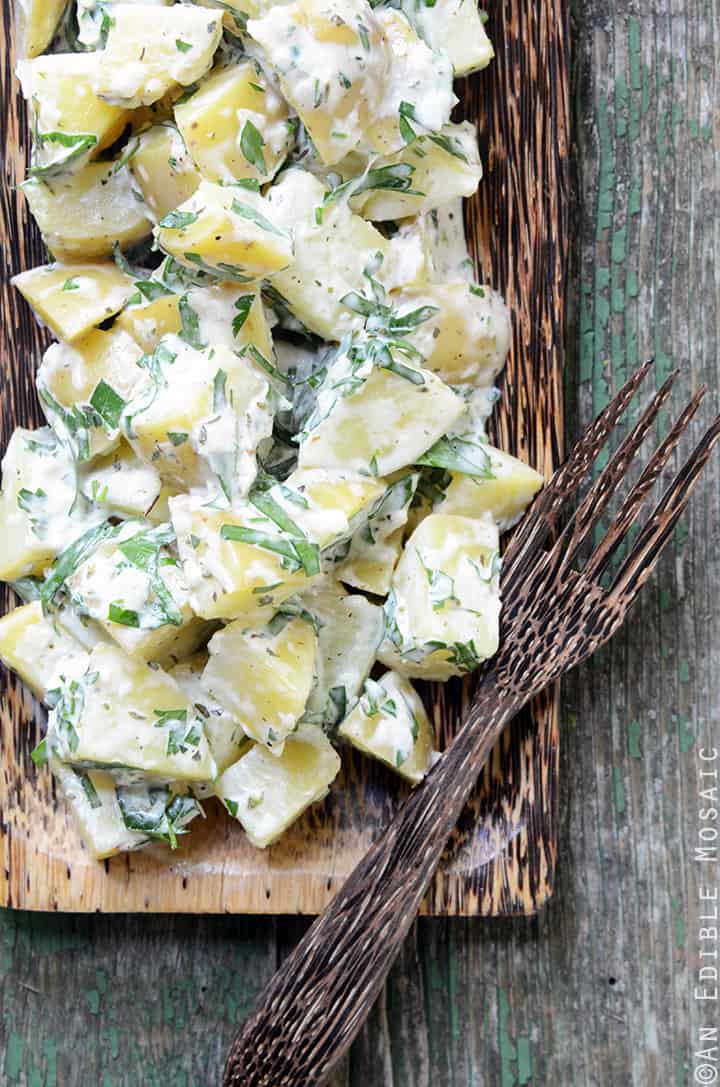 Here I use that same creamy Dijon vinaigrette to simply dress potato salad. Just a touch of mayo (really, it's much less than what is used in a potato salad that's dressed solely with mayo) makes the vinaigrette creamy, giving the salad body and richness without making it as heavy as a regular potato salad.
Because I couldn't resist picking up some Herbes de Provence in France, I also used it in this recipe. If you're not familiar with Herbes de Provence, it's an herb mix that (according to Wikipedia) typically contains savory, marjoram, rosemary, thyme, oregano, and sometimes lavender. Take a look at the ingredients in the blend you buy; if it doesn't have lavender, I recommend adding in a pinch or two because it really makes the mix something special.
This salad will pair well with just about anything that comes off the grill, making it the perfect side for a summer party, picnic, potluck, or BBQ!
Creamy Dijon Potato Salad with Herbes de Provence
Prep time:
Cook time:
Total time:
A touch of mayo gives this Dijon-based vinaigrette creamy texture and a bit of richness without making this dish as heavy as regular mayo-based potato salad.
Ingredients
1½ lbs (680 g) yellow potatoes, scrubbed and cubed
1 small sweet white onion, peeled and grated
4 tablespoons mayo
1½ tablespoons Dijon mustard
1 tablespoon white wine vinegar (or apple cider vinegar)
1 tablespoon light olive oil
1 teaspoon Herbes de Provence
½ teaspoon salt
¼ teaspoon ground black pepper
½ cup chopped fresh parsley
Instructions
Put the cubed potato into a medium pot and cover with cold water by 2 inches. Bring to a boil, and then turn the heat down and cook until the potatoes are fork-tender, about 5 to 8 minutes, being careful not to overcook. Drain and cool.
Stir together the grated onion, mayo, Dijon, vinegar, oil, Herbs de Provence, salt, and black pepper in a large bowl, and then stir in the potato and parsley.
Serve chilled.
Here are some other fabulous side dishes for summer parties…
White Bean-Roasted Red Pepper Salad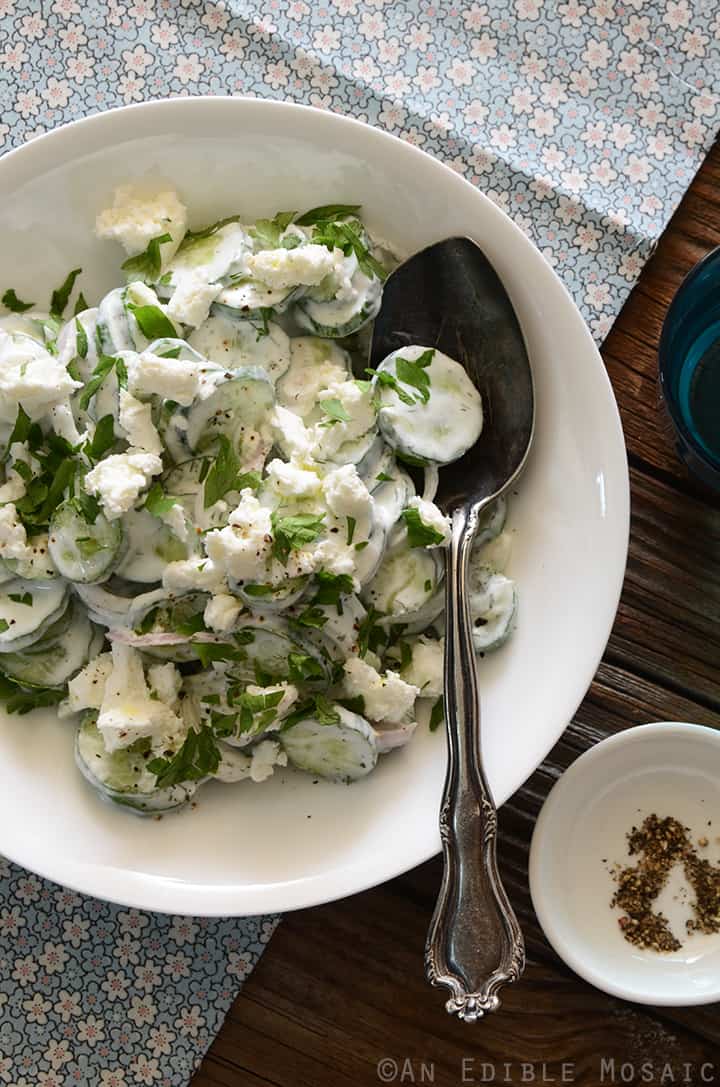 Creamy Cucumber Salad with Goat Cheese and Dill
And here are a few delicious sides from around the web that would also be perfect for your 4th of July gathering or any summer spread…
Caprese Quinoa Stuffed Tomatoes from Yummy Mummy Kitchen
Easy Baked Beans from Well Plated
Grilled Sweet Potatoes with Cilantro Vinaigrette from Cookin' Canuck
Mexican Corn on the Cob from Pinch and Swirl
Thai Summer Slaw from Cooking Light