Salted Caramels are easier to make than you might think! Their lovely sweet/salty flavor is addictive and they make a beautiful, festive homemade gift or party treat.
This recipe is something I've wanted to make for quite a while: the fabulous Ina Garten's Fleur de Sel Caramels. All of Ina's recipes that I've made in the past have been delicious and this one was no different. I'm sharing the recipe here because I made a few changes to Ina's original recipe, in both the ingredients and method.
These soft little caramels are rich and flavorful with the perfect texture; they're chewy, but they don't stick to your teeth the way store-bought soft caramel has the tendency to do. Ina cut her caramel into 16 pieces, but I usually cut mine into 64 (1-inch square) or 32 (2 by 1-inch) pieces for a more manageable bite-sized sweet treat. These candies are the perfect Halloween indulgence for adults, and around the holidays they make great party treats, or a lovely homemade gift in a festive tin or vintage jar.
I know candy-making and general and caramel-making in particular can be a little intimidating; here are some tips to help you when making caramel:
When the boiling sugar mixture turns a warm golden color it's time to add the cream/butter mixture. Be careful because it very quickly goes from a light amber color, to a golden amber color, to burned. And since it's most likely to do this the instant you turn your back (sugar can be a fickle thing!), be watchful.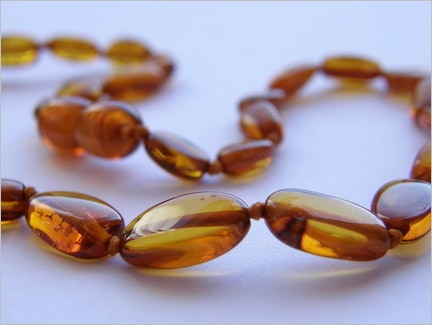 This is the warm golden amber color your sugar should be when you add the cream/butter mixture. (Image Source)
The caramel should be cooked until it reaches firm ball stage, which is around 244-248F. I like to remove it from the heat right at 244F because the temperature continues to rise slightly even once taken off the heat source.
When you're chilling the caramel before cutting it, you can leave it in the fridge overnight. If you decide to do this, it might be a bit too hard to cut when it's taken directly from the fridge, but you can let it sit for about five to ten minutes at room temperature, and then you should be able to work with it. (But don't let it sit out too long or it will be too soft to cut and you'll need to re-refrigerate it.)
If you store your caramels in the fridge, be sure to let them sit at room temperature for about half an hour to soften up before serving.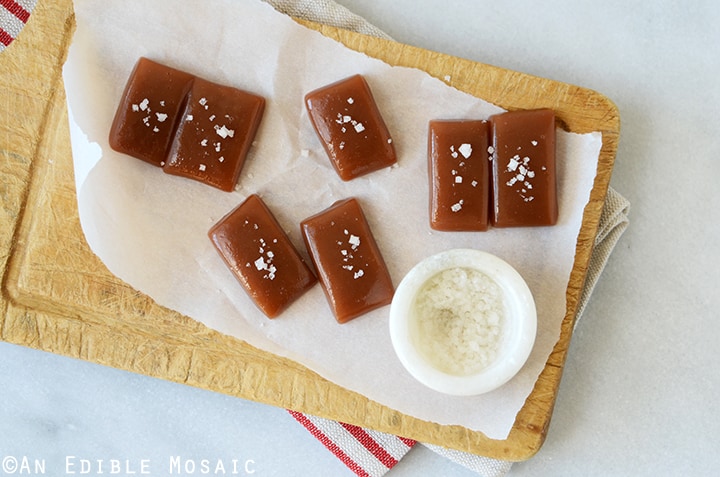 Salted Caramels
Prep time:
Cook time:
Total time:
Salted Caramels are easier to make than you might think! Their lovely sweet/salty flavor is addictive and they make a beautiful, festive homemade gift or party treat.
Ingredients
Ingredients:
1½ cups sugar
¼ cup light corn syrup
½ cup water
1 cup heavy cream
5 tablespoons salted butter (or 5 tablespoons unsalted butter + ¼ teaspoon salt)
1 teaspoon pure vanilla extract
Fleur de sel (or your favorite kind of sea salt), for sprinkling on top
Avocado oil or another neutral-flavored oil, to oil the pan
Equipment:
8 by 8-inch baking dish
Pastry brush
3-quart pot (about 6 inches in diameter and 4½ inches deep)
Another small saucepan (large enough to hold about 2 cups)
Candy thermometer
Wooden spoon
Parchment paper
Instructions
Get out all the ingredients and equipment you'll need for this recipe.
Line the bottom of an 8 by 8-inch baking dish with parchment paper so that it hangs over 2 sides; use a pastry brush to lightly brush the bottom and sides of the prepared pan with avocado oil.
To a 3-quart pot, add the sugar, corn syrup, and water. Turn the heat on medium-high, bring the mixture up to a boil, and then cook until it turns a warm golden amber color. You can swirl the pot to mix the ingredients, but do not stir.
While the sugar mixture cooks, in a separate small saucepan heat the heavy cream and butter over medium-low heat until it simmers. Turn off the heat and keep warm until ready to use.
When the sugar mixture is a warm golden amber color, slowly add the cream/butter mixture; be very careful, as it will bubble up. Use a wooden spoon to stir in the vanilla. Continue to cook over medium-high heat until the caramel reaches 244F (firm ball stage) on a candy thermometer.
Carefully pour the caramel into the prepared baking dish. Cool to room temperature, and then chill in the refrigerator until solid enough to handle.
Using the parchment paper as grips, remove the caramel from the pan (you might need to run a sharp knife along the sides that are against the baking dish), and then use a sharp knife to cut it into 64 (1 inch square) or 32 (2 by 1-inch) pieces. Sprinkle a little fleur de sel on top of each piece, and then wrap in parchment paper that has been cut down to size.
Store the caramels in the fridge or at room temperature.
Photos updated December 7, 2015.