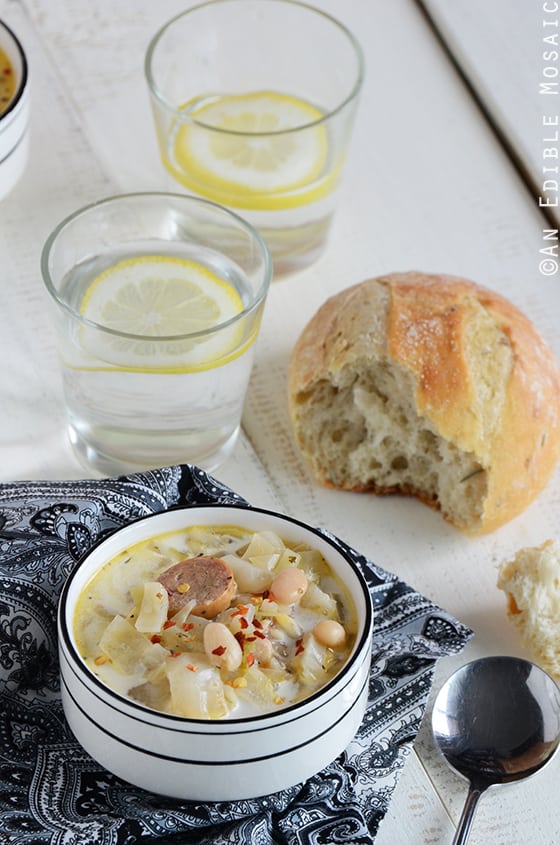 One of my favorite things about winter is making soup, and even though I make it a lot, I make so many different kinds that we never get sick of it.
Cabbage soup - in any of its variations - is one of my favorites.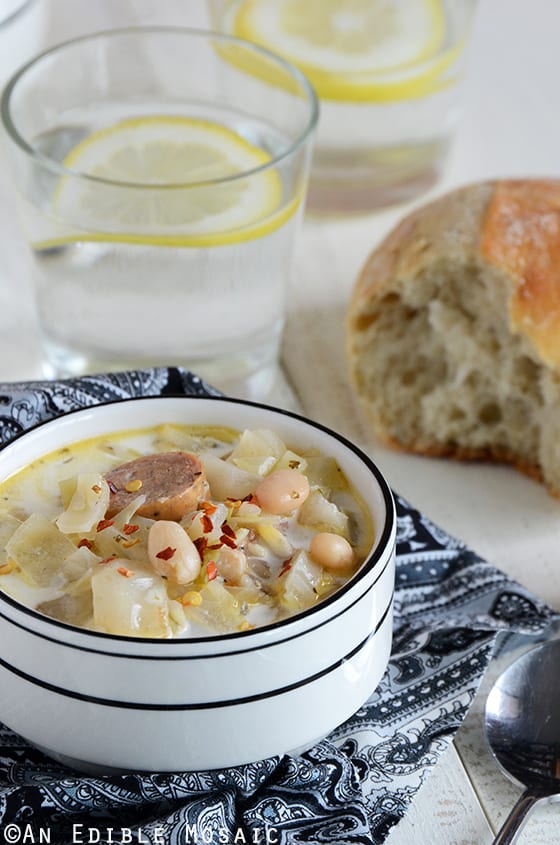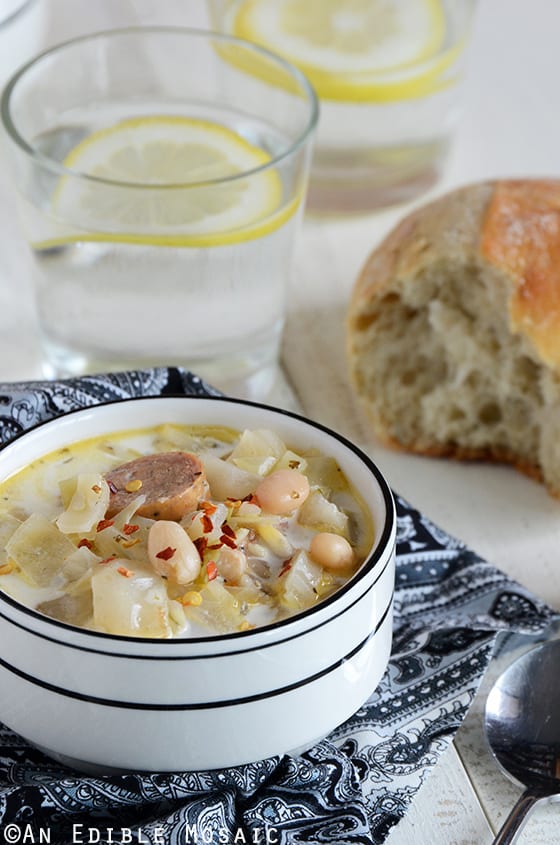 This is one of the most flavorful cabbage soups I've had...and even picky eaters who aren't really into cabbage soup usually admit it's pretty darn good and then go for a second helping, which I am always only to happy to oblige.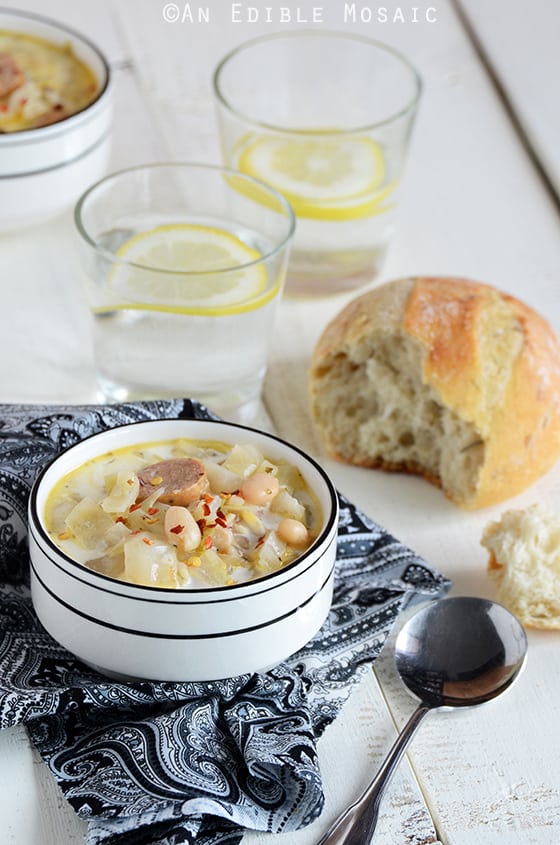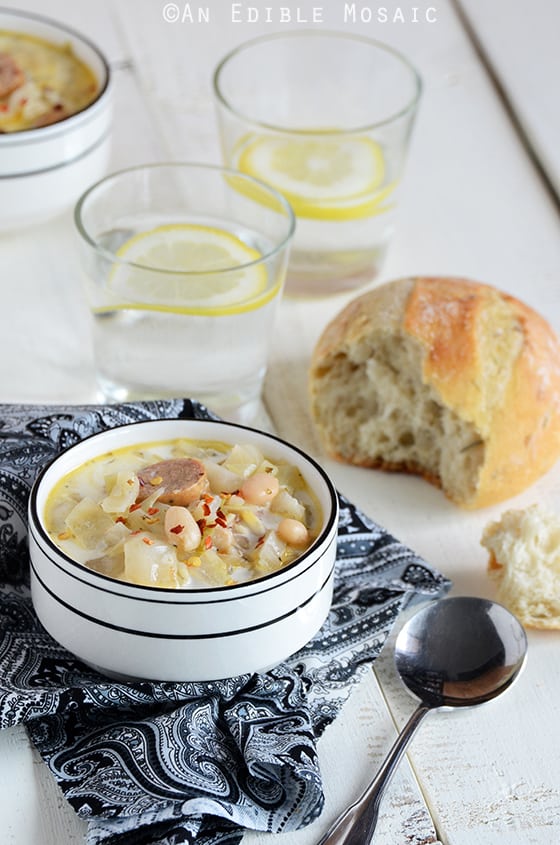 With a whole head of cabbage in it, this soup is healthy and delicious, and with sausage and beans, it's also really hearty.(Plus it's even tastier the next day!) Paired with fresh bread, it's the perfect meal on a chilly night, or make a batch on Sunday and portion it out for quick lunches during the work week.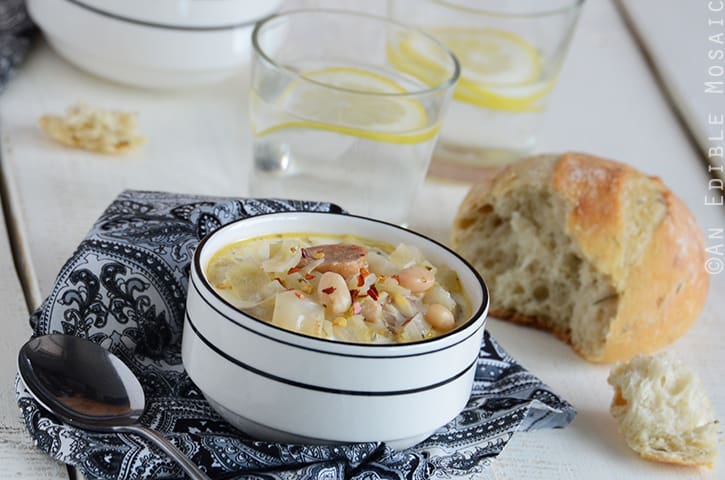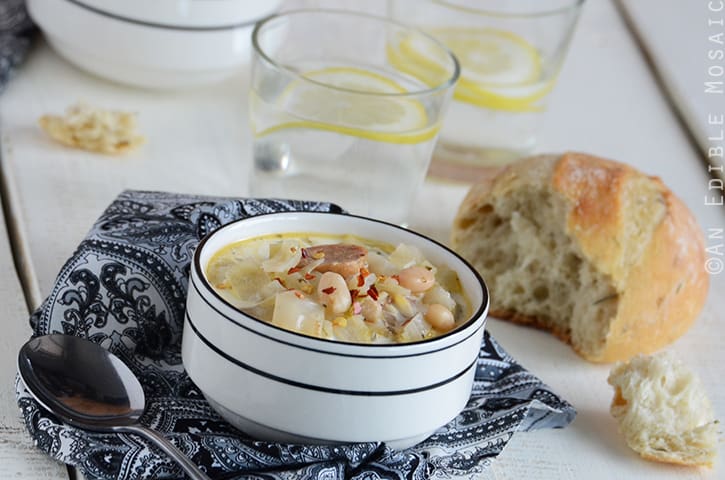 Cabbage, White Bean, and Sausage Soup
Prep time:
Cook time:
Total time:
Ingredients
8 oz (about 1¼ cups) dried Great Northern Beans, rinsed (see Note)
2 tablespoons olive oil
¾ lb fully cooked Italian-style chicken sausage, sliced
2 tablespoons butter
1 medium head (about 3 lbs) cabbage, chopped
2 medium onions, diced
¼ cup lemon juice
1 teaspoon salt
¼ teaspoon black pepper
6 large cloves garlic, minced
1 teaspoon crushed red pepper flakes (more or less to taste), plus more for garnish if desired
1½ tablespoons minced fresh rosemary leaves (or 1½ teaspoons dried rosemary leaves or dried Italian herb seasoning)
2 bay leaves
2 chicken-flavored soft bouillon cubes
8 cups water
1 cup heavy cream
Instructions
Pick over the beans and remove any stones, pieces of dirt, or irregular beans. Put them in a large bowl; fill the bowl with cold water and soak overnight. The next day, drain the beans, add them to a large pot, fill the pot with water, and bring to a boil over high heat; once boiling, turn the heat down, cover the pot, and cook until the beans are tender (about 1 hour, but it could take longer), adding more water as necessary and stirring occasionally; drain.
Heat the oil in a lidded 5-quart pot over medium-high heat; add the sausage and brown, about 5 to 7 minutes. Transfer the sausage to a bowl and set aside. Add the butter, then once melted, add the cabbage, onion, lemon juice, salt, and pepper to the pot; cover the pot and cook until the veggies start to soften, about 10 minutes. Add the garlic, red pepper flakes, and rosemary, and cook 2 minutes, stirring constantly.
Add the bay leaves, bouillon cubes, water, beans, and sausage; bring the soup up to a boil, then cover the pot, turn heat down to simmer, and cook until the veggies are tender, about 20 minutes, stirring occasionally.
Turn off heat and stir in cream; serve garnished with red pepper flakes, if desired.
Notes
Beans: To save time, instead of dried beans you can use 2 (14 to 16 oz) cans of white beans. To do so, add the rinsed, drained beans at the end of the cooking time once the veggies are tender, and cook until they're warmed throughout, about 5 minutes.