Almond-Crusted Chicken with Lemony Olive and Black Bean Relish is a family-friendly weeknight meal, but also makes a perfect stay-at-home date night meal!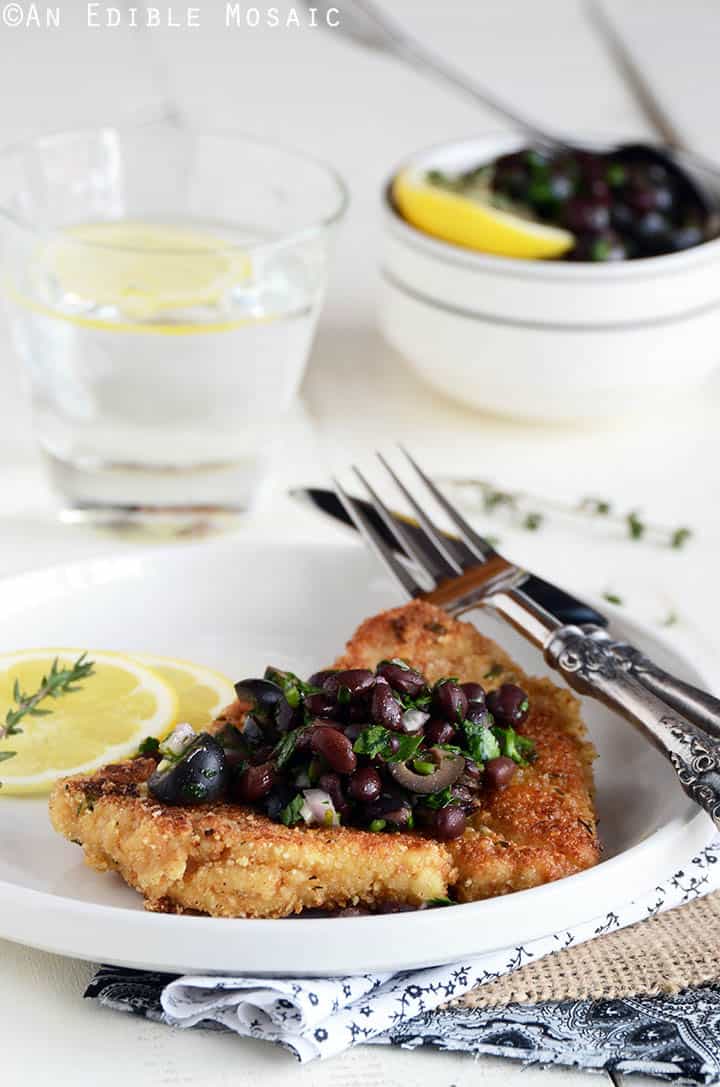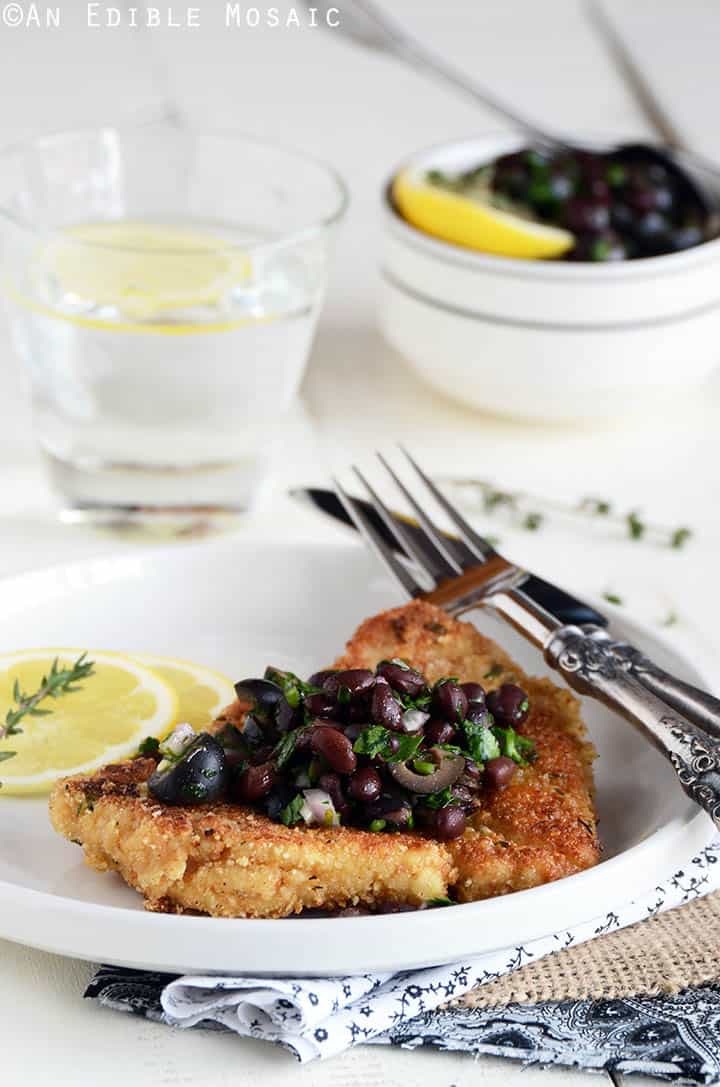 I'm a truly lucky girl. Now in addition to being able to cook eggs (at least two different ways), my multi-talented hubby can make a pretty fantastic breaded chicken cutlet. (Don't think I'm being sarcastic – I am being absolutely serious! He can also do laundry, mop a floor until it sparkles, pick out the prettiest flowers in the world for me, and develop and maintain a computer network.) He doesn't make breaded chicken cutlets very often, but I always get excited when he does; not only is it a nice break for me, but it's always delicious and has definitely become one of both of our favorite meals. (If you're curious as to how he learned how to make it, he looked it up on YouTube to surprise me one day! Adorable, right?)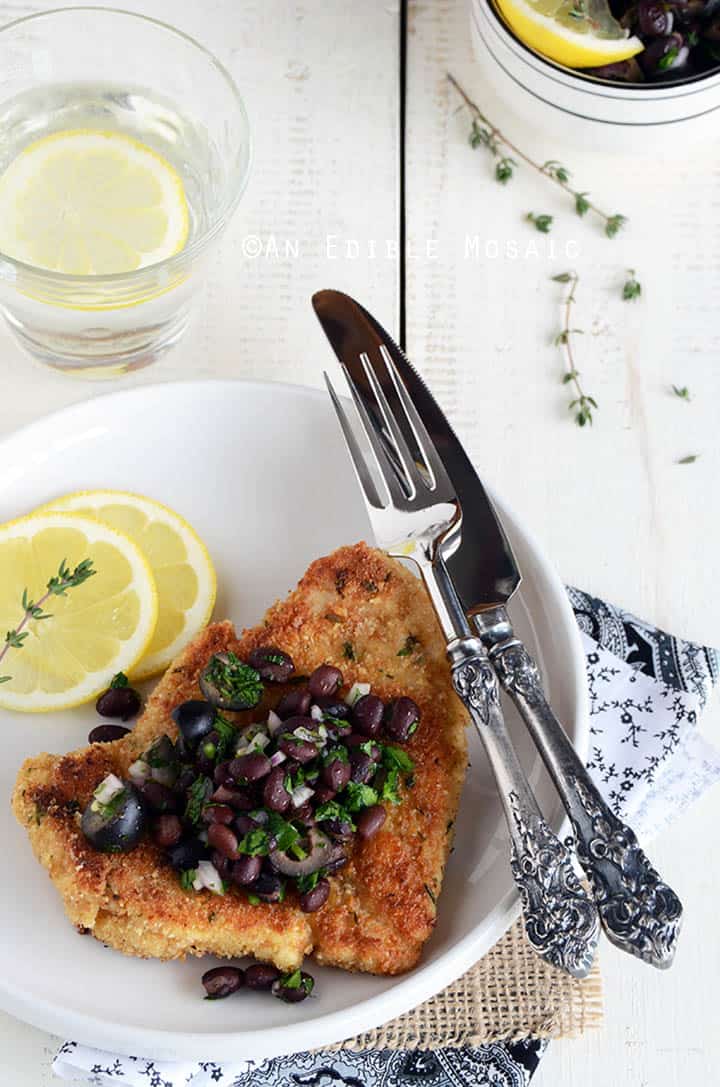 I was recently invited to participate in Kitchen PLAY's January Progressive Party. Once I found out that Lindsay Olives was sponsoring the event, I knew that I wanted to incorporate olives into one of our favorite meals: you guessed it, Mike's Breaded Chicken Cutlets! For something a little different, almond meal was a delicious nutty addition to the breading in this recipe. In the past we've experimented with other coatings, and crushed pretzels, potato chips, or cereal (like cornflakes or even honey nut cheerios) are also favorites of ours. We usually like to serve our chicken cutlets with lemony salad greens, and this relish with olive and black beans is a nice play on the lemony flavor.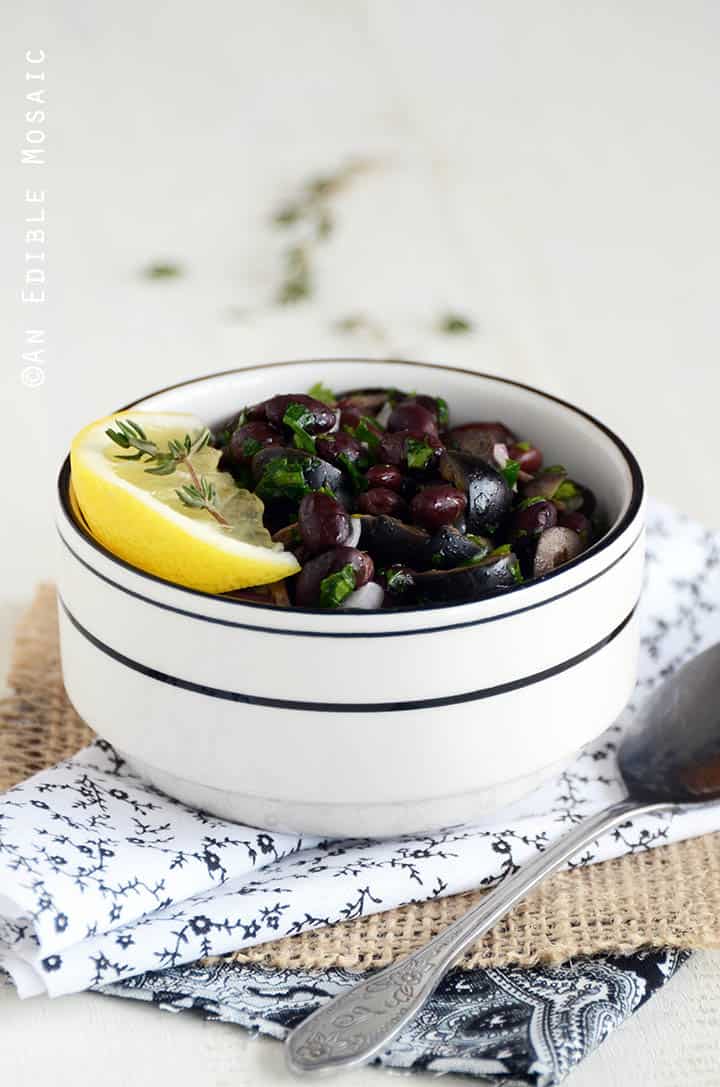 These olives are delicious, and I liked that they are much less salty tasting than the olives I'm used to from the gourmet olive bar at the grocery store. Olives, which are rich in antioxidants, are a great way to get more fruits/veggies (yup, olives are technically fruit, but often thought of as a vegetable) into your diet. And this time of year, who isn't trying to get a little healthier?
This recipe is a crowd-pleaser! You may want to leave off the relish if you're serving it to little ones, but then again, I've known a few toddlers who actually love olives and the bright flavor of lemon, so it just depends on personal preference. It also makes a lovely meal for date night dinner at home!
Almond-Crusted Chicken with Lemony Olive and Black Bean Relish
Prep time:
Cook time:
Total time:
Almond flour adds a nutty crunch to chicken cutlets, and lemon and fresh herbs brighten the flavor of the black bean relish in this quick weeknight-friendly meal!
Ingredients
Lemony Olive and Black Bean Relish:
1½ (16 oz) cans black beans (no salt added), rinsed and drained
½ cup pitted whole black olives, drained and coarsely chopped (I used Lindsay's Italian Seasoned Pitted Olives)
1 small red onion, diced
½ bunch parsley, minced
1 teaspoon minced fresh thyme
1 teaspoon fresh lemon zest
2 tablespoons fresh lemon juice
2 tablespoons olive oil
¼ teaspoon salt
1 pinch black pepper
Almond-Crusted Chicken:
6 tablespoons almond flour
6 tablespoons plain breadcrumbs
1 teaspoon minced fresh thyme
¾ teaspoon salt
⅛ teaspoon black pepper
1 large egg
¼ cup all-purpose flour
4 (4-6 oz) chicken breast cutlets
Avocado oil, for shallow frying
Instructions
For the relish: Stir together all ingredients and refrigerate until serving.
For the chicken: In a shallow dish, combine the almond flour, breadcrumbs, thyme, salt, and pepper. In a second shallow dish, beat the egg with 2 tablespoons of water. Put the flour in a third shallow dish. Coat each chicken cutlet first in flour, then in egg, then in breadcrumbs, gently shaking off any excess.
Coat the bottom of a large skillet with oil over medium-high heat. Add the chicken and cook until golden on both sides and fully cooked in the center (there should be no pink), about 2 to 4 minutes per side.
To serve: Spoon the relish onto the chicken and serve immediately.
Lindsay Olives is also sponsoring a delicious giveaway at Kitchen PLAY. Simply recreate this or any recipe from this month's Progressive Party, post about the experience on your blog, and provide a link to your post on Kitchen PLAY to enter. All qualifying bloggers in each course will be entered to win $50 and an assortment of Lindsay Olives products shipped directly to each winner (valued at an additional $15). To qualify, participants must reside in the US.
The deadline is January 31, 2012. Please review the complete contest rules before entering. Good luck!
Disclosure:  This post is sponsored by Kitchen PLAY and Lindsay Olives; as always, opinions stated are my own.