Happy April Fools' Day!
After my last April Fools' mistake, I decided it was high time to make a proper April Fools' recipe (meaning one that doesn't taste how a cabbage farm smells and is actually edible).  So of course I decided on some form of chocolate.  ;) I've been making Worms in Dirt with my mom and my sister for years now, and it's one of my family's tried and true favorites. 
If you want to take this April Fools' to the next level, you can buy flower pots to serve it in…just make sure to get food-safe pots or line the insides with plastic wrap.  I served it in individual portions but you could easily turn it into a trifle by layering it in a trifle bowl.
There's still time to enter your Easter recipes in our All Through the Year Cheer Event!  (More details here.)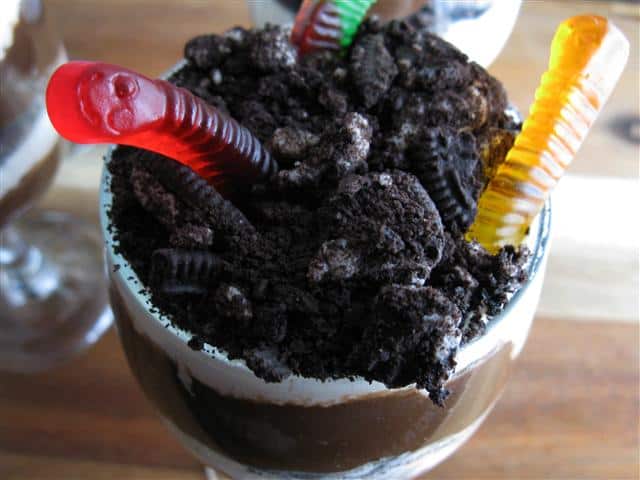 Worms in Dirt (Cookies & Cream Chocolate Parfaits with Gummy Worms)
(Yield:  4-6 servings)
2 c chocolate pudding (instant or homemade is fine)
10 cream-filled chocolate wafer cookies (like Oreo), crushed
1 c heavy cream
1 TB powdered sugar
1 tsp pure vanilla extract
Gummy worm candy, for garnish
Whip the cream until it forms soft peaks, then mix in the powdered sugar and vanilla extract.  Layer the pudding, cream, and crushed cookies in a serving container (you can use 1 large container or 4-6 individual containers), ending with a layer of crushed cookies.  Decorate the tops with gummy worms.
Just as Delicious without the Worms ;)