Soy Sauce Orange Cashew Chicken with Noodles is a delicious sweet/savory weeknight dinner in 30 minutes!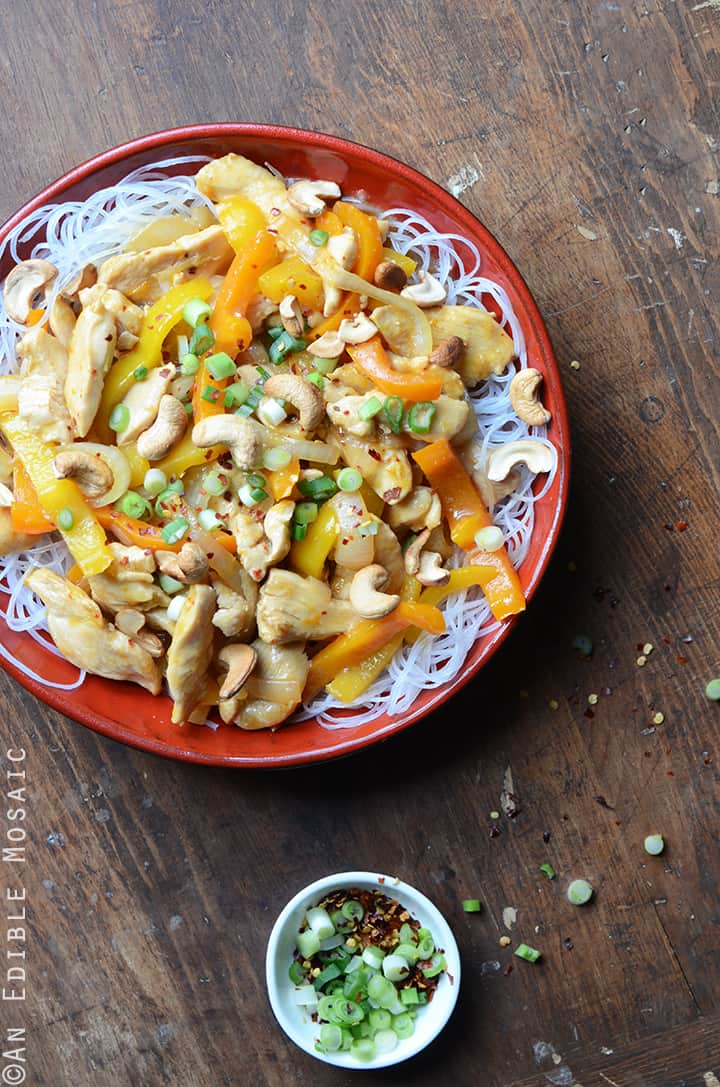 I have a friend who won't cook unless she can follow a recipe to follow to the letter. No subbing yellow bell pepper for red bell pepper, avocado oil won't see the light of day if the recipe calls for sautéing in light olive oil, and if a recipe makes two servings but she's cooking for four, she will literally make the same recipe twice instead of just doubling it.
I'm totally not judging (to each her own! Whatever works, right?), but I seriously do not have patience for that kind of stress when it comes to cooking. It's just dinner…it theoretically gets made (or at least eaten) 365 days a year and to go through that level of intensity every day makes me think she's a hero for even attempting it. (I do not have that kind of stamina, lol!)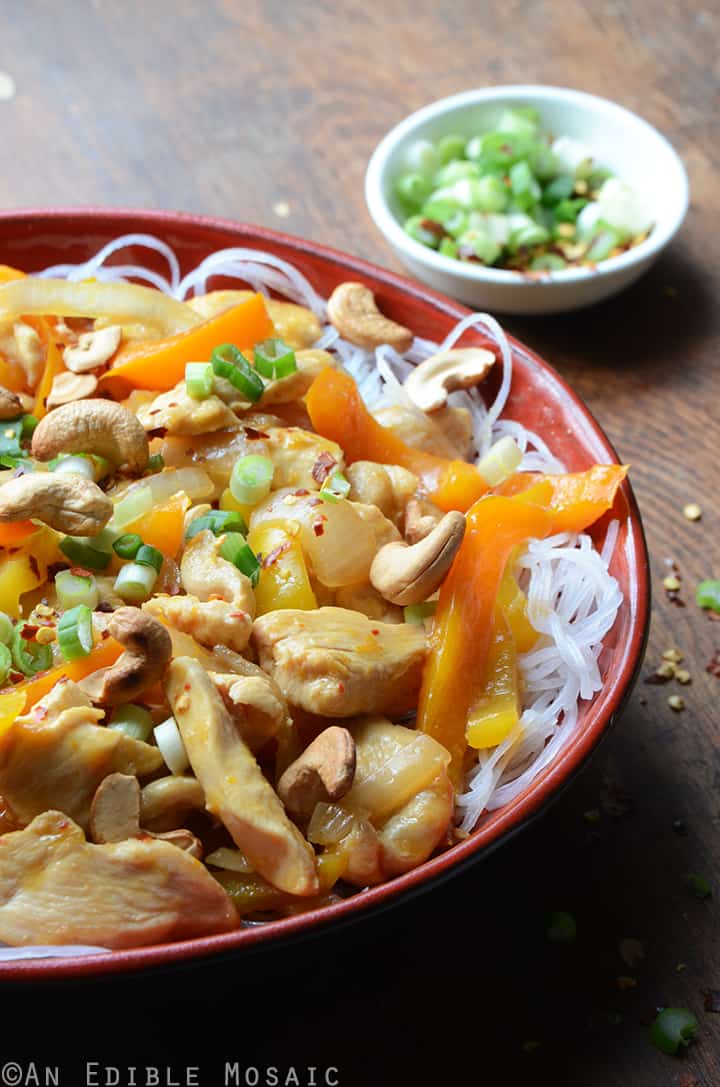 Let me be the bearer of good news.
I am here to tell you that in this recipe (like with many of my recipes), use any color bell pepper you like, or if zucchini or another veggie is your thing, by all means go that route. I used fresh-squeezed orange juice here because I usually have fresh oranges on hand this time of year, but if you have a jug of OJ (with or without pulp) in your fridge, that will absolutely work. Add as much or as little crushed red pepper flakes as you like. Scale back on the orange zest if you don't want this dish too citrusy, or bump it up if orange is totally your thing. Skip the cashews if you don't have them on hand, or swap them out for whatever kind of nut you like. And to keep this gluten-free, Kikkoman Gluten-Free Tamari Soy Sauce is a good choice instead of regular soy sauce.
This dish is sort of like sweet and sour chicken meets orange chicken meets cashew chicken. Because why not? It's a lot going on, but it somehow works. I used Kikkoman Soy Sauce here, which is aged for several months to develop its characteristic rich, yet mellow flavor, robust aroma, and distinctive reddish-brown color. This traditionally-brewed soy sauce enhances the flavor of this dish and pairs really well with the garlic, ginger, orange juice, and crushed red pepper flakes. It's all about a balanced flavor profile!
I made this dish in celebration of the Lunar New Year on February 8…it's full of supposed good luck foods! Long, unbroken noodles are a classic symbol of long life, and oranges are representative of good luck or success because of how close the word orange sounds to the Cantonese word for success, and also because their round, golden color represents fullness and wealth. (You can read more about lucky foods for the Chinese New Year on China Highlights and Parade's Community Table.)
You don't have to wait for a special occasion to make this though! If your family likes Chinese food take-out, give this one a try instead. It'll be on the table in 30 minutes, making it a great weeknight dinner.
Soy Sauce Orange Cashew Chicken with Noodles
Prep time:
Cook time:
Total time:
Soy Sauce Orange Cashew Chicken with Noodles is a delicious sweet/savory weeknight dinner in 30 minutes!
Ingredients
4 oz (120 g) arrowroot starch vermicelli (see Note)
3 large cloves garlic, crushed or grated
1 tablespoon fresh-grated ginger
½ cup (120 ml) fresh-squeezed orange juice
½ cup (120 ml) low-sodium chicken broth
3 tablespoons soy sauce
½ to 1 teaspoon orange zest (more or less to taste)
¼ to ¾ teaspoon crushed red pepper flakes (more or less to taste)
1 tablespoon arrowroot starch (or cornstarch)
2 tablespoons avocado oil, divided
1 lb (450 g) boneless, skinless chicken breasts, sliced cross-wise into thin strips
2 large bell peppers, deseeded and thinly sliced (I used 1 orange and 1 yellow bell pepper)
1 medium-large onion, halved and thinly sliced
½ cup toasted cashews, coarsely chopped
2 scallions, green and white parts, thinly sliced
Instructions
Put the vermicelli in a bowl and cover with boiling water; leave it until the noodles are softened (start checking them after 2 minutes). Drain and set aside.
Whisk together the garlic, ginger, orange juice, chicken broth, soy sauce, orange zest, crushed red pepper flakes, and arrowroot starch in a medium bowl; set aside.
Heat 1 tablespoon of oil in a large, deep-sided skillet over high heat. Add the chicken breasts in a single layer on the bottom and cook until browned outside and fully cooked inside (there should be no pink inside), about 5 minutes. Use a slotted spoon to transfer the chicken to a bowl.
To the same skillet, add the remaining 1 tablespoon oil, bell pepper and onion; cook over high heat until starting to soften, about 2 minutes, stirring frequently.
Add the chicken back into the skillet and stir in the orange juice mixture. Bring to a boil, and then cook until the sauce is thickened, about 2 minutes, stirring frequently.
To serve, place the noodles on a large serving bowl and spoon the chicken mixture on top; sprinkle on the cashews and scallion.
Notes
Arrowroot Starch Vermicelli: I buy these noodles at a local Asian market; they're very similar to glass noodles. If you can't find them, use any kind of noodles you like in this dish, or even serve it with rice or quinoa instead.
I was selected for this opportunity as a member of Clever Girls and the content and opinions expressed here are all my own.