Who needs dessert after dinner when you can eat it for breakfast? I've always loved oats, even as a kid, but when I think of them I usually think of, well, something oaty…something for horses…something nutritious and chewy/mushy and not too full of flavor but great with a little honey and milk or cinnamon and brown sugar. The days of boring oats are gone. Through much inspiration and experimentation I have learned that oats can be anything you want them to be.
These oats (as the name implies) were inspired by the candy bar, Almond Joy. They're subtly sweet from banana, creamy from being puréed, and pack a punch of protein thanks to cottage cheese and almonds.
Here's the nutritional information (from nutritiondata.com):
260 calories
8 g total fat (3 g saturated fat, 0 g trans fat)
2 mg cholesterol
232 mg sodium
36 g total carbohydrate
6 g dietary fiber
11 g sugar
13 g protein
For more oatmeal inspirations, see Krista's and Kath's blogs!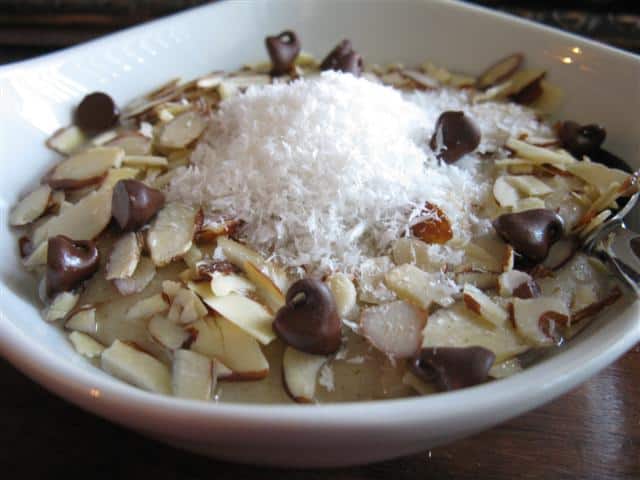 Almond Joy Oats
(Yield: 1 serving)
¼ c low-fat cottage cheese
½ medium frozen banana, thawed
⅔ c water
⅓ c rolled oats
Dash salt
1 TB sliced almonds
1 TB unsweetened flaked coconut
1 teaspoon semisweet chocolate chips
In a blender, purée the cottage cheese, banana, and water; add the oats and salt and blend until smooth. Transfer the mixture to a small pot and heat on medium-low for ~8 minutes stirring frequently, or until it reaches your desired consistency (I like mine about as thick as cream of wheat). Top with the almonds, coconut, and chocolate chips.
Substitution for the Cottage Cheese: You won't taste the cottage cheese at all in this (I just use it for a boost of protein), but if you prefer you can either omit the cottage cheese and leave the rest of the recipe the same, or omit the cottage cheese and use milk in place of some/all of the water.