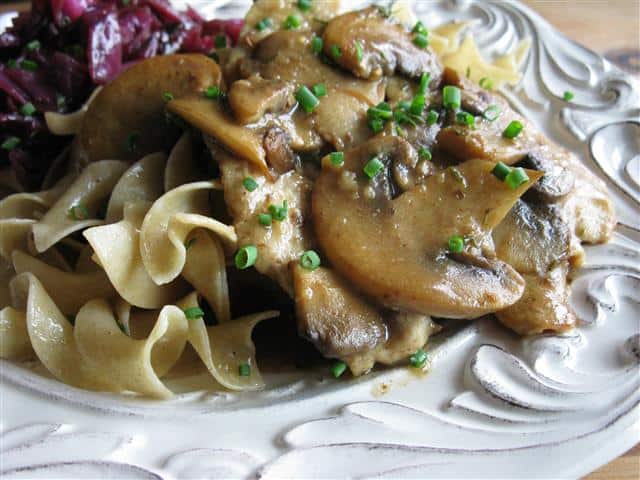 Out of the blue, I've been seriously dying for sweet and sour red cabbage and I had the idea to incorporate it into some kind of Oktoberfest-inspired meal. The other day at work I was musing about whether to make Wiener or Jäger Schnitzel when the Lady in Red (who is a friend/co-worker, not Chris de Burgh's long-lost love), who lived in Germany for some time, came to my rescue. She gave me some fabulous inspiration and together we came up with this lovely meal. Everything was a big hit, even with Mike who claims to not like German food, so thank you, Lady in Red!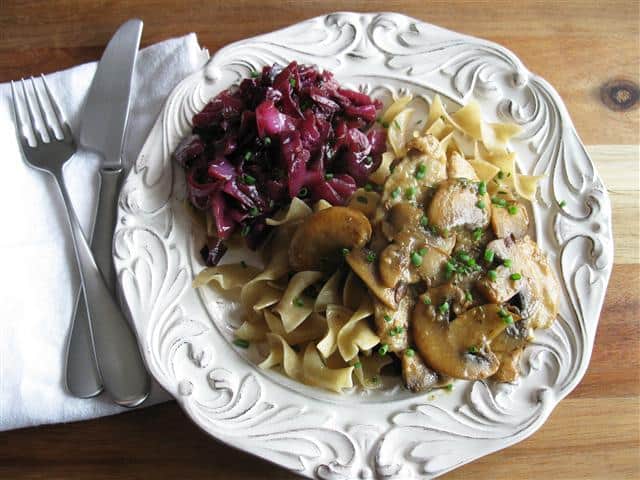 Jäger-Schnitzel with Sweet & Sour Cabbage & Thyme-Buttered Noodles
(Yield: 4 servings)
Sweet & Sour Cabbage:
2 TB canola oil
1 ¼ lb (about ½ a small-medium head) red cabbage, chopped (about 5-6 c)
¼ c organic, unfiltered apple cider vinegar
2 TB brown sugar, lightly packed
½ teaspoon salt
¼ teaspoon ground marjoram
⅛ teaspoon black pepper
Thyme-Buttered Noodles:
8 oz whole wheat egg noodles
4 teaspoon unsalted butter
2 teaspoon fresh minced thyme
Salt and pepper
Jäger-Schnitzel:
4 small or 8 medium veal cutlets (about ⅔ lb total), pounded very thin
2 TB all-purpose flour, divided
2 TB canola oil
8 oz white button mushrooms, sliced
1 TB unsalted butter
2 teaspoon thyme
1 c beef stock
Salt and pepper
Fresh minced chives (garnish)
For the cabbage: In a medium pot with a lid, heat the oil over medium-high heat. Add the cabbage and all other ingredients for this dish; cook over medium-high heat until the cabbage starts to soften (about 5 minutes), then turn the heat down to low, cover the pot, and cook until tender (about 30-35 minutes), stirring every 5 minutes or so.
For the noodles: Cook the noodles to al dente according to the package directions, then drain. In a medium saucepan over low heat, melt the butter together with the thyme. Once melted, turn off the heat, toss in the noodles, and season to taste with salt and pepper.
For the schnitzel: Season both sides of the cutlets with salt and pepper, then dredge them in 1 TB flour and shake off any excess. In a large skillet, heat the oil over medium-high heat; when the oil ripples add the cutlets and sauté until browned on both sides (about 1-2 minutes per side). Remove the cutlets from the pan, turn the heat down to medium, and add the butter; once the butter is melted, add the mushrooms. Cook the mushrooms until browned (about 8-10 minutes), stirring occasionally. Add the remaining 1 TB flour and cook for 30 seconds, then add the thyme and beef stock; use a wooden spoon to scrap up any brown bits that are on the bottom of the pan. Bring the gravy up to a simmer, then turn it down to low and let it simmer gently for 5 minutes until slightly thickened. Add the cutlets and any juices they rendered back into the pan and cook a few minutes until warm. Taste the gravy and season with salt and pepper as needed.
To serve: Arrange the noodles, cabbage, and schnitzel on a plate; drizzle the mushroom gravy on the schnitzel and garnish with fresh minced chives if desired.