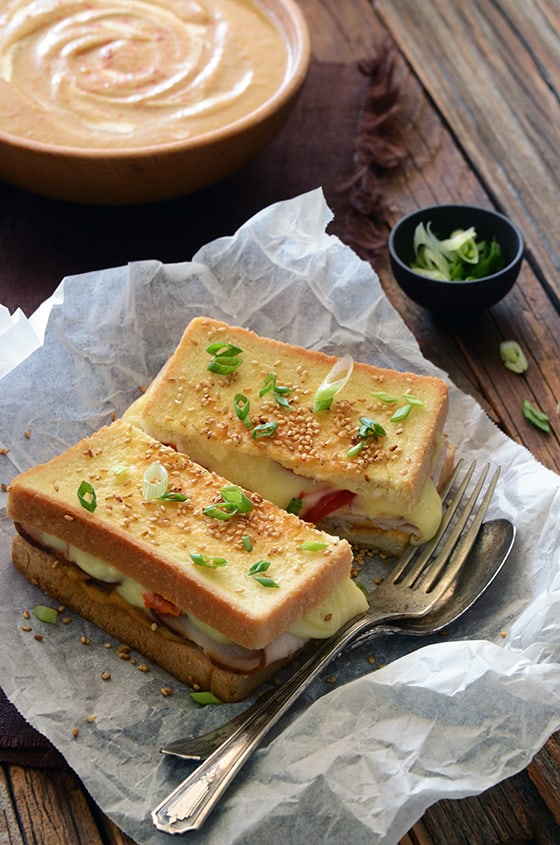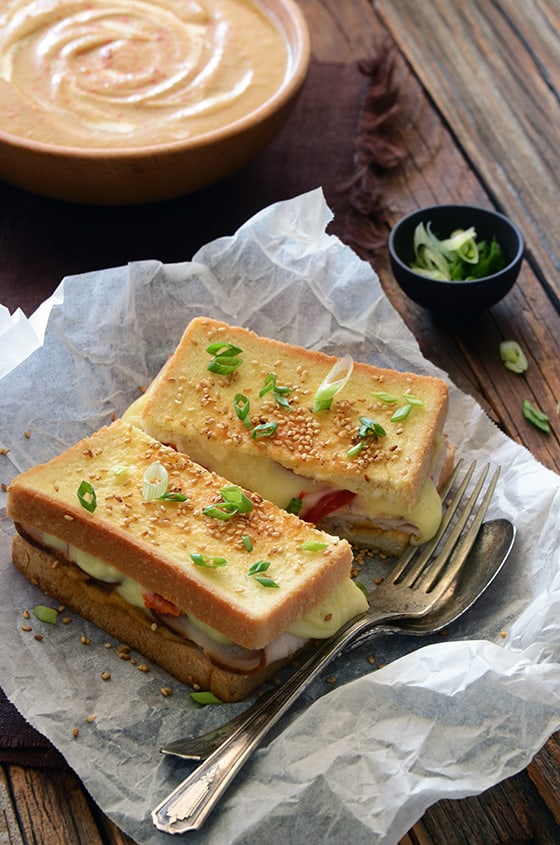 Moving to Kuwait has shown me that words I thought I understood the meaning of actually have a much more relative definition.
Like "soon". As in We'll be over soon, we're on our way now! Three hours and as many pots of Turkish coffee later, it's apparent that "soon" has a different meaning here, lol. (And since you literally can drive from one end of Kuwait to the other in that amount of time, it also becomes apparent that unless they were either in Iraq, Saudi Arabia, or somewhere on the Persian Gulf, they in fact were not on their way.)
Or "close". Like when someone says It's really close – let's walk! And then 45 minutes, two mini sandstorms, and three blisters (did I not say I didn't have my walking shoes on?) later, we're there and have all of an hour before it's time to walk back. (You might be wondering what a "mini sandstorm" is…when Mike and I first moved to Kuwait, I told him I was intrigued by, curious about, and kind-of looking forward to seeing my first sandstorm. I kept asking him when we'd see one and he kept telling me they're nothing to look forward to. Then one rather windy day when we were out walking, an unpleasant gust of sandy wind blew into my eyes. I was informed by my wise-cracking hubby that I had just experienced a "mini sandstorm." After that, my sandstorm curiosity was cured.)
And temperature-wise, both hot and cold have completely different meanings here. Take a water faucet for example. Normally a faucet has both hot and cold temps; however, here the water comes out either hot or scalding hot (as in, there almost isn't any need to boil water). And weather-wise even I've been converted into thinking hot is cold; when it's 84°F outside and I walk onto my balcony, start shivering, call it chilly, and head back inside to grab a sweater, I think I've lost touch of what "chilly" really is, lol.
But I'm using that to my advantage…whether or not it's actually chilly outside, I can simulate autumn, my favorite season, in a place where the weather isn't necessarily so autumnal (but I have to say, I feel pretty lucky that I can wear sandals year-round and don't need a winter coat at all!). Although a big part of fall is the gorgeous foliage, another big aspect is the food. Steaming hot lattes, apple pies, pumpkin everything. Oh, and delicious, subtly sweet and nutty butternut squash.
Progresso® Masala Curry Butternut Squash Artisan Soup
Butternut sometimes takes the backseat to pumpkin, but it's every bit as delicious and equally versatile. And oh wow does it make a lusciously velvety soup. I was pretty excited when I recently found out that Progresso® came out with a new line of Artisan Soups and one of them is Masala Curry Butternut Squash. From the Progresso® Artisan Soups website, it says this soup is: "Inspired by the warmth of Indian spices and the richness of coconut, our Masala Curry Butternut Squash blends the sweetness of winter squash with zesty red pepper and traditional Indian garam masala to make a luscious soup that's finished with a touch of cream." It sounds amazing, right?
Progresso® Artisan Soups feature a new repertoire of ingredients, come in five flavorful varieties and demonstrate Progresso®'s commitment to celebrating authentic taste and rediscovering old world recipes. Their four other varieties are as lovely as the Masala Curry Butternut Squash: Creamy Tomato with Roasted Red Peppers, Rustic Tomato with Chicken and Dumplings, Creamy Potato with Sausage and Kale, and Smoky White Bean and Winter Vegetables.
Progresso® Rustic Tomato with Chicken & Dumplings Artisan Soup 
I was asked to come up with a sandwich recipe to pair with one of these soups. I chose the Masala Curry Butternut Squash, and although this soup is spiced with Indian garam masala, my mind automatically integrated the flavors of Thai satay. Combining sweet, salty, sour, and savory is an artistic balancing act and a flavor profile that I can never pass up. Not to mention, I thought peanut butter (which is usually the base of the sauce served along with satay) would be a lovely compliment to the natural slight nutty sweetness of butternut in the soup.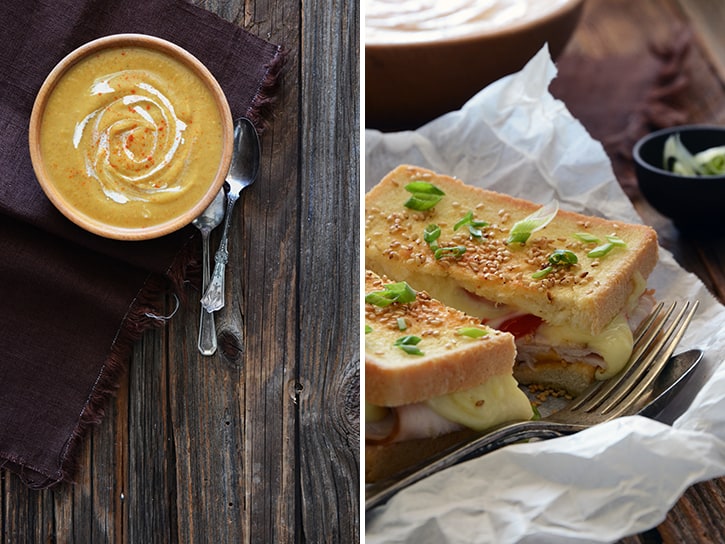 I went with a grilled cheese sandwich, but it is not your average grilled cheese. I made a flavorful Nutty Masala Sauce as a condiment, which is basically a variation on the flavor profile you'd find in satay sauce. To emphasize the flavors in the Masala Curry Butternut Squash soup, I also added a bit of butternut puree and a subtle hint of garam masala spice mix to the sauce. I made this sandwich even more unique by sprinkling sesame seeds onto the buttered bread before grilling, which adds a lovely nutty flavor and fun texture. The sandwich is topped with a sprinkling of sliced scallion to brighten it up and add a last-minute punch of flavor.
My Satay-Inspired Turkey Grilled Cheese with Nutty Masala Sauce ended up being a lovely pairing with Progresso® Masala Curry Butternut Squash Artisan Soup. Rich in flavor and nutrition, as well as wonderfully hearty and comforting, this meal was a perfect way to simulate autumn in my apartment.
Satay-Inspired Turkey Grilled Cheese with Nutty Masala Sauce
Prep time:
Cook time:
Total time:
Ingredients
Nutty Masala Sauce:
2 tablespoons creamy peanut butter
2 tablespoons butternut squash puree (see note below)
½ tablespoon honey
½ tablespoon rice vinegar (or apple cider vinegar)
1 teaspoon light soy sauce
¼ teaspoon garlic powder
¼ teaspoon ginger powder
⅛ teaspoon garam masala spice mix
⅛ teaspoon crushed red pepper flakes
⅛ teaspoon black pepper
Salt, to taste
Sandwiches:
8 slices of your favorite bread
8 teaspoons butter
4 teaspoons sesame seeds
½ lb (225 g) oven-roasted, thinly sliced turkey deli meat
1 medium red bell pepper, quartered, seeded, and thinly sliced
4 oz (115 g) mozzarella cheese, shredded
2 scallions, white and green parts, thinly sliced (for garnish)
Instructions
Use a fork to stir together all ingredients for the Nutty Masala Sauce in a medium bowl. Taste and add salt as desired. Set aside for now.
For the sandwiches, spread 1 teaspoon butter on 1 side of each slice of bread, and then sprinkle ½ teaspoon sesame seeds onto the buttered side of each bread slice, gently pressing the seeds in.
Lay 4 bread slices onto your work surface with the butter/sesame side facing down. Spread the sauce onto the bread and top with the turkey, red bell pepper, and mozzarella. Place the remaining slices of bread on top of the cheese with the butter/sesame side facing up.
Preheat a large nonstick skillet over medium-low heat. Once hot, carefully add the sandwiches and cook until the cheese is melted and the bread is golden, flipping once, about 4 minutes per side (you can turn the heat up or down as necessary).
To serve, transfer the sandwiches to serving plates and sprinkle on the scallion.
Notes
Butternut Squash Puree:
This is super easy to make (
full instructions with step-by-step photos can be found here
); however, if you don't have time to whip up a batch, canned pumpkin will also work. If you're using canned pumpkin, look for solid-pack pumpkin, not pumpkin pie filling (which has spices and sweeteners).
Thank you Progresso® Artisan Soups and Technorati Media for sponsoring this article. All opinions expressed here are my own.