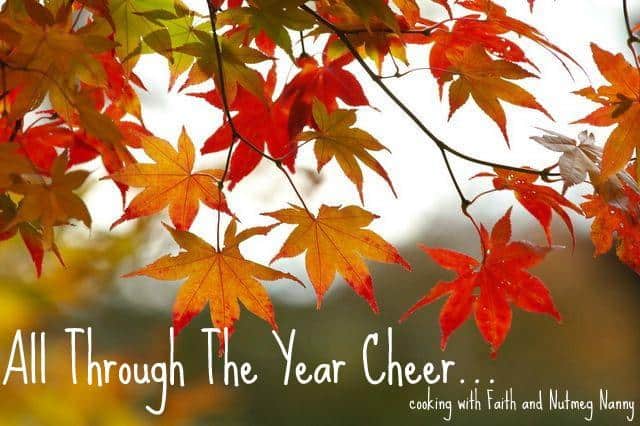 Don't forget to submit your Thanksgiving recipes today at All Through the Year Cheer! (Your recipe can be for anything that says Thanksgiving to you.) On Monday a round-up of the submissions will be posted, as well as the winner! Oh, and be sure to head over and check out the great prize that Brandy has for the winner!
Since the holiday season (a.k.a. the season for pies!) is upon us, I wanted to share one of my favorite pie recipes. There's an over-abundance of wonderful recipes for apple and pumpkin pies; however, pecan pie is one of my favorites and it's not quite as common, so it was the perfect choice! Most of the pecan pie recipes I've made call for a very large amount of corn syrup and/or sugar (if you're familiar with pecan pie, this will make sense, since it's very sweet…almost sickeningly sweet).
I made my pie sugar-free, and chose to sweeten it with dates and honey (plus a little molasses if you choose to use it), which I think perfectly complements the richness of the pecans. I also remade a healthier version of pie crust using oats, since I think the nuttiness of oats goes well with the filling (and yes, because I try to find any use for oats that I can ;) ). This isn't a typical, tender, flaky, and buttery pie crust (although I do love those too!)…this is dense and nutty…think of it more as a healthy pie crust substitute. But of course, feel free to swap it out for your favorite crust.
Working With This Crust: Unlike most pie crusts, this one does not have to be chilled. In fact, chilling it makes it too solid to roll out. You can make this dough and immediately roll it out; or you can make it and store it in the fridge for up to five days, then let it sit at room temperature for about two hours before rolling it out.
To Make Ahead: This whole pie can be made a day or two in advance. Or you can make the crust and the date mixture up to five days ahead and store them in the fridge until you assemble the pie (just remember to let the dough sit at room temperature for about two hours before rolling out).
Pecan Pie
(Yield: 1 (9-inch) pie)
Filling:
Date Mixture (see below)
2 teaspoon vanilla
4 eggs
3 TB rolled oats, finely ground in a food processor
¼ teaspoon salt
Pinch nutmeg
⅔ c pecans, chopped
Date Mixture:
1 c dried dates, chopped (about 10 average-sized dates)
½ c honey
1 TB molasses (optional; I add it for deep color and depth of flavor)
1 c water
Whole Wheat & Oat Crust:
¾ c rolled oats, finely ground in a food processor
¾ c whole wheat flour
1 TB brown sugar (optional)
½ teaspoon salt
Pinch nutmeg
⅓ c unsalted, cold butter, cut into small pieces
2 – 4 TB very cold water
9-inch pie plate
For the Crust:
In a food processor, pulse together the ground oats, flour, brown sugar, salt, and nutmeg . Pulse in the butter a little at a time until the mixture is crumbly. Still pulsing, add the water drop by drop through the food processor's feeding tube just until the dough is wet enough so that you can use your hands to form it into a ball. To roll out the dough, place it between two pieces of plastic wrap. Roll it out to ⅛-inch thickness, then remove the top piece of plastic wrap, invert the dough into a 9-inch pie plate, trim the edges, and form any decorative pattern you like on the crust. Use a fork to prick the bottom of the pie crust several times.
For the Date Mixture:
In a medium saucepan, combine the dates, honey, molasses (if using), and water. Cook on medium-low heat (uncovered) until the dates start to disintegrate and thicken up the liquid (this will take about 20 minutes). Allow the date mixture to cool, then transfer it to a blender or food processor and puree until smooth (you should end up with about 1 ⅓ c of puree).
Assembling the Pie: Preheat the oven to 325F. Mix together the date mixture, vanilla, eggs, ground oats, salt, nutmeg, and pecans. Transfer the filling to the crust and bake for 50-55 minutes until a knife inserted one inch from the crust comes out clean. Allow to cool before cutting.