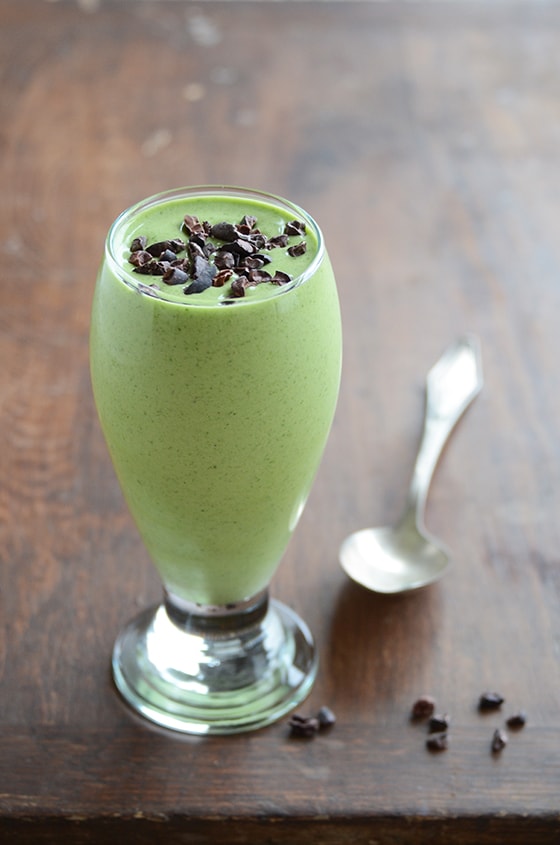 I've never had a real Shamrock Shake, and by "real" I mean one from McDonald's. Even though my shake is a knock-off, I'm guessing it has more real ingredients than the McDonald's version…
A lover of all things mint, I decided to re-do the Shamrock Shake into a breakfast-worthy meal that's perfect for St. Patrick's Day, or any day you want a sweet but healthy start.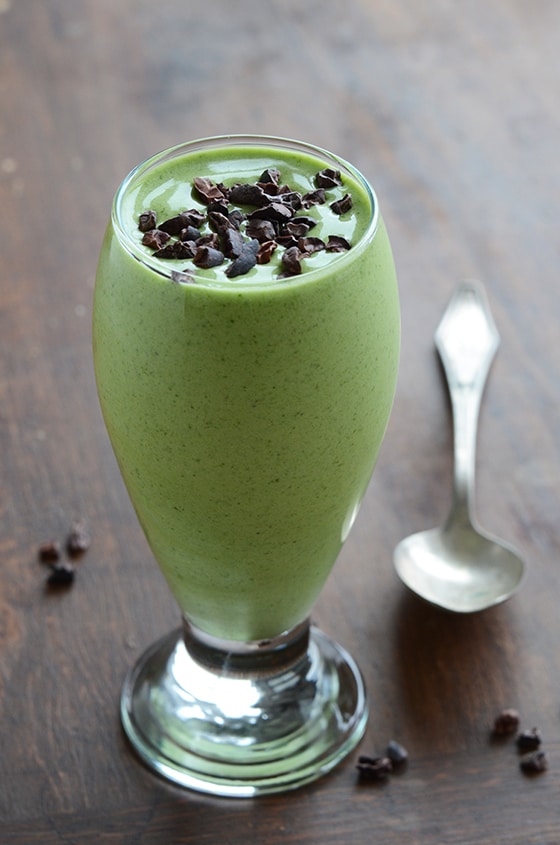 My version of this classic has spinach and mint for natural green coloring (and vitamins, minerals, and fiber), banana for a full serving of fruit, and coconut milk for healthy fat. And it's completely naturally sweetened with stevia plus the sweetness from the banana. But it tastes completely indulgent.
Otherwise known as ice cream for breakfast, this shake is a sure-fire way to get kids (and picky grown-ups) eating their greens early in the day…just don't tell them what's in it!
Here are a few other deliciously green breakfasts that will get your family eating green:
Fingerling Potato-Leek Hash with Swiss Chard and Eggs from Cooking Light
Avocado Spinach Egg Salad from We Are Not Martha
Frittata with Spinach, Potatoes, Peppers, and Feta from Ezra Pound Cake
Sautéed Greens with Mustard Seeds and Cashews from Anja's Food 4 Thought
Greens and Beans Over Polenta from Eggs on Sunday
Green Monster Oatmeal from The Oatmeal Artist
Happy (almost) St. Patrick's Day – I hope you get to enjoy something green!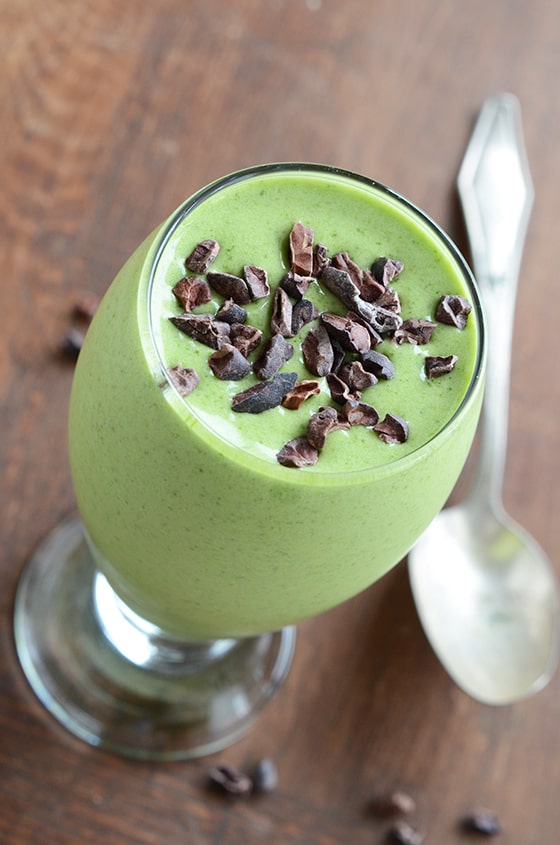 Ingredients
1/4 cup (60 ml) plain, unsweetened almond milk
1/4 cup (60 ml) canned light coconut milk (or canned full-fat coconut milk for an even thicker, more decadent shake)
1/4 teaspoon pure vanilla extract
1/8 teaspoon pure (natural) mint extract (see note below)
1 packet stevia (see note below)
1 pinch sea salt
1 cup (1 oz/30 g) organic baby spinach
1/4 cup (1/4 oz/7 g) fresh mint leaves
1 large ripe banana (with brown spots), cut into 6 pieces and frozen
Instructions
Add all ingredients to a blender in the order listed and process until smooth and creamy.
Serve immediately.
Notes
Mint Extract: You can add more to taste, but many brands I've tried are very strong and if you use too much it can be overpowering, which is why I recommend starting out with just 1/8 teaspoon.
Stevia: As a guideline on how sweet 1 packet of stevia is: the amount of stevia in 1 packet measures 1/2 teaspoon, which is about as sweet as 2 to 3 teaspoons of regular sugar.
Topping/Garnish Ideas: A sprig of fresh mint, cacao nibs, shaved dark chocolate, or dark chocolate chips.
http://www.anediblemosaic.com/healthy-shamrock-shake/