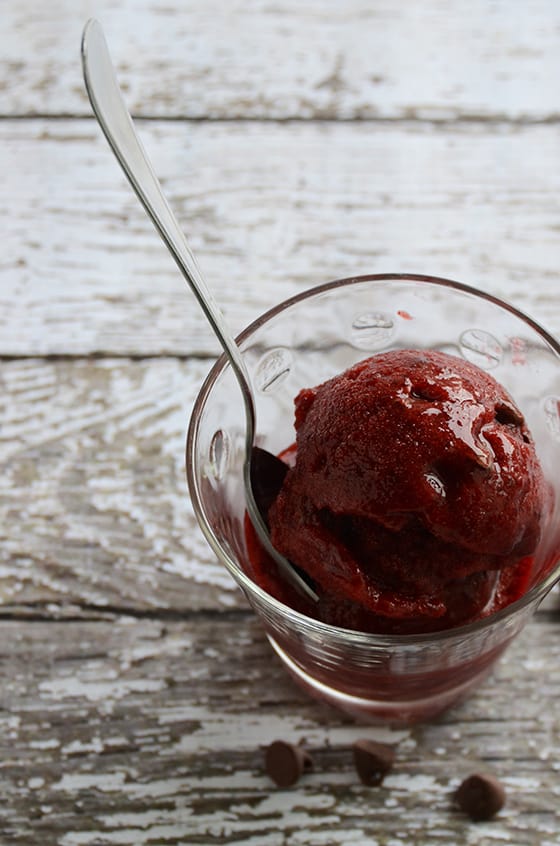 There are so many things that I make for myself on a near-daily basis that I just don't think about sharing the recipe for.
Silly things.
Like this caramelized onion + goat cheese omelet, this cabbage hash + fried eggs, or this pretty little breakfast number.
Or an almost-instant, healthy treat (that I promise tastes more indulgent than healthy), like this cherry-chocolate sorbet that can be easily whipped up when a sweet craving strikes.
When Brandy (of Nutmeg Nanny) and Katie (of Katie's Cucina) asked me to participate in their Frozen Treat Week and share three different frozen treats, I immediately knew I wanted in. This sorbet, which tastes intensely of cherries, faintly of vanilla, and has little bursts of chocolate, is one of my favorites.
I also add a tiny touch of either almond extract or ground mahlab (which you can read more about here, if you're interested), but the flavor of either of those ingredients is just to enhance and deepen the flavor of the cherries. Although you won't be able to pull out the flavor of almond or mahlab, surprisingly, you will know if this ingredient is missing!
And since it's cherry season, I like to use fresh cherries that I've washed, pitted, and flash-frozen; however, pre-frozen sweet cherries from a brand you trust will work just as well when cherries aren't in season.
I'll be back on Wednesday and Friday this week with more frozen treats to share in honor of Frozen Treat Week, so be sure to check back. And a big thank-you to Brandy and Katie for organizing this event, and another thank-you to Zoku and OXO, the sponsors of today's fabulous giveaway! (Take a look at the giveaway widget below for more giveaway details.)
Here are the other participating bloggers' frozen treat posts today:
Ingredients
1 1/4 cups (170 g) pitted dark sweet cherries, frozen
1/2 packet stevia (about 1/4 teaspoon powdered stevia; omit if your cherries are super sweet)
1/4 teaspoon pure vanilla extract
1/8 teaspoon pure almond extract or 1/16 teaspoon ground mahlab
1/16 teaspoon sea salt
2-3 tablespoons ice-cold water
1 tablespoon chopped good-quality dark chocolate (see Note)
Instructions
Add the cherries, stevia, vanilla extract, almond extract, and salt to a food processor and pulse until it looks crumbly.
With the motor running, slowly add enough cold water (about 2 to 3 tablespoons) so it comes together into a smooth mixture.
Add the chocolate chips and pulse one or two times.
Serve immediately if you like it on the softer side, or transfer to the freezer to solidify a little before serving.
Notes
Chocolate: To keep this paleo and vegan, use dairy-free, stevia-sweetened dark chocolate.
http://www.anediblemosaic.com/quick-easy-cherry-chocolate-sorbet-frozen-treat-week/