So it's 5PM on a random weekday.
Dinner is in an hour, but I'm starving.
I head to the kitchen in search of a little taste of something that won't spoil my appetite. I open the fridge and there's a jar of garlic-dill pickles that looks mighty fine. I happily grab a pickle and crunch on a bite.
And then, out of nowhere, the idea of slathering that pickle with peanut butter pops into my head.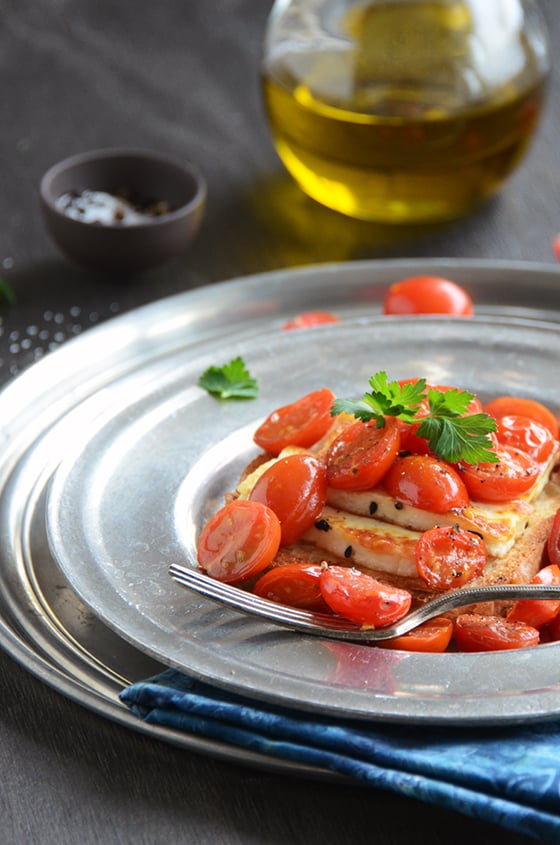 I take another bite of pickle, trying to push thoughts of peanut butter aside.
I remember how crazy I've always thought that combo sounded, and I think about how this pickle is perfectly delicious on its own. But it's no use. I was literally compelled to get out the peanut butter. (I know there will be a few inquiring minds – I'm not pregnant, lol.)
I got the surprise of my life when that pickle tasted absolutely fantastic slathered in peanut butter. It was the perfect combo of sweet/salt with a fabulous crunch factor. Well, I'll be darned. (For those adventurous enough to try it, you might just be surprised!)
Not soon forgetting that combo, I had a couple ladies coming over for lunch and I put together an open-faced sandwich with a combo of flavors that is a little less off-the-wall, but still surprisingly full of flavor. Crunchy toast; briny, salty, warm cheese; sweet tomatoes; tart lemon. Perfection.
Now, I don't think I'll be running out and putting BBQ sauce on my ice cream or chocolate on my fried eggs anytime soon. But you never know. :)
Fried Cheese with Warm Tomatoes
Prep time:
Cook time:
Total time:
Ingredients
1 slice of your favorite bread, toasted
2 teaspoons olive oil
2 oz (60 g) Nabulsi, Ackawi, or Halloumi cheese, sliced about ¼-inch thick (my cheese had nigella seeds on the outside, which added even more flavor)
½ cup (75 g) sweet cherry or grape tomatoes, halved
2 teaspoons lemon juice
Fresh cracked black pepper
Instructions
Place the toast on a plate and set aside for now.
Heat the oil in a small (preferably nonstick) skillet over medium heat; add the cheese and immediately turn the heat down to medium-low. Cook until browned on both sides, about 1 minute per side. Place the cheese on top of the toast.
Add the tomato and lemon juice to the skillet you cooked the cheese in. Turn the heat up to medium and cook until the tomatoes start to soften and the lemon juice has evaporated, about 2 minutes, giving the pan an occasional shake.
Pour the tomatoes over the cheese, top with a generous sprinkle of fresh cracked black pepper, and serve immediately.
Notes
Serving Size: This recipe serves one because I find one-serving sandwich recipes easiest to adjust to serve however many you need.
P.S. For all the date-lovers, head over to Simply Artisanal (our website for Blend Smoothies) to enter our latest giveaway sponsored by Natural Delights Medjool Dates!