Thank you to Castello® Moments for sponsoring this post. I am happy for the opportunity to share brands that I believe in with my readers, and I hope you enjoy my recipe for Savory Cheese Crackers with Hirten.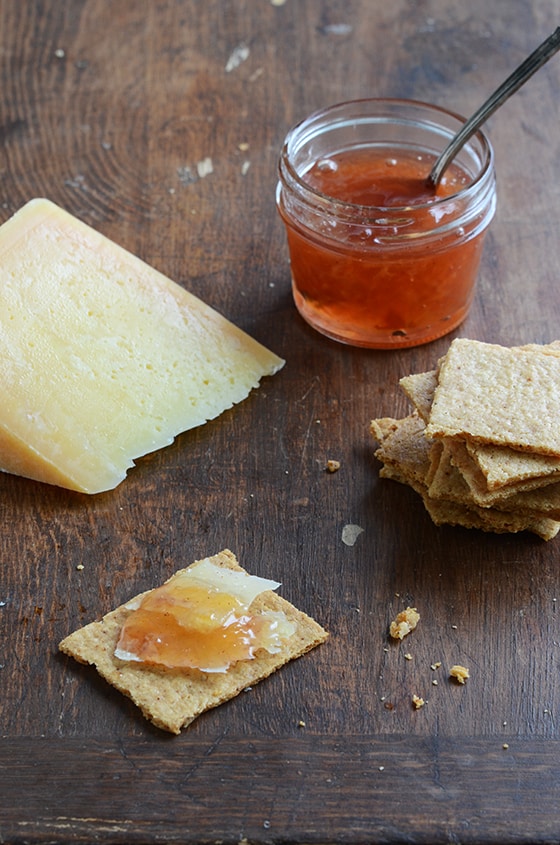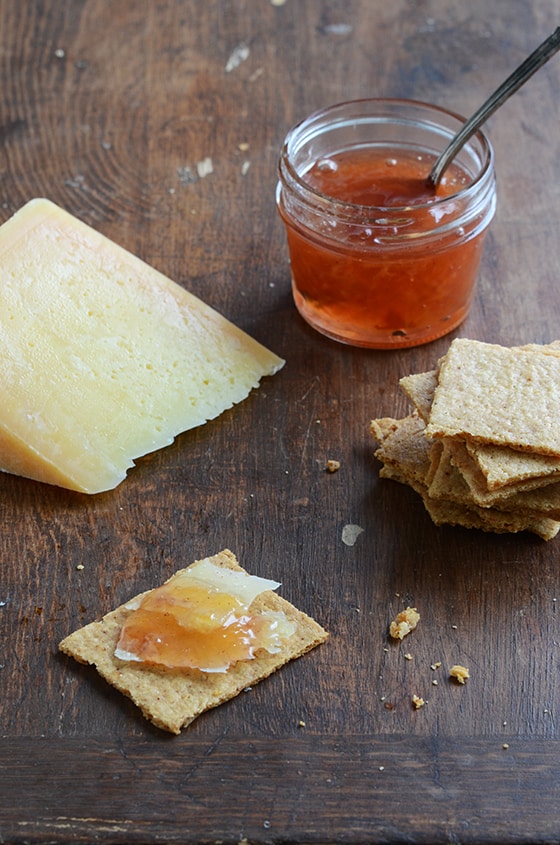 Ring! Riinnngggg!! The telephone impatiently shrieked at me.
Coming, coming! I was just as impatient with it as it was with me.
The phone had been ringing off the hook all morning, with the majority of calls either being telemarketers or wrong numbers (why do these sort of calls always seem to come in batches?), and I was desperately trying to finish cleanup after a morning of baking. My kitchen looked like it had been struck by natural disaster.
It turns out, it (finally!) was a right number…it was my hubby calling to tell me he wanted to have a couple people over that evening. No problem, I told him, realizing that I wouldn't even need to make a trip to the grocery store. One of the things I had whipped up that morning was a batch of homemade crackers…and I had plenty of cheese in the fridge to pair with them!
Cheese and crackers is one of my favorite combos to put out for guests, especially if the crackers are homemade and the cheese is high quality. These crackers, which have cheese baked into them, are complex and full of umami flavor; the cheese I paired them with was none other than a selection of Castello® Moments Alps Selection cheeses: Classic, Weissbier, and Hirten. All three cheeses are fantastic.
The Classic, also called Bergkase, has a firm texture and a smooth, dry consistency. It is described as having a slightly smoky aroma and a touch of spice through a hint of mountain herbs. I noticed an earthiness to it, with hints of mushroom-like flavor. I paired it with sweet local strawberries and whole-grain crackers for a delicious snack.
Bergkase pairs beautifully with the sweetness in local strawberries.
The Weissbier has a soft, smooth consistency and a buttery taste with hints of nutty sweetness, as well as a faint taste of beer. This cheese melts beautifully and I used it to make warming dish of Vegetable Beef Pie with Cheesy Potato Topping on a surprisingly cool and drizzly early summer day.
Vegetable Beef Pie with Cheesy Potato Topping, made with Weissbier.
Out of the three kinds of cheese I tried, I think the Hirten might be my favorite. The Castello® Moments website says: "Hirten has a deep orange color and a crumbly, dry texture encrusted with small crystals. The cheese has a rich, sharp, complex taste; a slightly sweet caramel overtone, with a hint of pine…Cut [it into] very thin slices (like Parmesan) and use it in your favorite pasta or salad." I found this cheese to be exactly as described and I absolutely loved it.
I enjoyed it so much I decided to make it into crackers…and then eat the crackers topped with more Hirten (along with Bergkase and Weissbier) and homemade jam. These crackers were particularly lovely served with sweetly spiced Peach Cobbler Jam (recipe coming soon), as the sweetness of the fruit along with the spices nicely complimented the flavor of the cheese. It was one of the easiest cheese platters I've ever put together, and the perfect treat to serve impromptu guests.
I also shared these three cheeses with my mom, who made the trio into a fantastic mac and cheese; if you are so inclined, that is another fabulous use for them.
Savory Cheese Crackers with Castello® Moments Hirten
Prep time:
Cook time:
Total time:
Yield:
About 3 dozen crackers, or 6 to 8 servings
Ingredients
½ cup (2 oz/55 g) almond meal
4 oz (115 g) Castello® Moments Hirten cheese, finely grated (I use a microplane)
1 tablespoon tapioca flour/starch
¼ teaspoon baking powder
⅛ teaspoon sea salt
⅛ teaspoon black pepper
⅛ teaspoon smoked paprika
⅛ teaspoon granulated garlic
½ teaspoon soy sauce
½ teaspoon honey
1 teaspoon lemon juice
1-2 teaspoons water
Instructions
Preheat oven to 350F.
Pulse together the almond meal, cheese, tapioca flour, baking powder, sea salt, black pepper, smoked paprika, and granulated garlic a couple times in a food processor.
Drizzle in the soy sauce, honey, and lemon juice while pulsing, then drizzle in enough water so the mixture forms wet crumbs that come together as a ball of dough when squeezed.
Turn the crumbly dough out onto a piece of parchment paper and knead it a couple times until it comes together. Shape it into a ball, and then slightly flatten the ball to a disk shape.
Place the disk onto the parchment paper and place another piece of parchment paper on top. Roll out the dough until it forms a very thin 12-inch circle; remove the top piece of parchment paper.
Use a pizza cutter to score crackers into any shape and size you like. (I got about 3 dozen crackers.) While still on the parchment paper, transfer the whole piece of scored dough onto a baking sheet and bake until golden brown, about 20 to 22 minutes.
Cool about 10 minutes, then break the crackers apart along the scored lines.
Store in an airtight container at room temperature for up to 3 weeks.
Win a Private Cheese Tasting in your own home – enter by clicking on the banner below. Castello® Moments and this post is a collaboration between the blogger and Arla Foods USA.