For any readers out there who have a passion that they want to share and are debating whether or not to start a blog, I would encourage you to go for it.
Not only is blogging an incredibly rewarding way to share something that's meaningful to you, but it will open up your world in ways you've never dreamed of. While blogging isn't always glamorous (especially food blogging – think failed recipes and sinks full of dirty dishes, for starters), there are a few perks. Meeting and developing relationships with interesting new people, working with brands you believe in, traveling, publishing a book…and that is just the tip of the iceberg.
One of the bloggers I had the absolute pleasure of getting to know the first year I started blogging was Lorraine Elliott from Not Quite Nigella.
Over the years a few things have stuck out to me about Lorraine's blog: her wildly creative recipes like Banana Skin Cake and Bacon Jam, her uniquely-named dishes such as Lumberjack Cake, her propensity for a beautiful tea, her absolutely brilliant Halloween parties. Her beautiful photography. And last but not least, her writing, which drew me in with its magnetic charm right from the very beginning.
Lorraine's voice is fresh and the way she tells her stories makes it completely easy to relate to her. As I read her posts, more often than not I find myself nodding along, totally understanding and empathizing with what she's describing. More than once, she and I have joked that we are long-lost twinsies, separated at birth. And she holds a special place in my heart for another reason as well...you might remember me mentioning that she wrote the foreword for my cookbook, which was a real honor for me.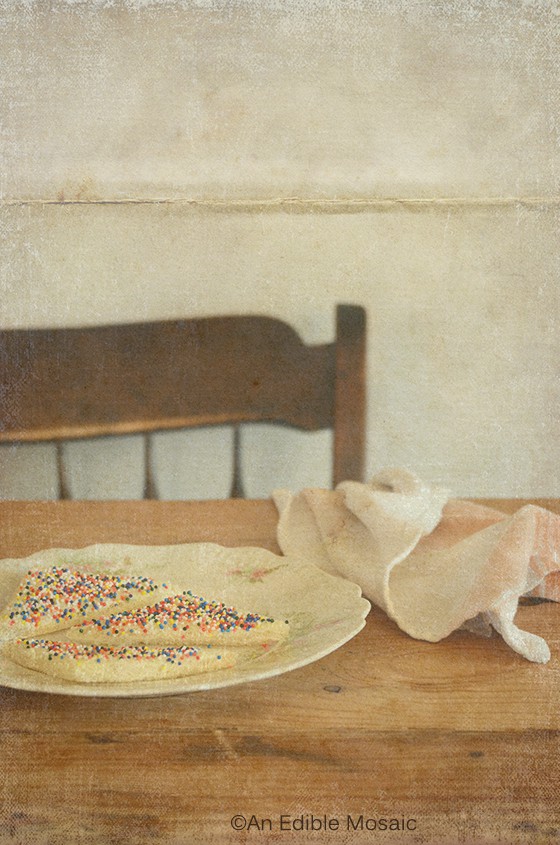 The truth is, in addition to finding a friend and source of everyday inspiration in Lorraine, I also found someone to truly admire. She's a pioneer in the blogging world, showing us that it is possible for a blog to transform from a hobby into a viable, respectable career. Which is why when I first found out about her book coming out I did a little happy dance (times ten) in her honor. I was ecstatic for her and also excited at the prospect of getting a closer peek into the life of one of the most glam bloggers I know!
Lorraine's beautiful book, Not Quite Nigella: My Path to Happiness Through Baking & Blogging, is a wonderfully entertaining read that details her career even before she started blogging, as well as anecdotes and personal milestones in her life. It's humorous, touching, and will make you feel like you're reading a book about your own sister. She draws you into her writing with ease, and before you'll know it, you'll be more than a third of the way through the book, wondering how your afternoon flew by so quickly.
Although Lorraine's book isn't a cookbook, it does contain upwards of a dozen lovely recipes. It has impressive desserts like 2000 Feuilles and Vanilla Macarons, personal favorites of Lorraine's like Imperial Beef (which is on my must-try list!), and fun treats like Fairy Bread. Fairy Bread, which is bread spread with butter and sprinkled with nonpareils, was something I had never heard of until reading about it in Lorraine's book. She recalls eating it at every birthday party she went to as a child and I couldn't help but feel deprived as I've never had it before. I righted that, and shared it with my niece as well (I didn't want her finding out about Fairy Bread as an adult and feeling deprived at never having had it as a child ;) ).
Lorraine's beautiful book and a snack of Fairy Bread made for a lovely afternoon.
One of my favorite excerpts from the book is from Chapter 18: Meeting Mr Macaron:
What did I have to do to get feet on my macarons?

I made batch after batch and they tasted fine but were missing the crucial frilly skirt at the bottom. I thought and thought about it. I won't say that it kept me up at night but whenever I'd walk past a patisserie with a colorful display of macarons in the window, I'd wince and then flee as if I had spotted a former boyfriend in the arms of another woman. I just didn't want to see them. But what I did want to do was exorcise them from my life, much like the fate you might choose for an ex.

The best way to exorcise an ex is to see them when you're happy, looking fabulously thin, wearing a massive diamond engagement ring and having a good hair day. You give them a tinkly wave as you get into your limo. I wanted to give the macaron that same wave.
- From Not Quite Nigella: My Path to Happiness Through Baking & Blogging by Lorraine Elliott; published by Viking, an imprint of Penguin Books, 2013.
Lorraine was kind enough to answer a few questions for me to share with you…
1. Tell us about the experience of writing a book! The good, the bad, and/or what you'd do over if you had the chance.
The good: It was easier than I thought it would be to write! I'm sure that if I were writing fiction or had to work out a plot it would have taken longer but this was my life and was quite straightforward to write about.
The bad: The wait! I had no idea that the whole process would take so long, particularly being a blogger and being able to immediately publish something. I'm also terribly impatient.
What I'd do over: You know I don't know that there is something that I'd do over, certainly nothing that I had control over.
2. What is your favorite story from your book?
I'd have to say that I'm really fond of the Peking Duck race because it really represents what my group of friends and I like to do. Food is not just an exquisite meal or a tasty morsel, it's something that you can have fun with and be slightly crazy with. That night was so much fun and we had a night that we will never forget with food as the centerpiece.
3. Favorite recipe from your book?
I would have to say the Red Velvet Cake. Cakes never fail to delight me and it is such a dramatic layer cake and I have a weakness for that! Also it was a cake that I actually earned good money making when I was baking all of those pies and cakes. I had such quixotic notions but it's not romantic at all, it's a job!
4. If you had to choose one meal to eat every day for the rest of your life, what would it be?
Hmmm that's so tough! :) I'd say salad because you can make anything into a salad (hello chicken salad, pasta salad!). Is that a sneaky answer? I just can't decide on one thing. What do you think of a cake salad? ;)
5. What is your favorite recipe on your blog, and is there a story behind it?
It changes all the time but currently, because it is cold and I'm nursing a cup of tea, I think the Armenian Nutmeg Cake would have to be my favorite cake. I adore cakes and this one has the most gorgeous aroma to it. It is made up of three layers: a dense biscuit crumb topped with a light, fluffy cake and then lashings of honey and rose petals. It's also very simple to make and perfect for a cup of tea or coffee!
6. What are three items that can always be found in your fridge?
My fridge really has the weirdest collection of food in it and it's always bursting at the seams, but you'll always find butter, flour (I keep it in the fridge for pastry making), and lettuce. But not cooked together. :)
7. You are my Halloween party guru! Where do you get your brilliant Halloween-themed inspiration?
I LOVE Halloween so much and to me it's the happiest time of the year because I get to unleash my ghoulish side. I keep a list throughout the whole year and if I see something that inspires me throughout the year I'll add to the list. I've already got about 7 items on it and I get such a kick out of making something "ugly" because the rest of the year is for making pretty food!
8. What is your favorite part about blogging, and what keeps you motivated as a blogger?
Connecting with people and writing. I never thought that I had a book in me and that I'd enjoy writing, but it's enormously satisfying and blogging is an incredible medium for it because you get such instant, raw, honest feedback. Also food is such a fascinating subject, especially getting to discover new techniques or new cuisines!
9. What is one thing we don't know about you?
When I'm under extreme stress, my right big toenail falls off! It's so weird but true and has only happened twice in my life when I was incredibly stressed for our wedding and the book launch. I must hold a lot of stress in my right toe!
10. Is there another book (or a cookbook!) in your future?
I'm not sure! There aren't any immediate plans for it but you never know!
* * * * *
I cannot speak highly enough of Lorraine's book...it is a brilliant read! For U.S. readers, Lorraine's lovely book can be purchased in Kindle format through Amazon.
P.S. If you like peanut butter and you'd like the chance to win a six-pack of Peanut Butter & Co.'s delicious peanut butter, head over to Simply Artisanal (our website for Blend Smoothies) to enter a BIG peanut butter giveaway!