Does anyone else feel like fall = comfort food? I don't know of a more widely popular comfort food than homemade macaroni and cheese. Pasta, cheese, and a house full of tantalizing smells as it cooks. Be forewarned though, with Bleu and sharp white Cheddar cheeses, this is a grownup-friendly mac and cheese (sorry kiddies!). My grown-up Bleu Cheese Mac will be sent to Natasha of 5 Star Foodie for her 5 Star Makeover: Macaroni and Cheese!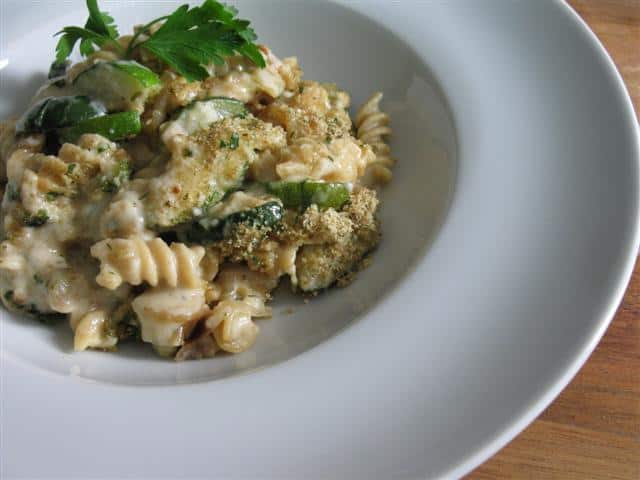 Bleu Cheese Mac
(Yield: about 8 servings)
¾ to 1 pound whole grain rotini pasta (or any small pasta shape you like)
4 TB plus 1 teaspoon olive oil, divided
1 large onion, thinly sliced
1 medium-large zucchini, thinly sliced
2 ½ TB all-purpose flour
2 c low-fat milk
3 oz Gruyère, Emmental, or Swiss cheese, shredded
4 oz sharp white Cheddar, shredded
1 oz Bleu cheese, crumbled
1 teaspoon Worcestershire sauce
¼ teaspoon dry mustard powder
Pinch salt and pepper
¼ c Italian-style dry breadcrumbs
1 TB minced fresh parsley
Butter (to grease the casserole dish)
Preheat the oven to 400F. Cook the pasta to al dente according to the package directions. Sauté the onion in 2 TB oil over medium-low heat for 12-15 minutes until it's caramelized; turn the heat up to high, add the zucchini, and cook another 5 minutes, stirring occasionally.
For the topping, combine the breadcrumbs, parsley, and 1 teaspoon oil and set aside for now.
For the cheese sauce, cook 2 TB oil with 2 ½ TB flour until it starts to bubble. Gradually add the milk, bring the sauce up to a boil, then turn off the heat. Into the milk sauce, whisk the Gruyère, Cheddar, Worcestershire sauce, dry mustard, and salt and pepper. Combine the onion/zucchini mixture, pasta, and cheese sauce, then stir in the crumbled Bleu cheese. Pour into a buttered casserole dish, top with the breadcrumb mixture, and bake for about 15 minutes until it bubbles at the sides and is lightly browned on top. Allow to cool for 10-15 minutes before serving.