Finally no more guesswork in keto meal prep! Healthy meal prep will save you time and money, give you tons of easy ideas to keep food interesting all week long, and help you easily stay on track with your nutrition goals. Over on The Keto Queens, Lara and I recently launched our Meal Prep Course, and our goal through this course is to help YOU to succeed.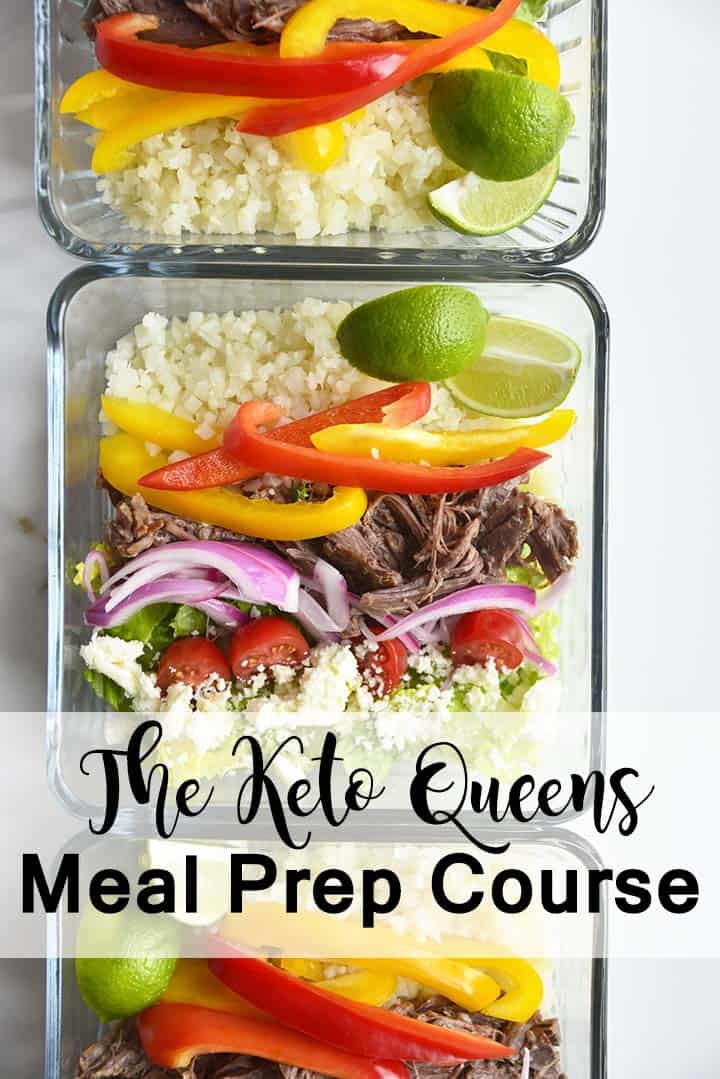 Most of us have the best intentions when it comes to eating healthy. But then life happens. What if you could learn how to save both time and money, and also reach your weight loss or health goals faster? All while you're feeding yourself and/or your family nutritious meals! That's exactly what Lara and I had in mind when we launched our Meal Prep Course over on The Keto Queens.
Meal prep is often the deciding factor when it comes to staying on track with healthy eating. Because of this, we wanted to make meal prep as approachable as possible! Because really, if a plan isn't easy to follow, it's not sustainable.
And if it's not sustainable, then it's either 1) just a fad (and a lot of us just don't have time for or a desire to try fads, lol!), or 2) the drive-through starts to look really good.
And nobody wants to go down the drive-through dinner rabbit hole, lol. Because one drive-through meal a week leads to two, which leads to three, which leads to weight gain and extra money spent that doesn't need to be spent.
Like a lot of you, I want a lifestyle that will help me be as healthy as possible. And it's even better if this lifestyle saves me time, money, and the frustration of wondering what's for dinner at 6pm every night. If you make meal planning and meal prep a habit, it easily becomes a lifestyle.
Benefits of Meal Prep
Reach your health goals or weight loss - The great thing about following a keto meal plan is that it's very satiating even if you're limiting your calories for weight loss. Of course, let your doctor monitor your progress any time you change your eating habits.
More family time - Because you're spending less time thinking about what to cook, less time shopping, less time prepping (we're going to show you how to do it more efficiently), and less time cooking!
Healthy food should taste delicious - Even non-keto eaters love our recipes!
Reduced food waste - Because you're integrating leftovers into your eating plan.
Easily save $$$ - Say goodbye to the temptation of the drive-through!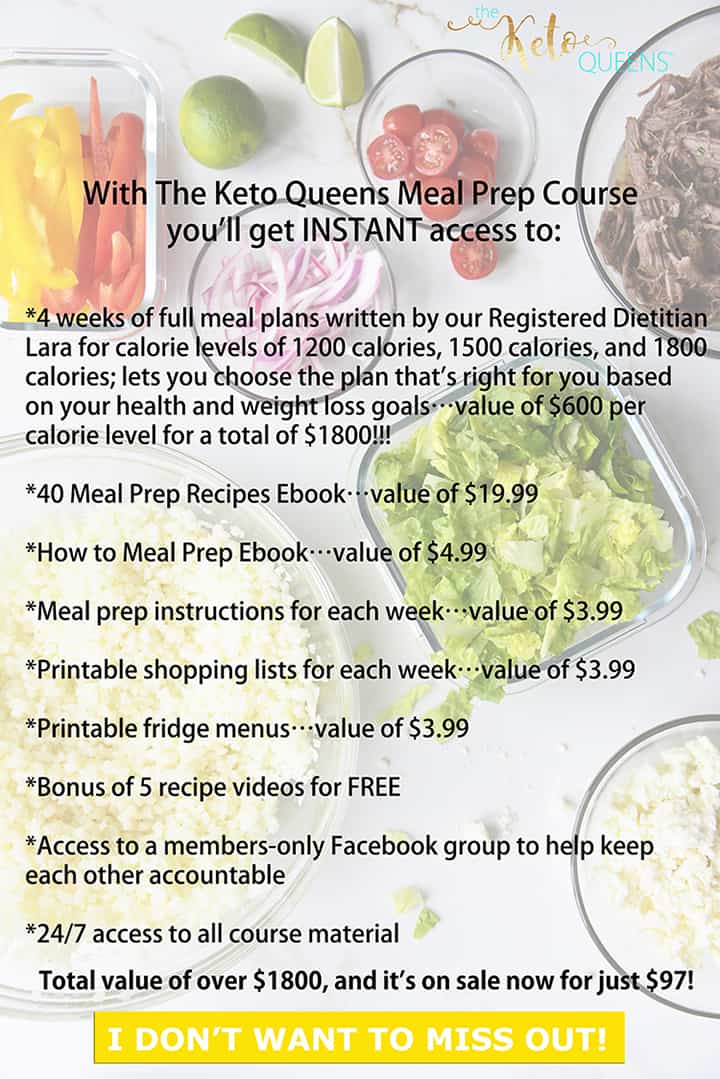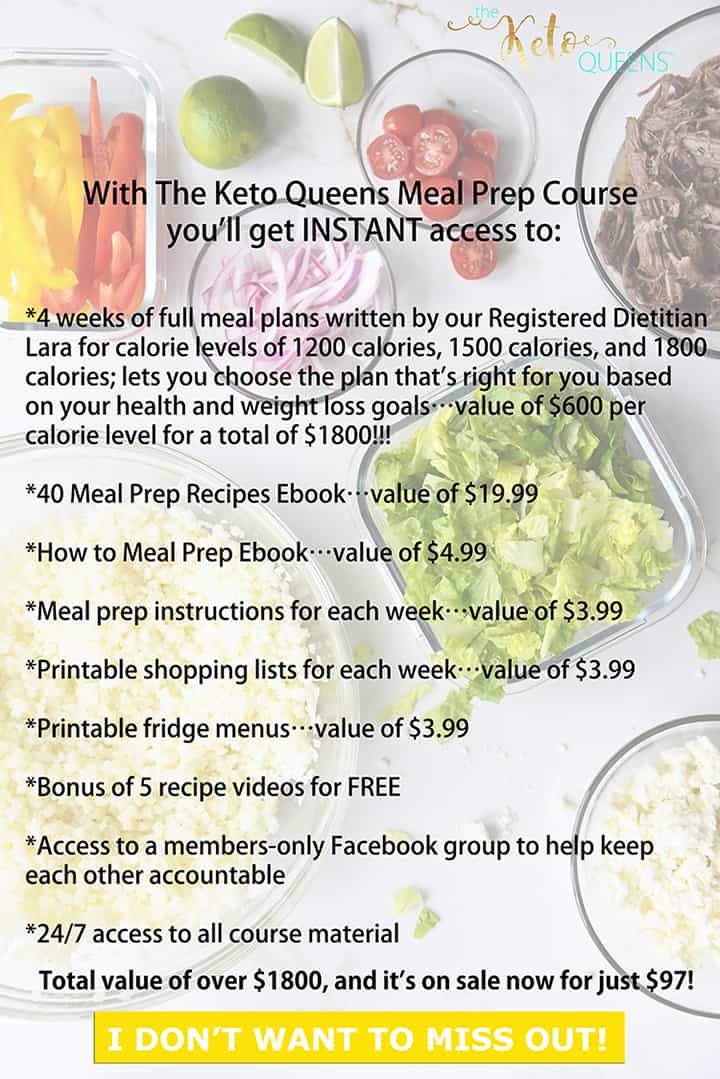 What You'll Get with The Keto Queens' Meal Prep Course
With The Keto Queens Meal Prep Course you'll get INSTANT access to:
4 weeks of full meal plans written by a Registered Dietitian for calorie levels of 1200 calories, 1500 calories, and 1800 calories; lets you choose the plan that's right for you based on your health and weight loss goals…value of $600 per calorie level for a total of $1800!!!
40 Meal Prep Recipes Ebook…value of $19.99
How to Meal Prep Ebook…value of $4.99
Meal prep instructions for each week…value of $3.99
Printable shopping lists for each week…value of $3.99
Printable fridge menus…value of $3.99
Bonus of 5 recipe videos for FREE
Access to a members-only Facebook group to help keep each other accountable
24/7 access to all course material
The course has a total value of over $1800, and it's on sale now for just $97!
4 Week Meal Plan Written by a Registered Dietitian
If you're looking for healthy meal prep ideas for the week, this course is for you. We give you not only one week, but four weeks' worth of healthy meal plans! And we include three different calorie levels (a 1200 calorie meal plan, a 1500 calorie meal plan, and an 1800 calorie meal plan) to help you reach your goals, whether it's weight loss, weight gain, or maintenance.
And our recipes are not only keto, but also delicious (and additionally, a lot of the time, they're family-friendly)! I developed the recipes, and Lara Clevenger, our Registered Dietitian, calculated the nutrition information and put together the healthy meal plans.
We take the guesswork out of it, guiding you through step-by-step on how to meal prep and follow this plan.
Of course check with your doctor before starting this or any other weight loss plan.
1200 Calorie Meal Plan
A lot of people use this one month 1200 calorie meal plan for weight loss. It's a simple meal plan to lose weight. This is the lowest calorie level plan we include, but it is still satiating with three delicious keto meals each day!
1500 Calorie Meal Plan
Our one month 1500 calorie meal plan is similar to our 1200 calorie meal plan, but with a bulletproof drink, snack, and/or dessert added in. For a lot of people, a 1500 calorie meal plan is still a daily calorie deficit so they will still typically lose weight, but at a slower rate than those following a 1200 calorie plan.
1800 Calorie Meal Plan
This month-long 1800 calorie meal plan is similar to our 1500 calorie meal plan, but with easy-to-make delicious fat bombs added in. After people reach their weight loss goals, many people who live active lifestyles follow this meal plan to help maintain their weight.
40 Meal Prep Recipes Ebook - Healthy Meal Ideas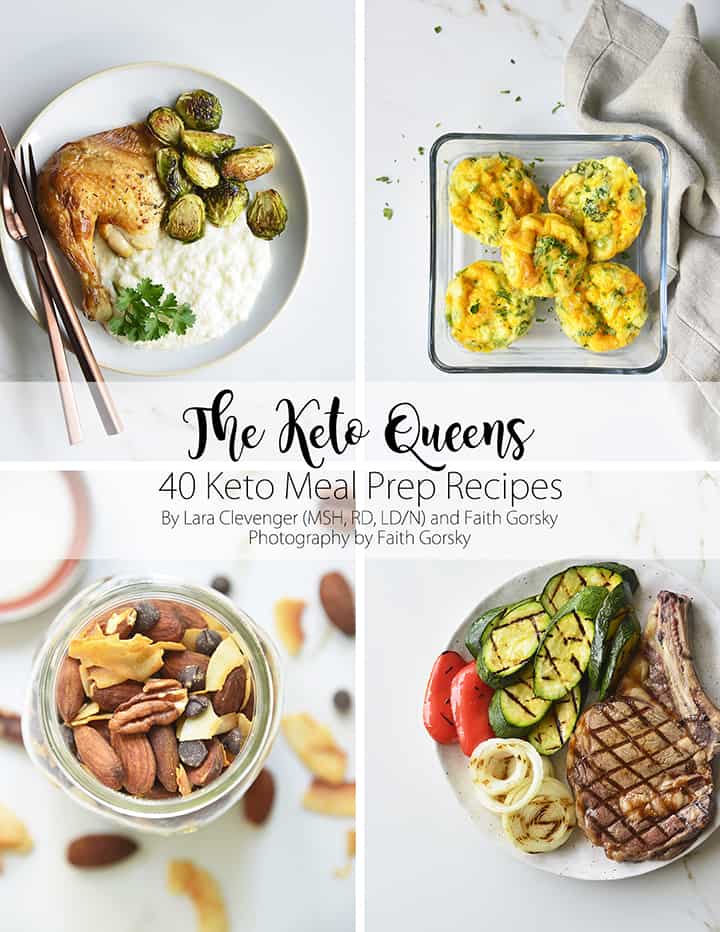 Our Meal Prep Recipes Ebook includes 40 keto recipes that you can use whether or not you want to follow our 1 month meal plan. Or break it down to whatever works for your schedule. We give lots of healthy meal prep ideas for the week! We include macros and a gorgeous full-page photo for each recipe.
This Ebook is divided into the following sections:
Bulletproof Drinks
Breakfasts
Fat Bombs
Snacks
Weeknight Dinners
Weekend Dinners
Desserts
Here's a sampling of the recipes you'll find in our Ebook.
And here are a few of my personal favorite recipes from our Meal Prep Recipes Ebook:
Pink Drink - It's a Starbucks copycat, but with real food ingredients and no added sugar, and it's soooo good!
Protein Waffles - These freeze and re-heat really well for busy mornings.
Trail Mix - We went with an almond joy flavor profile here, and you won't believe how easy this is to make!
Sheet Pan Butter Dill Salmon and Asparagus - Usually I can take or leave salmon, but this recipe transforms it into something I would actually want to eat every week!
Garlic Parmesan Cast Iron Chicken Thighs - This one will be the whole family's new favorite.
Keto Chocolate Mug Cake - Because let's be real, sometimes we all just need a sweet little treat, right?!
How to Meal Prep Ebook
Our How to Meal Prep Ebook is designed to teach you the most effective methods for making meal prep a habit that you can easily incorporate into your lifestyle.
This Ebook is divided into the following chapters:
Chapter 1: Why You Should Meal Prep
Chapter 2: How to Meal Plan

Brainstorm and Make a Menu

"Favorite" Dinner Rotation
Leftovers

Grocery Shop
Ingredient Prep on Shopping Day

Chapter 3: Batch Cooking and Cooking in Bulk (This section is full of healthy meal prep ideas for the week!)
Chapter 4: Meal Prep Cooking Methods

Hands-Off Cooking Methods

Electric Pressure Cooker
Slow Cooker

Hands-On Cooking Methods

Dutch Oven
Sheet Pan Meals

Chapter 5: Freezer-Friendly Meal Prep
Chapter 6: Grab-and-Go Solutions

Fridge Grab-and-Go Items
Pantry Grab-and-Go Items
Weekly Meal Prep Menu
In our meal prep course, we included the following, which you can print and put on the fridge for quick reference:
4-week meal plan calendar (for 1200 calories, 1500 calories, and 1800 calories)
Weekly dinner menu for the fridge (for when the kids ask what's for dinner)
Weekly shopping lists (so you can get in and get out and same time and money)
Meal prep instructions for each week (we break it down so it's super easy)
More Meal Prep Resources: