This Easy Guide to Meal Planning and Meal Prep will help you save time and money, reduce food waste, and get a delicious, nutritious crowd-pleasing meal on the table as painlessly as possible.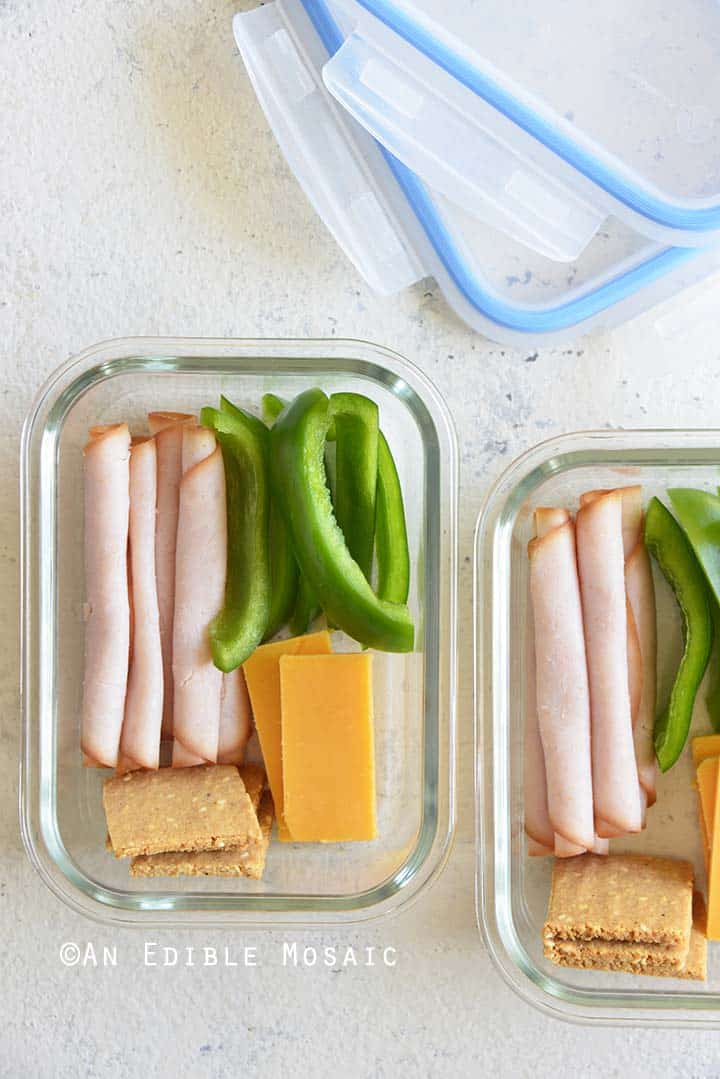 Most of us have the best of intentions when it comes to cooking at home more and eating out less. (Or avoiding the drive-through on the way to or from work!) But unless we give ourselves some practical tools, meal prep can seem like a huge chore. I'm simplifying it, making meal prep approachable, and giving some real-life solutions that will help make meal planning and meal prep as effortless as possible.
I'm one of those oddballs who loves organizing and all the tools that go along with it. Color-coded tabs, my label-maker, and my giant file folder are things that would bore most people, but actually get me excited. I see meal planning and meal prep as a way to stay organized, but if you aren't quite as enthusiastic about it, there are a few really good reasons you should meal plan and prep.
A couple of the biggest reasons to plan and prep your meals are to save money and time. You'll learn how to repurpose leftovers (so they don't even taste like leftovers – don't worry!), make a shopping list and stick to it, and start looking forward to a home-cooked meal during your weekday lunches.
Another perk that comes along with meal prep is reduced food waste. You're only buying what you need and you're making better use of leftovers!
Last but not least, meal prep can be a great way to lose weight! Planning, prepping, and eating nutritious meals can more effectively help you reach your weight loss and health goals.
How to Meal Plan
Sit down with a pen and paper and write down what you want to make for dinner each day of the week! I like to print out a blank calendar and fill it in with meals. If you're cooking for your family, this is a great time to get them involved. Make meal planning fun by letting kids choose a meal each week that they can help cook. Plan leftover nights and plan for a night out to dinner if you want. It's also fun to have themed dinner nights, for example, Meatless Mondays, Taco Tuesdays, Fish Fridays, Pizza Saturdays, etc.
It can also be beneficial to get kids involve in weekly menu planning. They're more likely to help cook, and meal planning can help get kids excited about healthy eating!
You can also add in breakfasts and lunches so you're less tempted to eat out. Breakfasts can be as easy as hard-boiled eggs and fruit, avocado and crisped turkey bacon, and toast with nut butter. Sandwiches, salads, and leftover dinners work great for lunches throughout the week.
Once you have your menu planned, make a grocery list. This helps you get in and get out of the store as easily as possible without buying stuff you don't need. (You can get the keto grocery shopping list I use over on my other website, The Keto Queens!).
"Favorite" Dinner Rotation
Keep a few favorites in your dinner rotation, but make easy changes to keep things interesting. For example, if you make roast chicken every Sunday, serve it with mashed cauliflower and steamed green beans one week, and serve leftovers with roasted broccoli and sautéed carrots during the week. Or season the chicken with Italian herb seasoning on Sunday, and later in the week add BBQ sauce for a completely different flavor profile.
Leftovers
Use leftovers to your advantage; after all, leftovers are basically your sous chef ready to help you get a meal on the table quick. If you're not a big fan of leftovers in general, you can remake leftovers into completely different meals so you don't get bored. For example, if you make a roast chicken, you can have roast chicken dinner the first night, chicken cobb salad the second night, and chicken enchiladas the third night.
Plan for Leftovers as Lunches
Another great way to utilize leftovers is for packed lunches during the week. If you have access to a microwave it opens up a whole world of hot lunches! However, even if you don't have a microwave you can find creative ways to use leftover dinner as a lunch. For example, instead of heaving leftover roast chicken dinner, make a roast chicken sandwich.
Batch Cooking and Cooking in Bulk
Cook in bulk so you can cook once and eat twice (or more). Let's go back to the roast chicken example. If you make roast chicken dinner with all the fixings every Sunday, maybe roast an extra chicken to make chicken noodle soup for dinner another night, and chicken salad to make chicken salad lunches for work.
Batch Cooking Ideas
Make a double batch of these to repurpose leftovers into different meals throughout the week:
Beef pot roast, remake into tacos, beef stew, beef stroganoff, etc.
Roast chicken, make into creamy chicken soup, cheesy chicken broccoli casserole, BBQ chicken salad, etc.
Baked white fish, use for fish tacos, fish chowder, etc.
Grilled chicken or grilled steak, for making into sandwiches, salads, casseroles, tacos, soups, etc.
Roasted vegetables, such as zucchini, eggplant, bell peppers, cauliflower, Brussels sprouts, broccoli, etc. Roasted veggies make a great side dish for just about anything, or you can easily make them into quiche or frittata, add them to pasta along with grated Parmesan cheese, use them as pizza toppings, and add them to sandwiches, wraps, and/or soups.
Meal Planning For One
Meal planning for one can be a little tricky because the volume of food you're making is so much smaller. I often cook for just myself. The most efficient way to do this is to make a normal batch or a normal sized recipe (usually four servings), eat one serving, and portion the other servings out into individual-sized containers. Freeze the leftovers or keep them on hand in the fridge for a quick meal later in the week.
Recipes That Have One Serving or Two Servings:
Meal Prep Ideas
The following items are easy to meal prep on the weekend (and some don't even require any prepping!). These foods are great to keep stashed in your fridge to grab for a nutritious quick meal or snack on-the-go:
Hard-boiled eggs
Cottage cheese
Cheese sticks or sliced cheese
Sliced deli meat
Olives
Nut butter paired with celery sticks or apple slices
Carrot sticks, celery sticks, chopped bell pepper, broccoli florets, or cauliflower florets paired with homemade ranch dressing
Pantry Meals On-the-Go:
I also like to keep my pantry stocked with a few healthy choices that don't require any preparation:
Freezer Friendly Meal Prep Recipes
Here are a few meals that freeze well: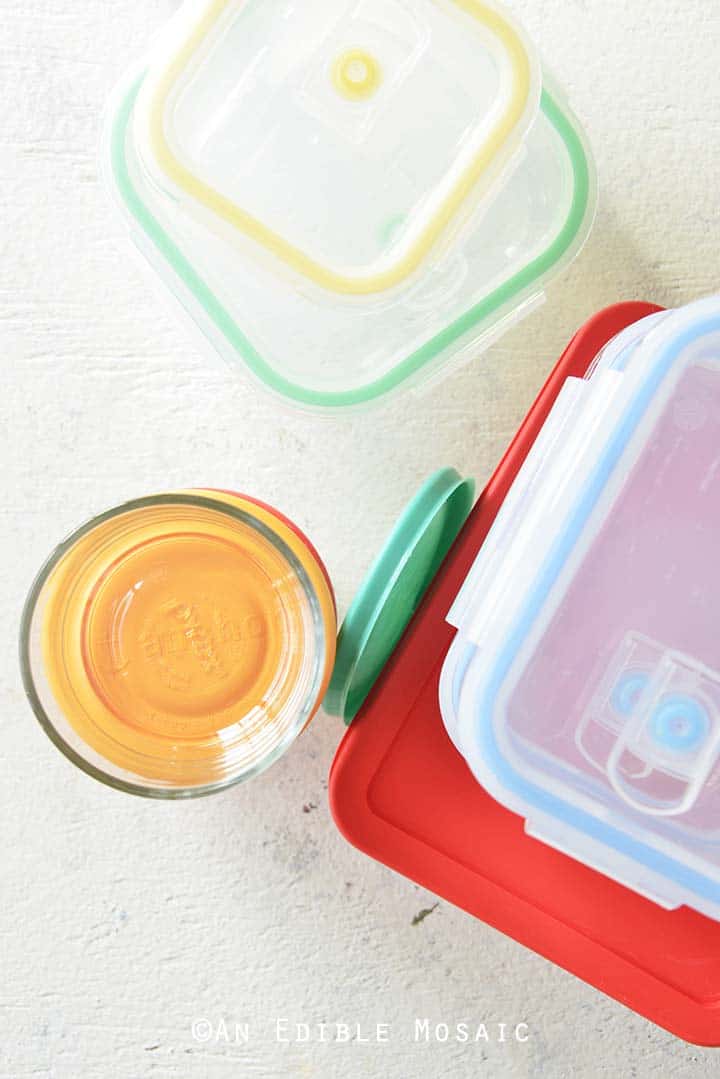 Tools to Help You Meal Prep
Meal Prep Containers
I prefer using glass containers for meal prep because they're better for your body, better for the environment, and they make life much easier. They can go in the freezer, oven, broiler, microwave, and dishwasher!
Kitchen Appliances
Electric Pressure Cooker
The beauty of an electric pressure cooker, such as and Instant Pot, is that it cooks things in a fraction of the time that it would otherwise take. It's a very helpful tool for batch cooking if you want to prep meals to stock the freezer.
Pressure Cooker Recipes
Slow Cooker
An equally useful kitchen tool is a Crockpot. You can throw a few things into the slow cooker in the morning and come home from work to a house full of delicious smells and a hot, home-cooked meal.
Slow Cooker Recipes
High Speed Blender
I like using my Vitamix for making fresh juice, foamy latte-style coffees, smoothies, and milkshakes, but high speed blenders also work great for sauces, soups, and ice cream-like desserts, making them a great tool for meal prep. These powerful countertop appliances blend incredibly well!
Blender Recipes
Toaster Oven
Toaster ovens are great for recipes that need to be toasted or reheated quickly and would otherwise get soggy in the microwave. They're also great for recipes that need to be broiled, so you don't have to turn on the oven.
Recipes to Use the Toaster Oven to Make, Reheat, or Toast
Meal Prep Services, Meal Prep Delivery Services, and Meal Kit Services
If your budget allows for it, a meal prep service or meal prep delivery service is a great help! You still cook at home, but you minimize time spent meal planning, meal prepping, and grocery shopping. A lot of meal prep and meal prep delivery services deliver pre-measured and pre-chopped ingredients for meals you choose. All you have to do is follow the directions and cook the meal!
The cost of meal prep and meal prep delivery services are more than what you'd pay for just a menu planning service; however, you'll save money compared to eating out. If you're not familiar with cooking at home, this is a great way to ease yourself into it.
Here are a few meal prep delivery services:
The recipe for these Instant Pot Sous Vide Egg Bites are from The Keto Queens e-book 20 Low Carb Best Instant Pot Recipes.
Keto Meal Plans
A while ago I announced that I began working on another website, www.TheKetoQueens.com with Lara Clevenger. She and I are absolutely thrilled that we're now offering a few different keto meal plans! We have a Jumpstart to Ketosis 3 Day Meal Plan e-Book that has five mini meals a day for three days. These meals are optimized to help you get into a state of nutritional ketosis. Each day is around 1200 calories with 20g or less of net carbs, and 80 to 90% fat of calories from fat. You'll be surprised at how delicious and easy to whip up the meals are!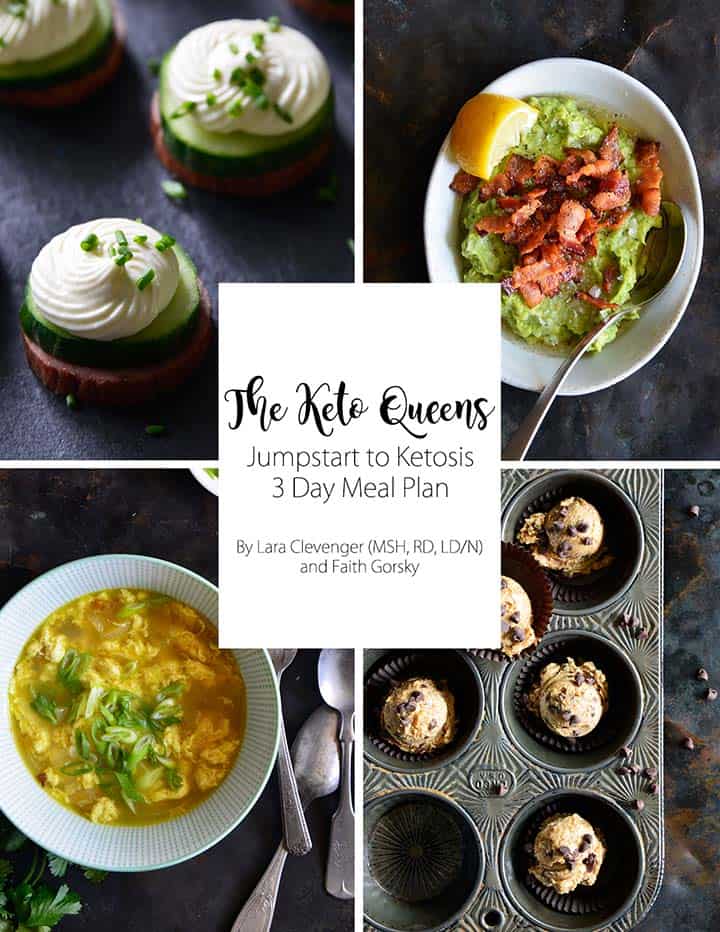 Jumpstart to Ketosis 3 Day Meal Plan E-Book
And if you're really serious about it and want to go for a full five days instead of three, we also have a five day budget meal plan available. The food cost per day for our five day plan is less than $5!
5 Day Keto on a Budget Meal Plan
Disclosure: This post contains Amazon affiliate links to products I believe in. Even though it doesn't cost you anything extra, I will receive a small amount of money from the sale of these items. Thank you for helping to support An Edible Mosaic!