If I had to choose one smell that I feel sums up fall, it would be baking apple pie; this chai syrup comes in at a close second.
But since it's about a month too soon (at least for me) for hot beverages like hot chai lattes, I'll wait on that for now…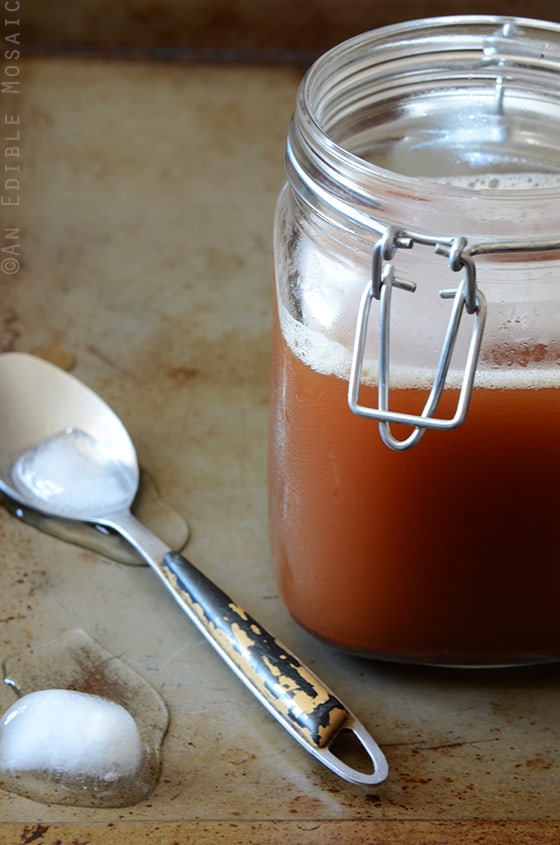 And instead use this syrup to make iced chai lattes!
If you're the person who always orders a chai latte (hot or iced) from your local coffee shop, get ready to be amazed and start saving some serious money by making your favorite drink at home. If you have a well-stocked spice cabinet, you probably already have everything on hand for this recipe.
In this recipe, honey and vanilla bean (or vanilla bean paste) are my unique twists on a classic masala chai. I like to use fresh ginger for the best ginger flavor, and many of the other spices are whole instead of pre-ground (pre-ground spices will also work, but I like the potency and freshness of whole spices). You can feel free to play around with the amounts of each spice to suit your tastes.
Once the spiced syrup is made, I cold-brew the tea right in the syrup (if you're interested, I discuss the cold brewing method of tea here). The cold-brew method minimizes any bitterness in the tea and lets the tea's subtle flavor nuances shine through. Cold-brewing is easy to do and doesn't take any more effort than warm-brewing; just forget about the tea for three days in the fridge while it does its own thing. After that, you'll be left with a pretty darn delicious chai syrup.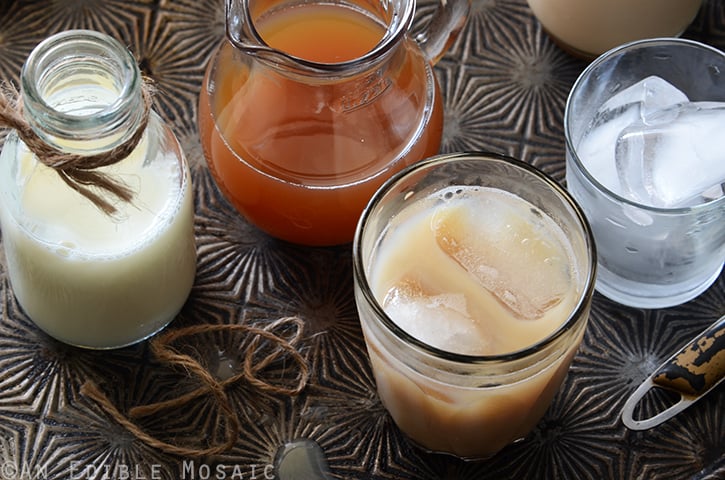 Honey-Vanilla Masala Chai Syrup for Iced or Hot Lattes
Prep time:
Cook time:
Total time:
Yield:
About 3 cups (700 ml) of concentrated chai syrup
Ingredients
4½ cups (about 1 L) water
¼ cup (60 ml) pure honey
15 pods cardamom, cracked open
2 whole star anise
1-inch piece fresh ginger, grated
1 tablespoon ground cinnamon
½ teaspoon whole cloves
½ teaspoon whole allspice
½ teaspoon freshly grated nutmeg
¼ teaspoon whole peppercorns (or more to taste)
1 vanilla bean pod, seeds scraped or 2 teaspoons vanilla bean paste
5 black tea bags or 5 teaspoons loose leaf black tea
Instructions
Add all ingredients except the tea to a medium saucepan; bring to a boil, then turn heat down slightly and boil for 20 minutes with the lid slightly ajar.
Turn off the heat, cover the saucepan, and let it steep at room temperature for 2 hours.
Strain the liquid through a cheesecloth-lined fine mesh sieve, squeezing the cheesecloth to extract all the liquid.
Pour the spicy syrup into a jug and add the tea.
Cover the jug and transfer it to the fridge for 3 days (or longer if you like your tea stronger).
After 3 days, remove the tea bags (or strain out the tea leaves); store the chai concentrate for up to a month in the fridge.
Combine the Honey-Vanilla Masala Chai Syrup with milk to make chai lattes (I use about a 2:1 ratio of milk to chai concentrate, but you can play with the ratio to find what you like).
Notes
Iced or Hot Lattes: This chai concentrate is perfect for making either iced or hot lattes. For iced, add cold chai syrup to cold milk and top off with ice. For hot, add hot chai syrup to hot milk and top with steamed milk, if desired. Enjoy!