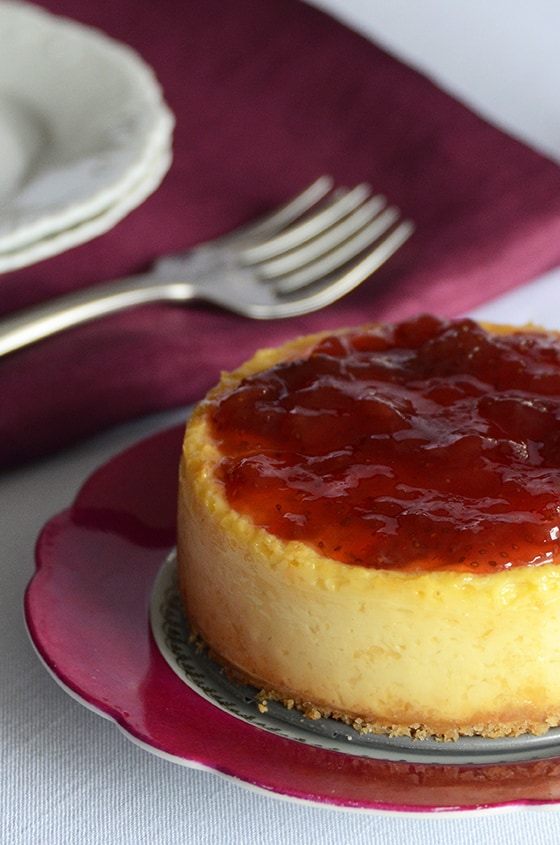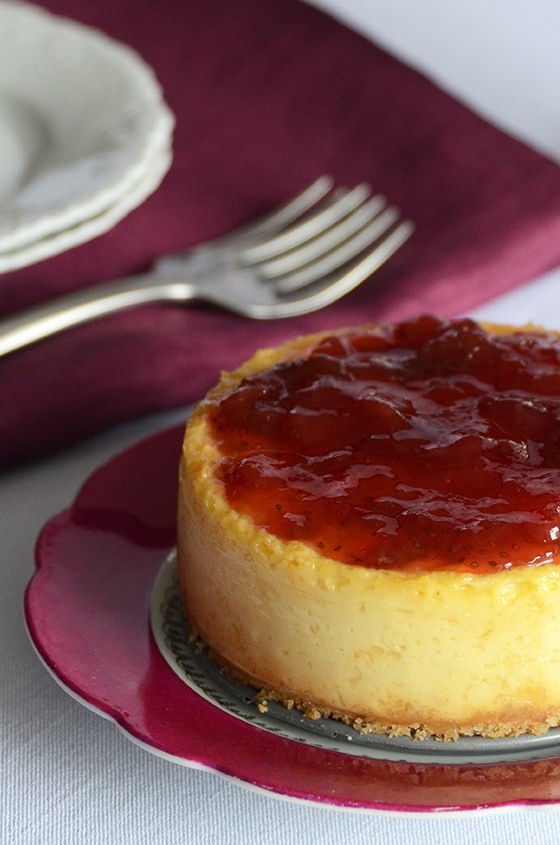 I have some thrilling news to share. If you know me, you probably know that I'm pretty reserved and don't really like talking about myself. I'd rather talk about you…ask you how your day was, how is the family, what is the best thing you ate recently?
Anyway, I'll just be out with it…
I'm working on my first cookbook!!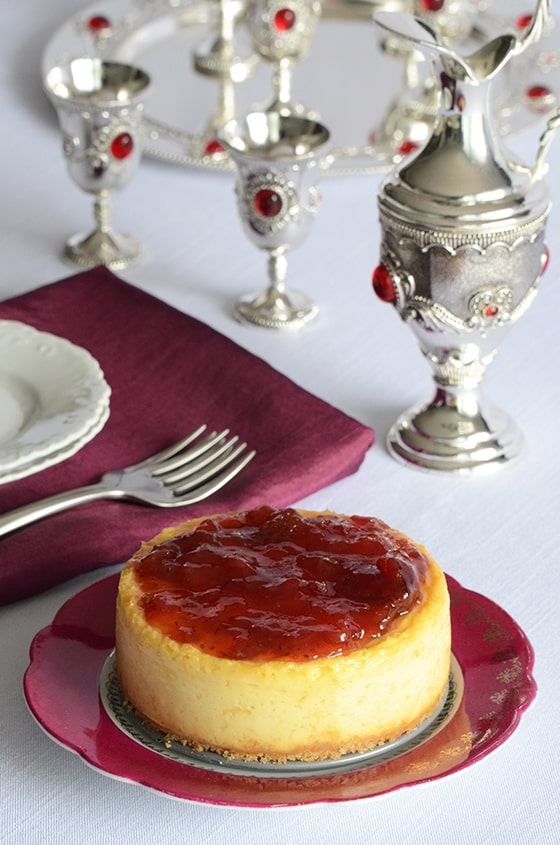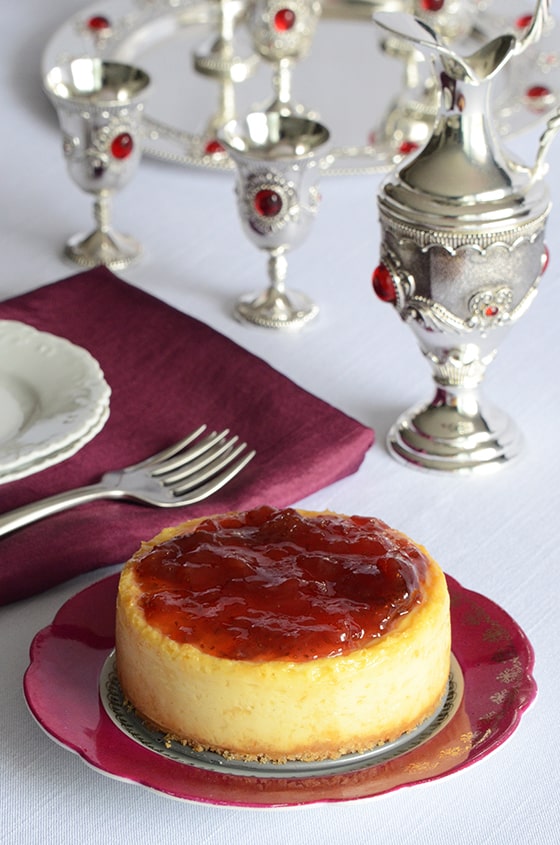 It's a Middle Eastern cookbook, focusing on Levantine cuisine in general and Syrian cuisine in particular, with about 100 recipes. It's being published by Tuttle Publishing, a wonderful publisher with a long history of gorgeous cookbooks, and is expected out in fall 2012 or spring 2013. For those of you who like cookbooks with tons of pretty pictures, rest assured that this one will be full of them. :)
With news like this, Mike and I had to have a little celebration…and what could be more celebratory than cheesecake? I had to get creative when I came up with this recipe because I only wanted to make enough for two servings, and also, I didn't have any Neufchatel or cream cheese in the house (which is typically the base of most cheesecakes). A custardy Greek yogurt filling stood in quite nicely, and this ended up being a delicious little cake. Make it today to celebrate something in your life.
I just wanted to say thank you to all of you who read my blog! Your messages, comments, and emails encourage and inspire me to no end. Without this blog and all of you, I never would have dreamed of writing my own cookbook. xoxo, Faith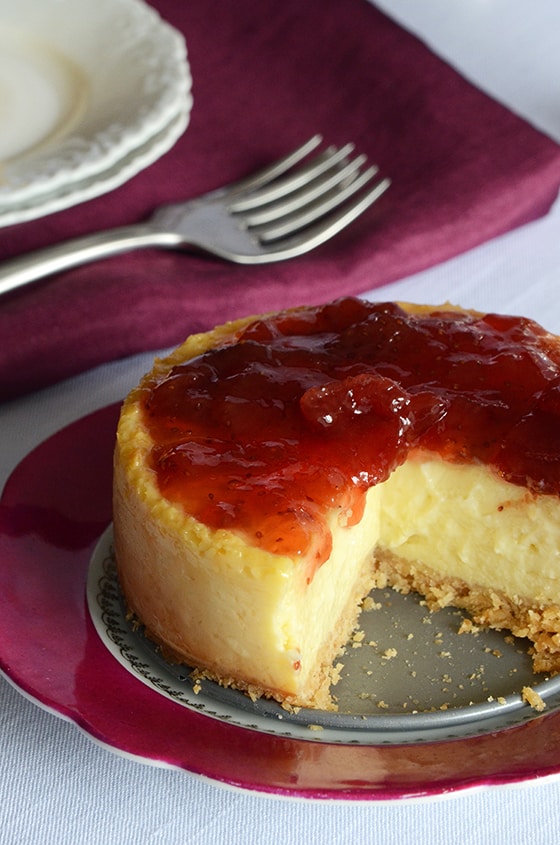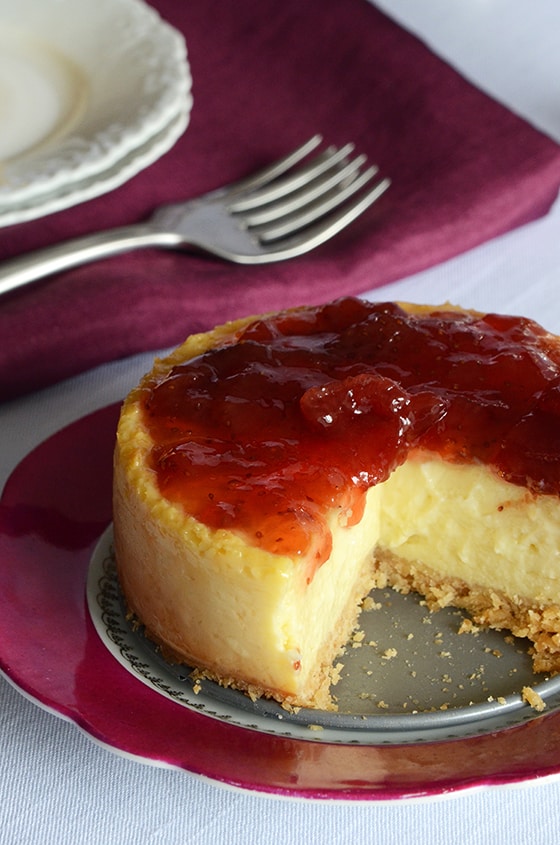 Greek Yogurt Cheesecake for Two
Prep time:
Cook time:
Total time:
Ingredients
Crust:
¼ cup crushed crackers (I used 6 saltine crackers)
1 tablespoon butter, melted
½ teaspoon sugar
Filling:
¾ cup (175 g) plain, low-fat Greek yogurt
1 large egg
½ teaspoon lemon juice
5 tablespoons (60 g) sugar
1 tablespoon cornstarch
1 pinch salt
1 teaspoon pure vanilla extract
Topping:
Anything you like, such as jam, chocolate sauce, caramel, etc. (I used strawberry preserves)
Other:
Butter, to grease the pan
Instructions
Preheat oven to 350F. Lightly grease a 4-inch diameter springform pan with butter.
Combine all crust ingredients in a small bowl. Pour into the prepared pan and lightly press down with your fingers. Bake until lightly browned, about 7 minutes.
Combine all filling ingredients (except the vanilla) in a medium-sized, thick-bottomed saucepan. Bring to a simmer over medium heat, whisking constantly. Once simmering, it will take about 1 minute to thicken to a stiff pudding consistency; when it does that, turn the heat off and whisk in the vanilla.
Pour the filling into the pre-baked crust and bake 20 minutes.
Turn the oven off and let the cake cool completely in the oven.
Once completely cooled to room temperature, refrigerate the cake 2 hours to chill.
Let the cake sit at room temperature for 30 minutes before serving. Right before serving, top with any topping you like.