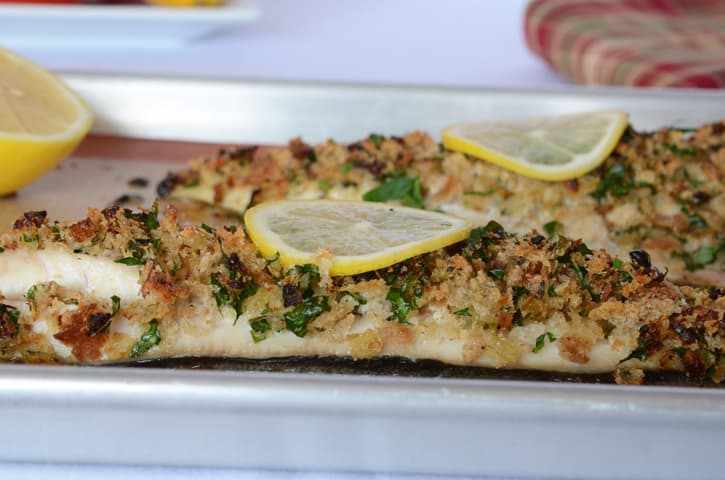 Since Mike and I eat fish a couple times a week (and because I'm usually not that adventurous with it…most of the time I make it the same way – poached!), I'm always looking for new ways to prepare it. My inspiration for this meal was ordinary breaded and baked fish…but in the end this fish dish turned out to be anything but ordinary. The onion, garlic, and herbs lend so much flavor, and the Panko breadcrumbs make a nice crunchy topping. We both loved it, and it's definitely a meal that will be repeated in our house.
Baked Fish with Crumb Topping
(Yield: 2-4 servings)
2 large (about 12 oz each) haddock fillets (or any fish you like)
1 tablespoon olive oil, plus a little more to grease the baking sheet
1 small onion, finely diced
1 large clove garlic, minced
6 tablespoons breadcrumbs (I used Panko but regular breadcrumbs also work fine)
1 ½ teaspoons fresh minced (or ½ teaspoon dried) thyme (I think dill would be a great substitution if you don't have thyme)
3 tablespoons fresh minced parsley, divided
Salt and pepper
2 teaspoons fresh lemon juice
Fresh lemon, for serving
Preheat oven to 400F; line a baking sheet with a silpat liner or parchment paper and brush a light coating of olive oil on the silpat or parchment.
In a small skillet, heat olive oil over low heat; add onion and garlic and sauté until tender and just starting to brown (about 5-7 minutes), stirring occasionally. Add breadcrumbs and sauté until light golden brown (about 1-2 minutes), stirring frequently. Turn off heat and stir in thyme, 2 tablespoons parsley, and a pinch of salt and pepper.
Pat the fish dry and lay it (skin side down) on the prepared baking sheet; drizzle 1 teaspoon of lemon juice on each fillet. Top with the breadcrumb mixture and bake until the fish is fully cooked (it will become opaque and flake easily with a fork when it's done), about 15-25 minutes.
Sprinkle remaining 1 tablespoon parsley on top and serve with fresh lemon to squeeze on top.