Independence Day (July 4th) is almost upon us, and along with it comes a host of outdoor picnics and parties. My family celebrates this day with a casual feast – fresh, local fruits and veggies, potato and pasta salads, and grilled meats. And always strawberry shortcake for dessert. I'm not a huge fan of strawberry shortcake in general (shocking, I know :) ), mostly because I don't like how soggy the shortcake gets once the strawberries are scooped on top. These cute little cupcakes completely eliminate the soggy shortcake problem. And better yet, they can be made in advance.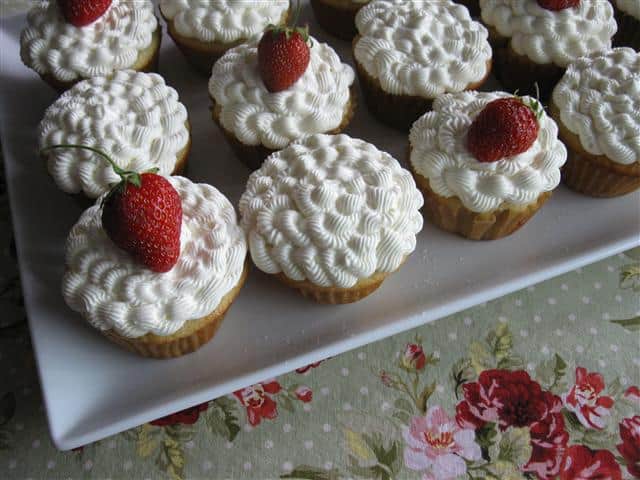 I've noticed that buttercream is a particularly opinionated topic for many people. A lot of times to make a quick buttercream (also called a "Simple Buttercream" or "American Buttercream"), I beat together butter and powdered sugar with a little milk and add vanilla or some other extract for flavor. This Simple Buttercream is fairly thick and holds up very nicely. It's tasty enough (although usually very sweet) for a quick frosting; however, many people say that a true buttercream must contain eggs.
For these cupcakes I wanted something special, so I decided to make a Swiss buttercream. There are several different types of buttercream (such as Italian, French, and Swiss) that differ in the way they are prepared. To make Swiss buttercream, egg whites and sugar are heated over a double boiler to dissolve the sugar and pasteurize the egg. Then the egg white/sugar mixture is whipped until thick and glossy and butter is whipped in to stabilize the cream. The end result is a smooth, light, and creamy frosting that is not overly sweet.*
Brandy and I announced our Fourth of July event on All Through the Year Cheer! To participate all you have to do is make a recipe that represents this holiday to you; remember, there is a fantastic prize for the winner. See here for info on how to enter (you don't need to have a blog to be able to enter!).
To Make Ahead: Buttercream: You can make the buttercream up to 5 days ahead and store it in the fridge in an airtight container. To use it, bring frosting to room temperature, then stir it until smooth. Pipe it onto the cupcakes as normal. Cupcakes: You can make them up to 3 days ahead and store them at room temperature in an airtight container. Frost the cupcakes the same day you're going to be serving them.
Strawberry Shortcake Cupcakes
(Yield: 20 cupcakes)
Strawberry Jelly Filling (Makes a little over 1 c):
2 c (about 10 oz) sliced strawberries
¼ c water
3 TB sugar
2 teaspoon cornstarch mixed with 1 TB cold water
1 ½ c white sugar
¾ c canola oil
3 eggs
¾ c milk
2 teaspoon vanilla bean paste or pure vanilla extract
2 c all-purpose flour
2 teaspoon baking powder
¼ teaspoon salt
Swiss Buttercream (Makes about 3 c):
3 large egg whites
1 c sugar
Pinch salt
3 sticks unsalted butter, at room temperature, cut into pieces
1 teaspoon pure vanilla or almond extract
Additional:
Strawberries (optional, for garnish)
Edible pearl dust (optional, for garnish)
Cupcake liners
Cupcake baking pan
For the filling: In a small saucepan over medium heat, cook the berries, water, and sugar (uncovered) for about 10 minutes or until the berries are softened, stirring occasionally. Add the cornstarch slurry and cook another minute, stirring constantly (the mixture will thicken). Cool to room temperature, then chill in the fridge while you make the cupcakes (the jelly filling will thicken more as it cools).
For the cupcakes: Preheat the oven to 350F; line the cupcake baking pan with cupcake liners. Beat together the sugar and oil, then cream in the eggs until light and fluffy, and then stir in the milk and vanilla. In a separate bowl mix together the flour, baking powder, and salt. Gradually beat the dry ingredients into the wet; stir until just combined, making sure not to over-mix. Fill each cupcake liner about half full of batter. Add a scant tablespoon of jelly filling to each, then add more batter to cover the jelly. Bake for 20-22 minutes, or until light golden around the edges and a toothpick inserted into a cupcake comes out clean. Cool for 5-10 minutes in the cupcake baking pan and then remove to a wire rack to finish cooling. Cool completely before icing.
For the buttercream: In a double boiler, whisk together the egg whites and sugar. Heat until the sugar is dissolved and the mixture is warm (about 140F), whisking frequently (about 3-5 minutes). Transfer the egg white/sugar mixture to the bowl of a stand mixer fitted with the whisk attachment. Add the salt and beat on high speed until the mixture is thick and glossy (about 5-7 minutes). Gradually add the butter piece by piece while beating, then beat in the extract; stop beating when the buttercream is thick and smooth.
Once the cupcakes are cooled, pipe the buttercream on top. If desired, decorate the tops with a strawberry and a sprinkle of pearl dust.


*For more information on buttercream, see Wikipedia.
Thick & Glossy Meringue