I'm thrilled to share #mydailysiggis story along with a few tips and tricks for managing this busy time of year, and my Vanilla Yogurt with Grape and Blueberry Compote with Honey and Fresh Rosemary recipe makes an easy, elegant breakfast or dessert.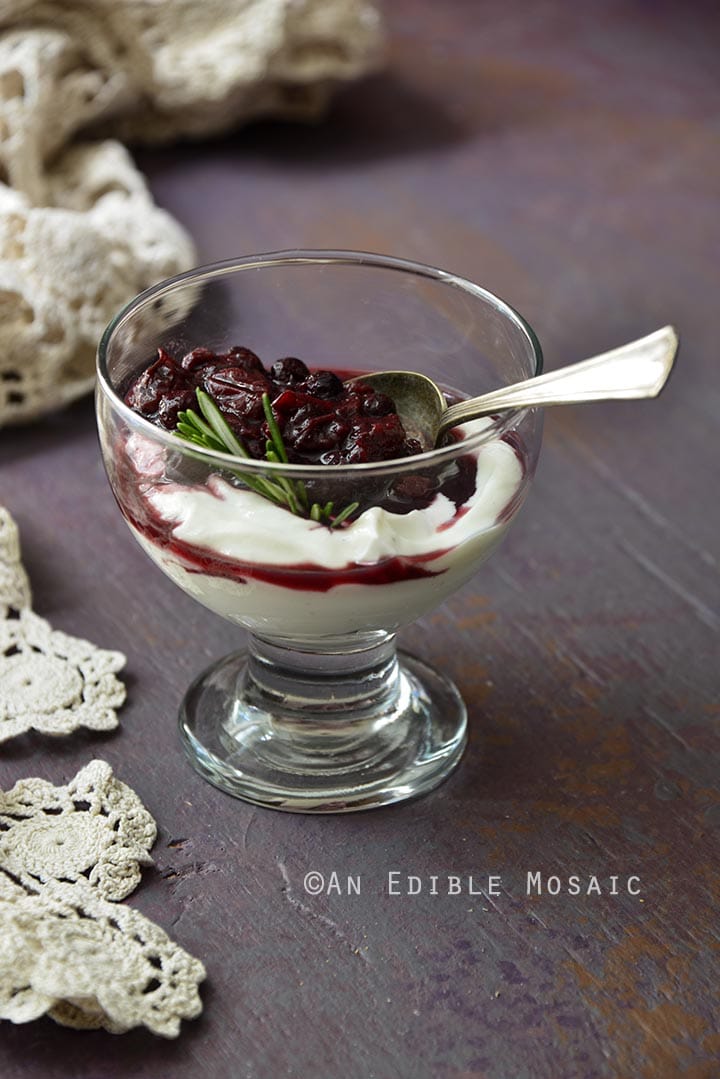 On any given day when I check my email, I'm likely to get multiple messages saying something along the lines of "time flies!" or "I can't believe that summer (or fall, or winter, or spring) is nearly over!" or "soon enough it'll be Thanksgiving (or Christmas, or New Year's, or Memorial Day)!" or "it's been forever since we caught up!" I swear it feels like time moves faster now than when I was a kid.
This time of year is particularly busy. It's back to school for the kiddos and out-of-summer mode for the rest of us. Quick and easy weekday meal ideas are a must-have when you're juggling work, spouse, kids, pets, and all the responsibilities that come along with them. Not only do I like sharing easy meal ideas, but I'll do you one better and pass along shortcuts that are a lifesaver on a hectic day!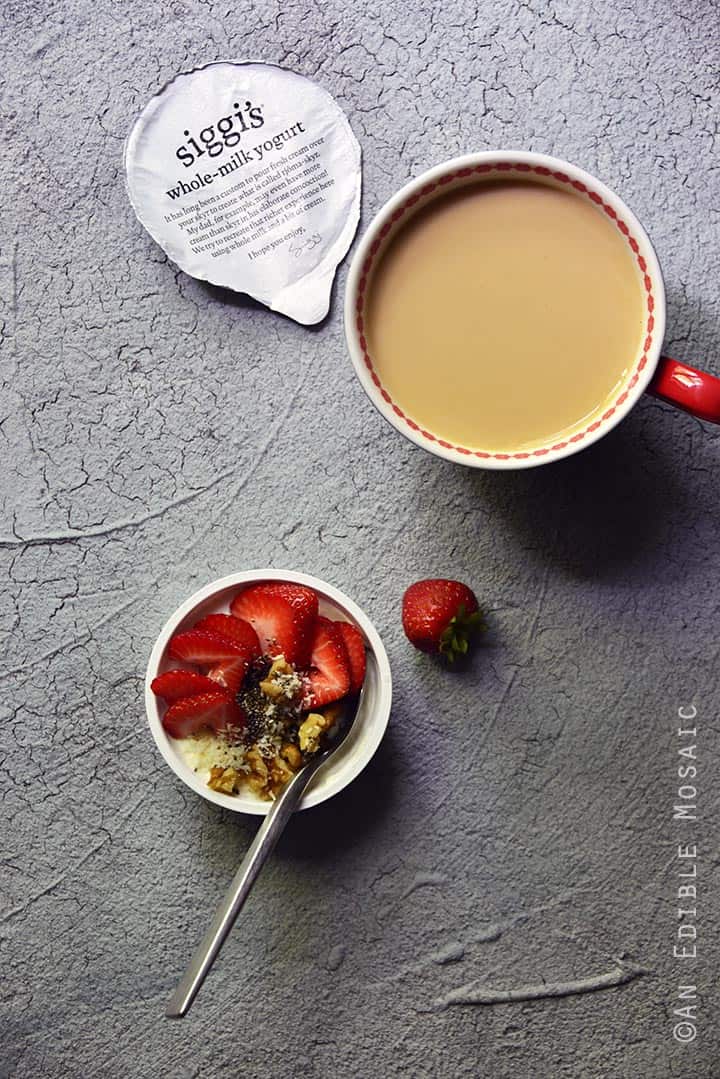 I have a few tricks up my sleeve to keep mealtime as easy as possible…
Have a meal plan (at least for dinner). Not only does this reduce your time spent at the grocery store (no more wondering:

hmmm, what do I want to make this week and what do I need to pick up?

), but it helps you utilize ingredients that are just sitting around in your freezer and pantry. And meal planning can be fun, especially if you and your family like to try new recipes.

Try to limit grocery shopping to one or two trips a week. I make one big trip on the weekend and one trip mid-week if I need to restock fresh produce.

Prep what you can on the weekends. For example, if you're making a rice casserole later in the week, cook up the rice on Saturday or Sunday. And if you need shredded chicken for a couple different nights, go ahead and roast a couple of chickens. Or if you're making beef stew, get the veggies washed and chopped and stored in the fridge ahead of time.

Double your recipes and either use the leftovers as lunches or have a couple of "leftover" nights. It's so much easier to make a big batch of something than it is to make a whole new meal!

Keep your fridge stocked with grab-and-go breakfast ideas. Items like muffins, individual quiches, cheese sticks, fruit, and of course, yogurt, which is one of my personal favorites. You can't go wrong with yogurt; its versatility means there's something for everyone. And it works as well as a snack or dessert as it does for breakfast!
I'll be honest though, I'm a little picky about my yogurt. In addition to great taste, the product needs to be made with milk from grass-fed cows, contain no GMOs, and have no artificial ingredients; these factors are all important to me. I usually like my yogurt slightly sweet (there's a fine line between sweet enough and too sweet, am I right?), as opposed to savory (although sometimes there's nothing better than a plate of cold, thick, plain yogurt topped with a sprinkle of za'atar and a drizzle of olive oil, with steaming hot pita bread for dipping!). siggi's yogurt gets it right with not a lot of sugar and simple ingredients.
siggi's yogurt fits snuggly into my daily eating routine:  as a stand-alone snack, topped with fruit and/or nuts for breakfast, or even as dessert. I promise it doesn't take much to make this thick and creamy strained yogurt (Icelandic-style "skyr") dessert or sweet snack-worthy! I think siggi's whole milk yogurt works particularly well as dessert because of how luscious it is, and the message on the top of the container from the founder Siggi explains why: "It has been a custom to pour fresh cream over your skyr to create what is called rjoma-skyr. My dad, for example, may even have more cream than skyr in his elaborate concoction! We try to recreate that richer experience here using whole milk and a bit of cream.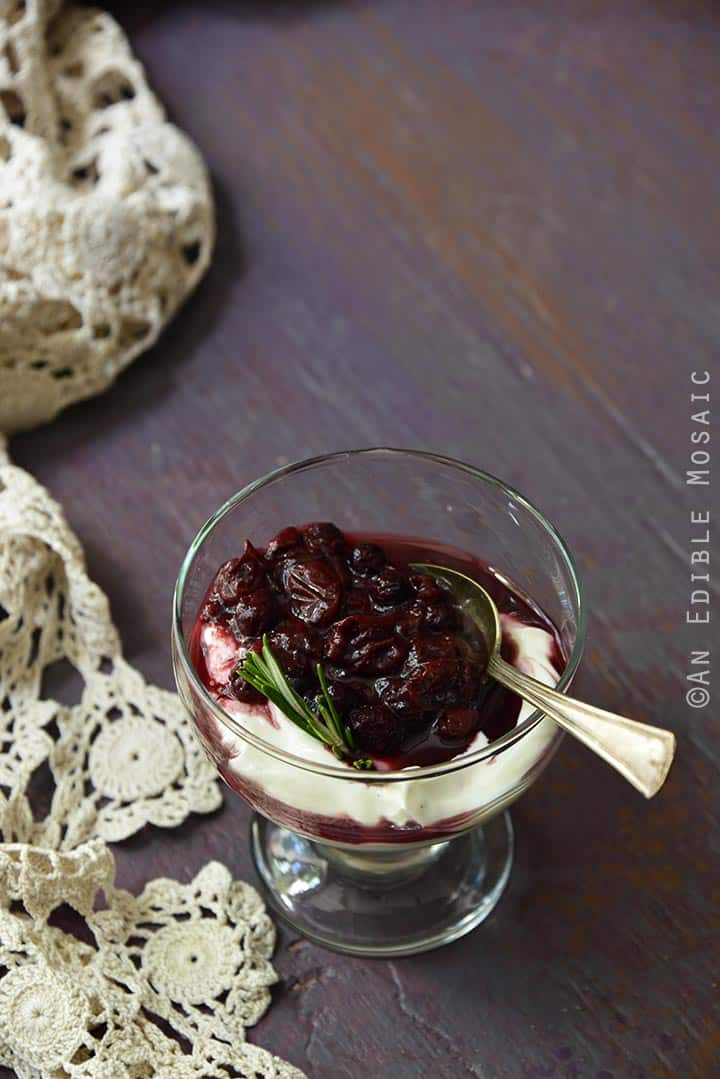 Here I made a very simple and easy 15-minute compote using seasonal fruit for topping. Honey and good-quality balsamic vinegar create a balanced flavor profile, and fresh rosemary and black pepper create depth. It feels elegant, and no one has to know just how effortless it was to whip up! Oh, and feel free to swap out the grapes and/or blueberries for whatever your favorite fruit is; strawberries work well, too.
What's your favorite way to eat your siggi's yogurt?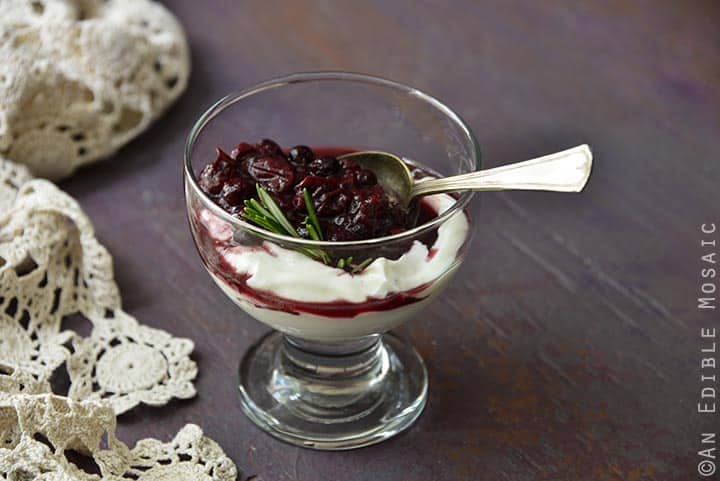 Vanilla Yogurt with Grape and Blueberry Compote with Honey and Fresh Rosemary: An Easy Breakfast or Dessert
Prep time:
Cook time:
Total time:
Vanilla Yogurt with Grape and Blueberry Compote with Honey and Fresh Rosemary recipe makes an easy, elegant breakfast or dessert.
Ingredients
½ cup (50 g) red seedless grapes, rinsed
½ cup (75 g) blueberries, fresh or frozen (rinsed if fresh; no need to thaw if frozen; or just use another ½ cup grapes)
1 tablespoon pure honey
2 teaspoons good-quality balsamic vinegar
1½ teaspoons minced fresh rosemary, plus more for garnish if desired
1 pinch each of sea salt and black pepper
4 (4.4 oz) containers of siggi's whole milk vanilla yogurt
Instructions
Add all ingredients except the yogurt to a small saucepan over medium heat. Cover the saucepan, bring to a boil, and cook 6 minutes, stirring occasionally. Uncover the saucepan and cook until the syrup is slightly thickened, about 6 minutes more, stirring occasionally.
Cool the compote to room temperature, and then store it covered in the fridge for up to 1 week.
To serve, spoon the yogurt into 4 individual glasses, top each with ¼ of the compote, and garnish with a sprig of fresh rosemary if desired.
Special thanks to
siggi's
for partnering with me for this blog post. I am happy for the opportunity to share brands that I believe in with my readers, and I hope you enjoy my recipe. As always, opinions stated are my own.