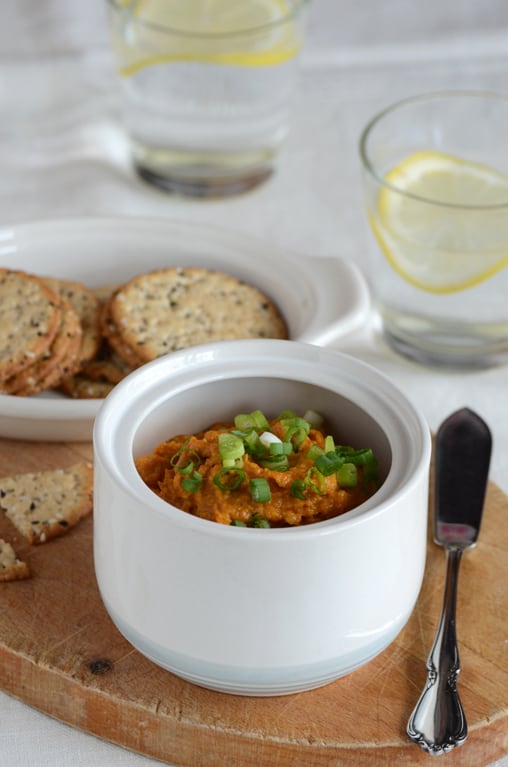 If you've ever been invited to my house for a meal, or if I've ever been invited to your house and brought a dish to pass, you probably already know that I love surprise ingredients...I get really excited and even a little giddy. My mantra usually goes something like this: I made _____ (fill in the blank with any normal sounding dish), but there's a secret ingredient – guess what it is!
In the past it's been Chai-Spiced Ricotta Cake (no one guessed that it had ricotta or black pepper!), Parsnip Cake (zucchini was a common guess with this one), Chocolate Chestnut Creams (people kept guessing chocolate and coffee but no one thought of chestnut), and the queen recipe of secret ingredients – Chocolate Sauerkraut Cupcakes (I always tell people to sit down before I tell them what's in this one, lol!). And now this spread. I took it to a party and people were calling it the "smoky cheese spread" and asking me what kind of smoked cheese I used in it.
Even though it tastes like cheese, this spread is actually vegan! It gets its cheesy, umami flavor from nutritional yeast (and more umami from soy), smokiness from roasted red peppers and smoked paprika, and creaminess from almonds. Aside from just sprinkling it on popcorn, this was my first time using nutritional yeast in a recipe…I can't wait to do some more experimenting!
Vegan Pimento "Cheese" Spread
Yields about 1 cup
2 tablespoons olive oil
1 medium onion, chopped
2 cloves garlic, minced
½ a medium roasted red bell pepper (store-bought, or see the bottom of this post for instructions on how to make them at home)
1 tablespoon lemon juice
2 teaspoon soy sauce
¼ teaspoon salt
¼ teaspoon smoked paprika
¼ teaspoon mustard powder
½ cup blanched almonds
½ cup plus 2 tablespoons nutritional yeast (such as Bob's Red Mill)
1 scallion, green and white parts, thinly sliced, divided
Heat the oil in a medium skillet over medium heat; add the onion and cook until softened and starting to brown in places, about 5 minutes. Add the garlic and cook 1 minute more, stirring constantly. Cool completely.
Add the onion/garlic mixture and all remaining ingredients (except the scallion) to a food processor and process until smooth, scraping down the sides of the bowl as necessary. Transfer to a bowl and stir in ½ of the scallion.
Chill, then top with the remaining ½ of the scallion and serve with crackers or crudités.