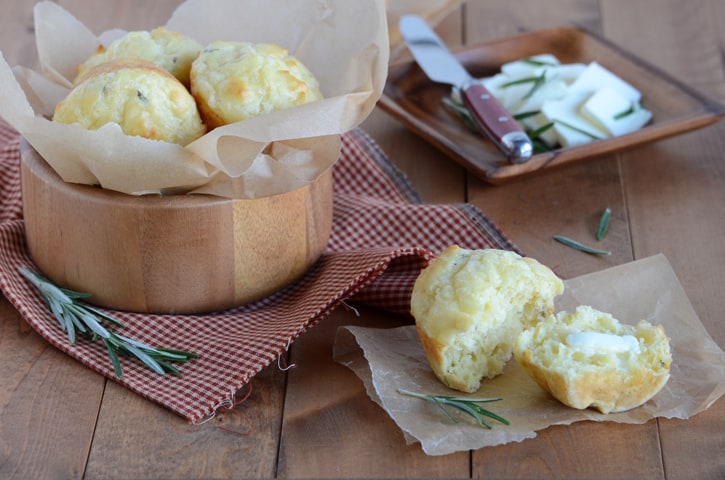 Where do you get your recipe inspiration?
The other day I was at the grocery store. Nothing fancy (there still isn't even Whole Foods or a Trader Joe's in my area, if you can believe that!), just my regular grocery store (picking up the bread that I mentioned in this post, actually). When I saw them looking up at me.
What were they?, you ask. Muffins. But these muffins looked to die for. They were big and golden, and stuffed with so much cheddar they looked like the muffin fairies that made them (like the Keebler cookie elves, you know? ;) ) started with nothing but cheese and added in just the teensiest bit of batter. And I knew I needed to try my hand at making muffins like that.
I did a couple things differently. They used orange cheddar and I used white (a very sharp New York State white), and I added the faintest bit of rosemary for flavor and aroma (thyme would be a lovely substitute). The muffins were incredible, but despite the fact that I used a full eight ounces of cheese, I feel like they didn't have even close to the amount of cheddar as those beautiful muffins at the grocery store. I think I would have to use three or four times as much cheese as I did to get the same results…and oh wow, is that a lot of cheese! For now, I'm very happy with these.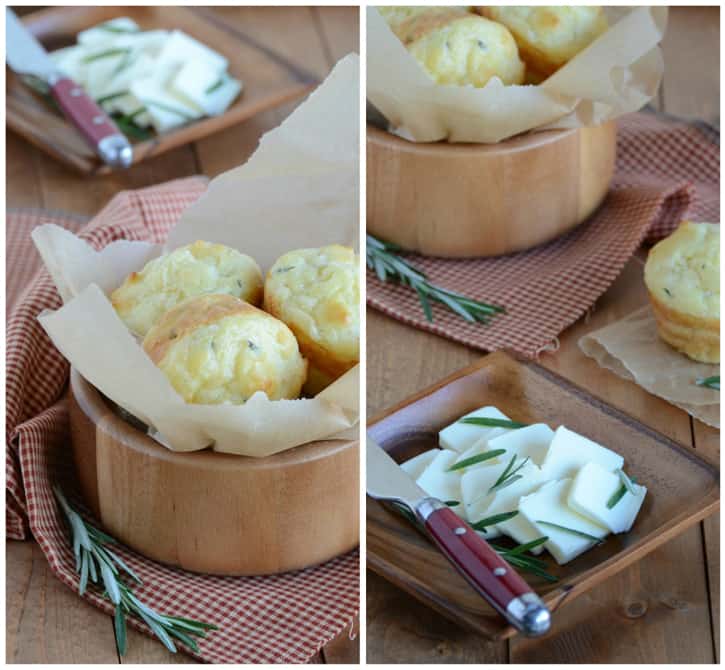 Of course, good muffins, like anything else, start with quality ingredients. Eggs are pretty important, since their freshness can really affect the quality of a dish. I recently received a coupon for Land O Lakes® eggs, which I used in this recipe…and wow, are they good!
And in order to really enjoy the fresh flavor of these eggs I made breakfast: a sunny-side up egg served with a white cheddar muffin and homemade applesauce.
Here's a little bit about their eggs from their website: "Land O Lakes® Eggs really are extraordinary. They are produced by hens fed a premium, all vegetable, whole-grain diet, rich in corn and soy protein — with no animal fat or animal by-products. It's the kind of commitment to simplicity you don't see everywhere. And it produces eggs with a taste so pure and delicious, they could only come from Land O'Lakes."
For the chance to try Land O Lakes® eggs for yourself (and also to win a $50 VISA gift card and an All-Clad Omelet Skillet!), see below for information on how to enter my giveaway!
White Cheddar Muffins
Yields 10 muffins
1 ½ cups all-purpose flour
1 ¾ teaspoon baking powder
¼ teaspoon baking soda
½ teaspoon salt
1 tablespoon sugar
2 large eggs
¾ cup milk
¼ cup canola oil
1 tablespoon minced fresh rosemary
8 oz sharp white cheddar, shredded
Preheat oven to 400F; butter and flour a muffin tray (or line it with paper liners).
Whisk together the flour, baking powder, baking soda, salt, and sugar in a medium bowl. Whisk together the eggs, milk, and oil in a large bowl. Gradually stir the dry ingredients into the wet, being careful not to over-mix, then fold in the rosemary and cheddar.
Fill each muffin well about ⅔ to ¾ full of batter; bake until light golden on the sides and top, and a toothpick inserted inside comes out clean, about 14 to 16 minutes. Cool the muffins in the tray for 10 minutes, then remove from the tray and transfer to a wire rack to finish cooling.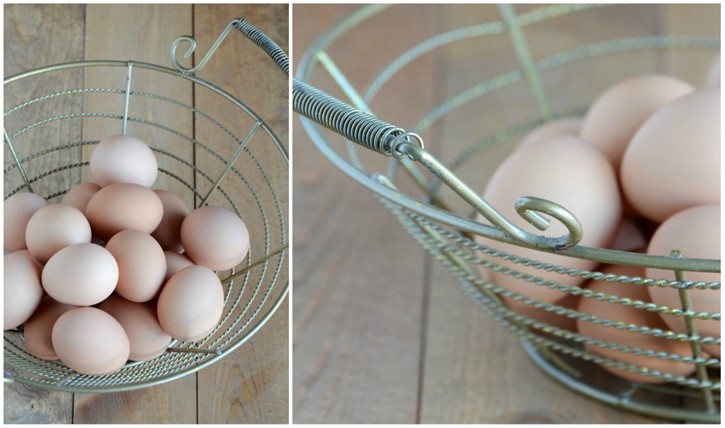 For the giveaway, Land O Lakes® is generously providing a prize pack to one lucky winner valued at over $150, including following items:
$50 VISA gift card
All-Clad Omelet Skillet
Full-value coupon for any variety of LAND O LAKES® Eggs
To participate in this giveaway, you can do any of the following (please leave a separate comment for each, so I can count them as separate entries):
Leave a comment on this post telling me your favorite way to use eggs; if you don't eat eggs, tell me what your favorite kind of muffin is.
Tweet the following message: To win a prize pack valued at $150+, including a $50 Visa giftcard, check out @AnEdibleMosaic! https://www.anediblemosaic.com/?p=7234 #giveaways Please RT
Link to this giveaway on your Facebook page.
Link to this giveaway on your blog.
This giveaway ends Tuesday, November 8th at 9PM EST; after that the winner will be randomly selected and notified by email. Good luck to all!
Disclaimer: I received a coupon for a free pack of eggs from Land O Lakes®, and they are also providing the prize pack for this giveaway. As always, opinions stated are my own.