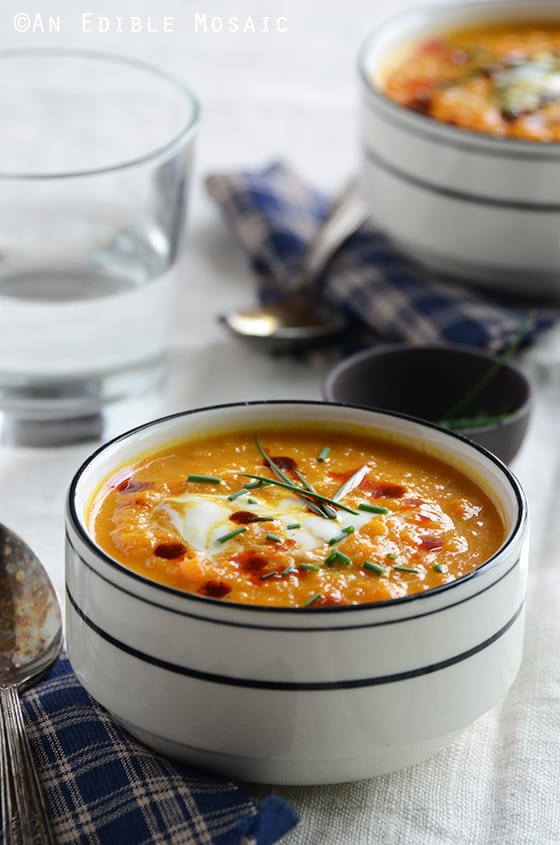 For about two years now I've been hearing the same mantra from one of my favorite foodie friends (who unfortunately isn't a blogger – but perhaps one day!).
Come on, everyone is doing it!, she coaxed. You know you want to!
Grab some butter and don't look back!
She's a brown butter-pusher, all the way.
I know I like brown butter because I've had it in a lot of yummy things – cookies, savory sauces (so delicious on homemade gnocchi, especially if a sweet friend makes the gnocchi so you don't have to!), sweet sauces, and such – mostly from the friend who is always pushing brown butter on me, lol! She is right to do so though, because brown butter's incredibly deep, nutty flavor brings real depth and richness to a dish.
Until I made this soup I've never made brown butter. (I know, that is pretty sad. Don't lose all faith in me as a food blogger; I can guarantee brown butter will be reappearing in my kitchen soon.)
If you haven't tried it, the best thing I can compare brown butter versus regular butter with is the difference between a roasted nut and a raw nut. Raw nuts are delicious (and serve many purposes), but flavor-wise, roasting them draws out their deliciously nutty flavor.
How does brown butter tie into this soup? Well, in true October form, it's been a roller coaster of warmish/sunny and chilly/rainy weather here lately. Warm and sunny means BBQ, but what better to cure what ails you on a cold, damp day than a bowl of soup, right? And after recently enjoying the carrot/apple combo in latkes, I knew I wanted to play with another dish combining those flavors. The sweet and savory flavor of this soup was perfectly accentuated with a drizzle of paprika-spiced brown butter. Crème fraîche is completely optional, but rounds the dish out nicely with a slightly tangy flavor and creamy texture.
My beautiful new KitchenAid hand blender.
The fabulous people at KitchenAid where kind enough to send me a lovely hand blender (also called an immersion blender), which was very timely because my previous hand blender (which I feel the need to clarify was not a KitchenAid, lol) had just recently died. I loved using the KitchenAid hand blender; it is a powerful piece of equipment and made pureeing this soup a quick and easy task. I'm happy to have an immersion blender again; they are so much easier to use than having to transfer hot soup to the regular blender to puree…plus they're easier to clean too! Thank you, KitchenAid!
Now, go brown some butter and give this soup a try!
Ingredients
4-5 medium-large (about 1 lb) carrots, scrubbed, ends trimmed, and chopped into 1-inch pieces
1 medium-large onion, peeled and chopped into large chunks
1 medium-large sweet/tart apple (washed but unpeeled), cored and quartered
2 tablespoons olive oil
1/2 teaspoon salt, divided (plus more to taste)
1/4 teaspoon black pepper, divided
2 tablespoons butter, divided
2 large cloves garlic, grated
1 tablespoon fresh grated ginger
1/2 teaspoon turmeric
1/8 teaspoon cinnamon
1/8 teaspoon nutmeg
3 cups low-sodium vegetable or chicken stock
1/2 teaspoon ground sweet paprika
Crème fraîche, for garnish (optional)
Minced fresh chives, for garnish (optional)
Instructions
Preheat oven to 400F; line a large baking sheet with a silpat liner if desired.
Toss together the carrot, onion, apple, olive oil, 1/4 teaspoon salt, and 1/8 teaspoon black pepper on the baking sheet and spread out in an even layer. Roast until everything is tender and starting to turn golden in spots, about 30 minutes, stirring once halfway through.
Heat 1 tablespoon butter in a medium-sized soup pot over medium heat; once melted, add the garlic, ginger, turmeric, cinnamon, nutmeg, and remaining 1/4 teaspoon salt and remaining 1/8 teaspoon black pepper; cook 30 seconds, stirring constantly. Add the stock and roasted vegetables, and turn the heat off.
Puree the soup using an immersion blender (or puree it in batches in a regular blender). Transfer the soup back to the pot and bring to a simmer over medium heat. Taste and season with additional salt as desired.
While the soup is coming to a simmer, heat the remaining 1 tablespoon butter and the paprika in a small saucepan over medium-low heat. Once melted, cook until the butter starts to smell nutty and turn golden, about 1 minute, whisking constantly.
Ladle the soup into individual bowls and serve topped with paprika brown butter, crème fraîche, and chives.
http://www.anediblemosaic.com/roasted-carrot-apple-soup-with-paprika-brown-butter/