I wait all year long for cherry season and then when it comes around I buy them buy the bagful. (Ok, it might just be an addiction.) This recipe is a great way to use up some of the (millions of bagfuls of) cherries I've been buying.
You probably look at this picture and see a bag of cherries. I look at it and see breakfast, lunch, and dinner. Ok, I'm not that bad…but my cherry pitter is pretty much my new best friend. :)
I absolutely love the sugar-cookie-like crust on this tart, but for me the sweet cherries really are the highlight of the dish. The POM Syrup that's drizzled on adds a little sweetness and another dimension of flavor.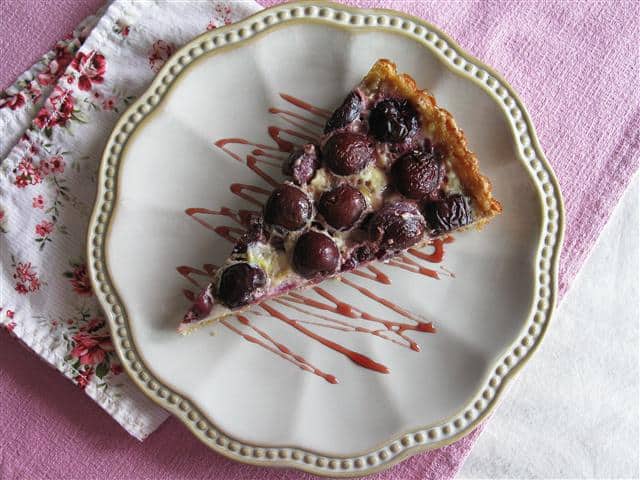 Cherry Custard Tart
(Yield: 1 (11-inch) tart)
Crust:
1 ¼ c all-purpose flour
¾ c sugar
1 teaspoon pure vanilla powder
½ teaspoon salt
½ teaspoon baking powder
1 ½ sticks unsalted butter, at room temperature
Filling:
2 large eggs
1 c whole milk
4 c fresh sweet dark cherries, pitted
POM Syrup:
½ c POM juice*
½ c sugar
11-inch tart pan
Preheat the oven to 350F. In a medium-sized bowl, whisk together the flour, sugar, vanilla powder, salt, and baking powder. Use a fork to cut the butter into the flour mixture until it looks crumbly and there are some pieces the size of peas (it should be able to come together to form a ball when you press it). Pour the crust mixture into the tart pan and press it along the bottom and up the sides of the pan. Use a fork to make several pricks in the bottom of the crust, then bake for 20 minutes.
In a medium-sized bowl, whisk together the eggs and milk. Arrange the cherries in a single layer on the bottom of the crust, then pour the custard on top. Bake for 35 minutes or until the custard is set and starting to turn golden.
For the POM Syrup: Combine the POM and sugar in a small saucepan. Cook on low to medium-low heat for about 25 minutes, until it's reduced by about half and thickened about to the consistency of cough syrup. (It will thicken more as it cools, to about the consistency of honey.)
Let the tart cool slightly after taking it out of the oven, then drizzle about 2 TB POM Syrup on top. Save the rest of the glaze to drizzle on each slice or on the plates when serving. Cool the tart to room temperature, then refrigerate for 2 hours before cutting and serving.


*For more information on POM see my post for Dark Chocolate POM Brownies with White Chocolate POM Buttercream.
The Dough for the Crust Should Have Some Pieces About the Size of Peas
The Dough Should be Able to Come Together to Form a Ball When You Press It
POM Syrup: Cough Syrup Consistency Before Cooling and Honey Consistency After Cooling