This festive Christmas Salad recipe is all decked out in red and green with gorgeous fruits, or what I like to think of edible ornaments, with a balanced sweet and savory flavor profile and a variety of different textures.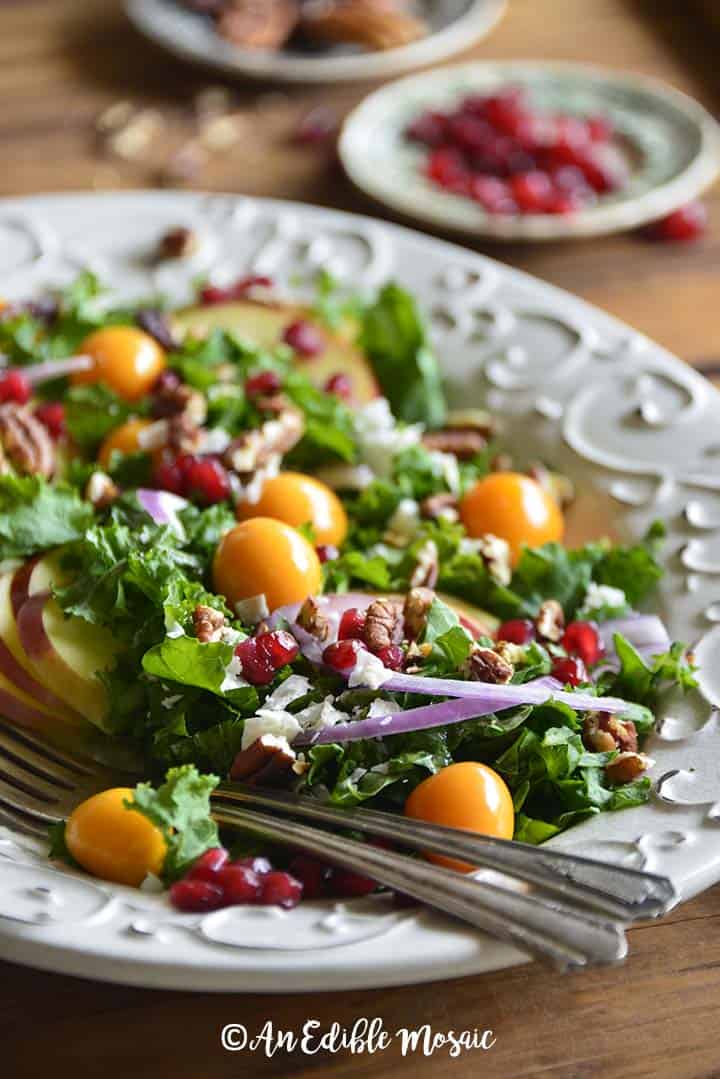 In my family we don't really have one dish in particular that we make every Christmas. Christmas Eve dinner is a smorgasbord of appetizers and Christmas dinner is usually something easy like roast chicken or pot roast with all the fixings. A salad of some kind is usually on the table, but it's rare that it's festive red and green. I think I might change that! It's just so colorful and pretty.
This Festive Christmas Salad has a nice balances of sweet and savory flavors. Kale is the nutrient-rich base and then just like you'd decorate your home for the holidays, I decked out this salad in festive colors. Also, I used fruit that resembles pretty baubles: cape gooseberries and pomegranate arils.
Honeycrisp apple adds sweet/tart crunch, toasted pecans add nuttiness, red onion adds color and a bit of savory flavor, and coconut flakes add texture, color, and a little bit of whimsy (coconut flakes are almost like a little sprinkling of snow). To dress this Christmas Salad, I whipped up an easy vinaigrette with apple cider vinegar, maple, and cinnamon to make it even more festive.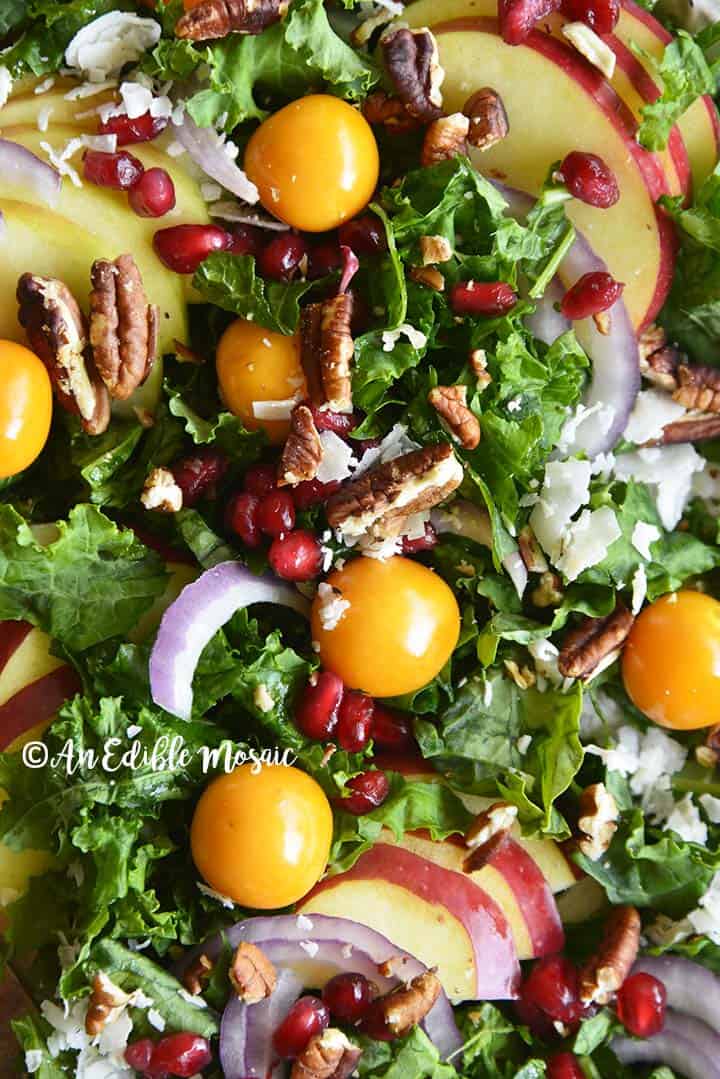 Traditional Holiday Foods
Thanksgiving Foods…What's a Traditional Thanksgiving Dinner?
The most important component of Thanksgiving dinner is roast turkey. The side dishes vary from family to family, but mashed potatoes, stuffing, green bean casserole, some form of squash, and cranberry sauce are all common. Dessert is often pie, commonly pumpkin pie, apple pie, and/or pecan pie.
What Foods Are Eaten on Christmas?
As far as Christmas dinner, roast turkey or some other type of poultry, such as roast chicken or roast goose, roast beef, or roast pork are all common main dishes. The side dishes depend on the meat that's served, but often include mashed potatoes and gravy, winter squash, and root vegetables. Dinner might include a festive red and green Christmas salad. Dessert may include pumpkin pie, mince pie, plum pudding, etc.
Here are a few other festive Christmas foods and flavors that are eaten throughout the holiday season in general:
Eggnog
Gingerbread
Peppermint
Fruitcake
Yule log cake
Christmas cookies
What is a Traditional New Year's Meal?
There are different traditions across the world that involve eating a certain food that's believed to bring luck or fortune in the New Year. In the Southern US, a traditional New Year's meal contains cornbread, collard greens, and black-eyed peas.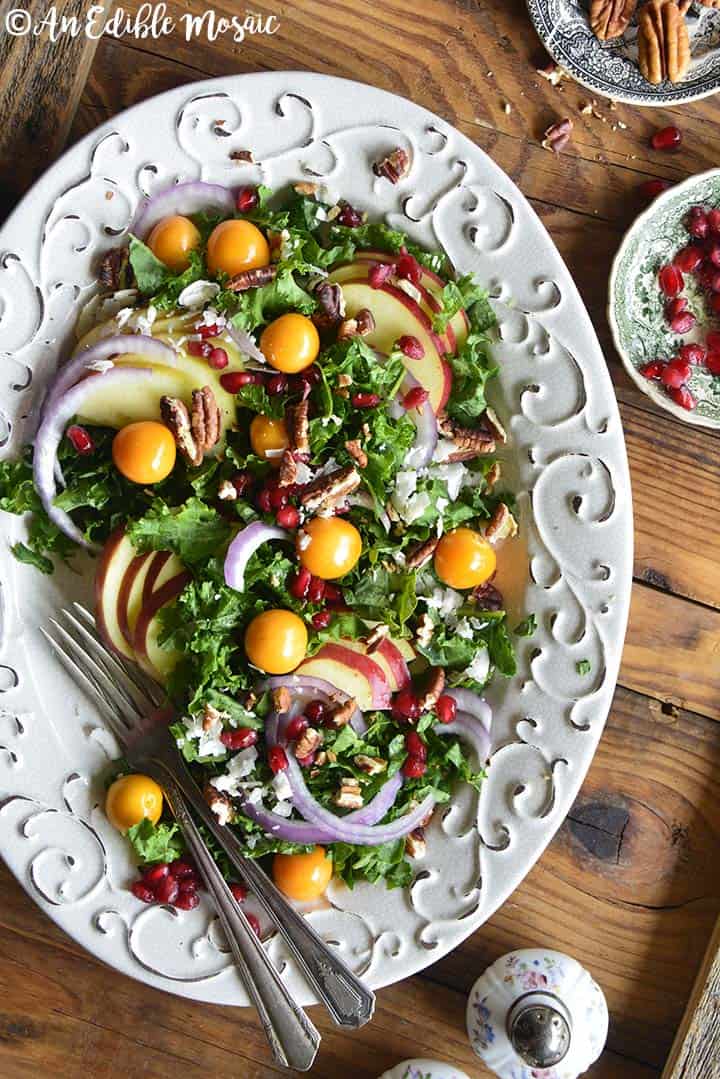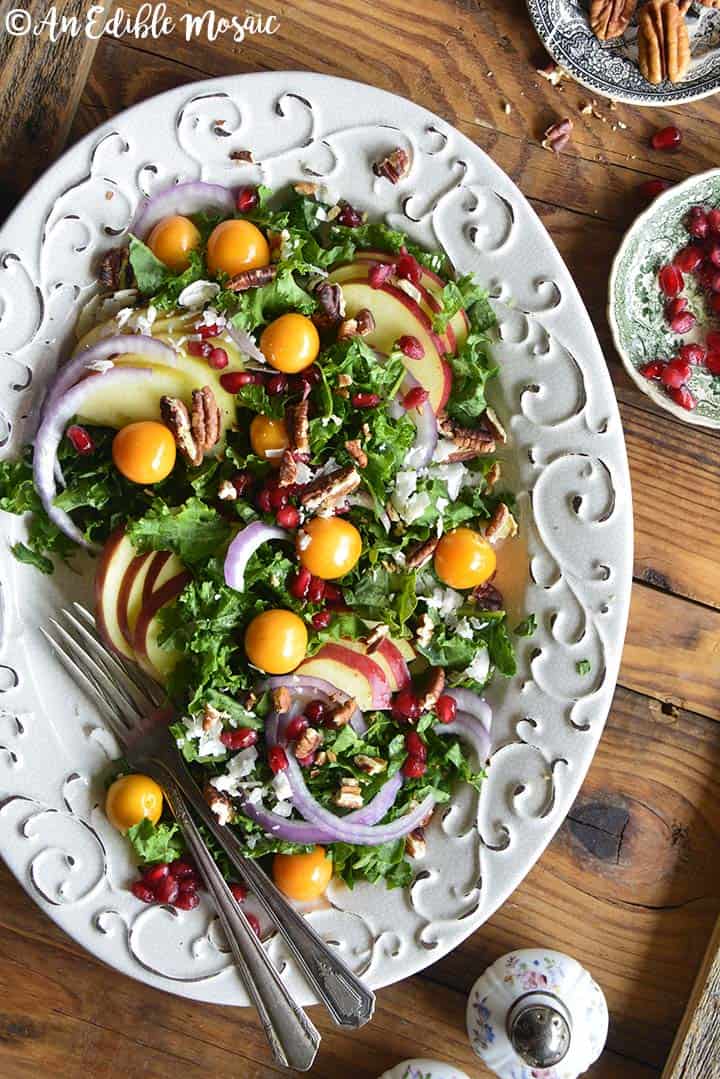 Gooseberries
What Are Gooseberries?
Gooseberries are a species of plant related to currants known as Ribes. They are small, firm berries with lots of edible seeds. Some varieties of gooseberries are translucent and some are ribbed. You can read more about gooseberries on Food Facts Presented by Mercola.
Cape Gooseberries
I used cape gooseberries in this Festive Christmas Salad, which are a gorgeous orange color. Cape gooseberries are surrounded by a paper-thin husk that falls off as it dries. This type of gooseberry is opaque instead of translucent, and fairly firm even when ripe.
What Do Cape Gooseberries Taste Like?
Gooseberries are a very interesting, complex, sweet/tart flavored fruit. They have flavor notes of apricot, mango, pineapple, kiwi, as well as lemon.
Gooseberries Nutrition Information
According to the National Nutrient Database, 1 (100g) serving of raw gooseberries has the following nutrition information:
44kcals
.88g protein
.58g fat
18g carbohydrates
3g fiber
25mg calcium
27mg phosphorous
198mg potassium
7mg vitamin C
Pomegranate
People often ask how to eat a pomegranate! However daunting they may look, pomegranate is fairly easy to eat. You can cut it in half and scoop out the arils, or drink it in juice form.
Pomegranate Health Benefits
Pomegranate arils and pomegranate juice have quite an impressive list of health benefits! This fruit is high in antioxidants, which can help reduce inflammation and help remove free radicals. Pomegranate juice is high in immune-boosting vitamins C and E, and is also a good source of vitamin K, folate, and potassium. It also has anti-viral and antibacterial properties. Read more about the health benefits of pomegranate on HealthLine and Medical News Today.
Pomegranate Nutrition Information
According to the National Nutrient Database, ½ cup (87g) of pomegranate arils has the following nutrition information:
72kcals
45g protein
02g fat
27g carbohydrates
5g fiber
89g sugars
9mg calcium
10mg magnesium
31mg phosphorous
205mg potassium
9mg vitamin C
More Beautiful and Festive Christmas Salad Recipe Ideas: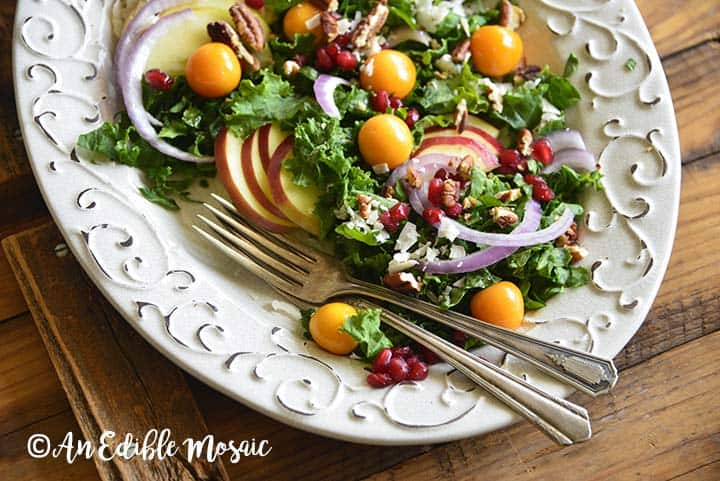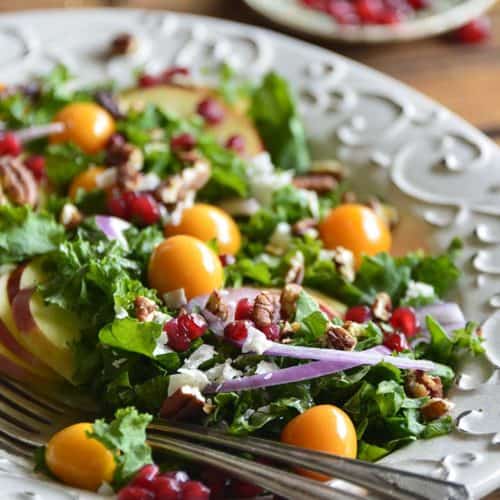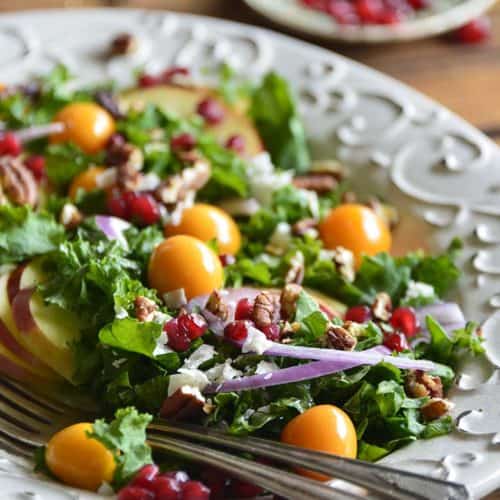 Festive Christmas Salad Recipe
This festive Christmas Salad recipe is all decked out in red and green with gorgeous fruits, or what I like to think of edible ornaments, with a balanced sweet and savory flavor profile and a variety of different textures.
Ingredients
Salad:
8

cups

chopped kale

1

cup

cape gooseberries

also called golden berries, husks removed

½

cup

pomegranate seeds

1

sweet/tart crisp apple such as Honeycrisp

cored and thinly sliced

½

cup

pecans

toasted

¼

small red onion

thinly sliced

¼

cup

coconut flakes
Instructions
For the Vinaigrette:
Whisk together all ingredients and set aside.
For the Salad:
Arrange the kale on a large platter, and arrange all remaining ingredients on top. Drizzle the vinaigrette on top.

Serve.
Nutrition
Nutrition Facts
Festive Christmas Salad Recipe
Amount Per Serving
Calories 214
Calories from Fat 126
% Daily Value*
Fat 14g22%
Sodium 94mg4%
Potassium 563mg16%
Carbohydrates 21g7%
Protein 5g10%
Vitamin A 9110IU182%
Vitamin C 112.9mg137%
Calcium 146mg15%
Iron 1.9mg11%
* Percent Daily Values are based on a 2000 calorie diet.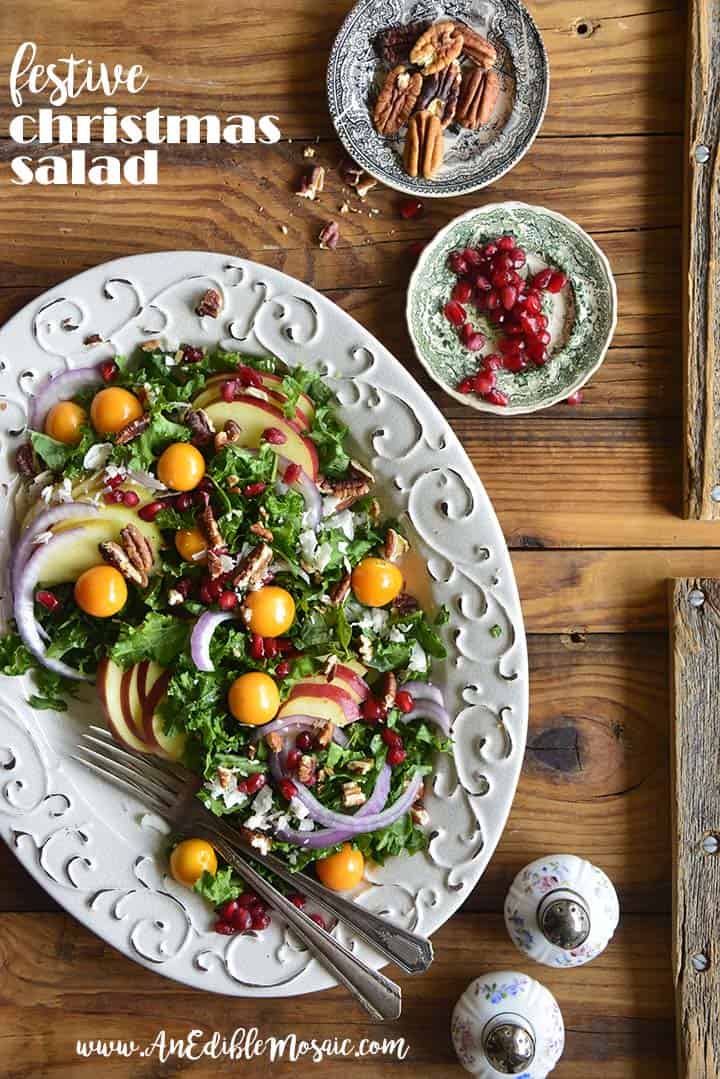 Disclosure: This post contains Amazon affiliate links to products I believe in, which means that even though it doesn't cost you anything extra, I will receive a small amount of money from the sale of these items. Thank you for helping to support An Edible Mosaic!