Hot Buttered Rum is a festive and rich drink that's warmly spiced and sweetly aromatic with a beautiful foam top.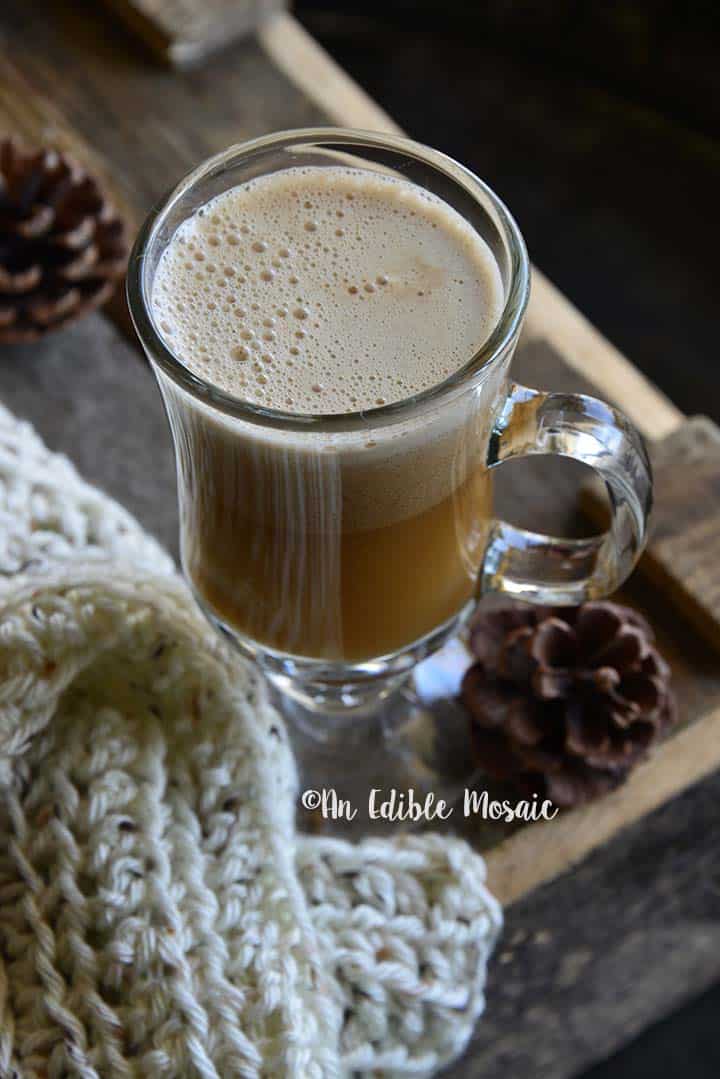 Last year around Christmas, a friend came to visit me in Orlando. We went to Disney (because it's Orlando and that's where we take tourists, lol). At Magic Kingdom, we went on one of my long-time favorite rides, Pirates of the Caribbean. There's a part in the ride where there's a rum-type of smell, but to me it smells like buttered rum! (Anyone else remember that yummy Lifesavers flavor? My grandma always used to keep a roll of them in her purse.) Anyway, that aroma put us in the mood for Buttered Rum, and it wasn't long after that when my friend and I made Hot Buttered Rum drinks.
My method for making Hot Buttered Rum is very easy; I just blend everything together! Similar to a Bulletproof Coffee, you end up with a gorgeous foamy top thanks to the butter. The flavor of rum is balanced with the sweetness of coconut sugar and nuanced with a touch of maple syrup. A hint of vanilla adds aroma and mellows out the cinnamon, nutmeg, and cloves. If it sounds weird to you to add butter to a hot drink, I promise it's not like an oil slick (as long as you process everything together in a blender; I love my Vitamix for this). The butter adds richness and body, and it's what gives this drink a beautiful foam top.
This drink makes me think of twinkling holiday lights and a roaring fire. It's comforting and cozy, and along with a snuggly blanket and a good book this drink is perfect for curling up on the couch with on a chilly December evening.
What is Butter Rum?
Butter Rum is an adult (read: alcoholic; please drink responsibly!) beverage containing hot water or cider, rum, sweetener (such as sugar, brown sugar, honey, maple syrup, etc.), butter, and warm spices, such as cinnamon, nutmeg, and cloves.
What Does Butter Rum Taste Like?
This drink tastes like spiced rum, with a richness from butter; it's surprisingly quite lovely! Sip it slowly on a cold evening.
What is the Origin of Hot Buttered Rum?
According to National Day Calendar, here's the origin of Hot Buttered Rum:
In the United States, hot buttered rum's history dates back to the colonial days. It was in the 1650s when Jamaica began importing molasses to Colonial America. New England started opening distilleries where the colonists then began adding distilled rum to hot beverages such as toddies and nogs, creating hot buttered rum, eggnog and others.
What is a Hot Toddy?
A Hot Toddy is somewhat similar to Hot Buttered Rum. A Hot Toddy is an alcoholic beverage containing a spirit (usually whisky), hot water or tea, sweetener (such as honey, sugar, or maple syrup), and sometimes warm spices like cinnamon, and/or fresh lemon. As far as I can tell, in addition to using a different type of alcohol, another big difference between a Hot Toddy and Hot Buttered Rum is that a Hot Toddy doesn't contain butter, and so it lacks that richness of Hot Buttered Rum.
More Festive Hot Drinks Perfect for the Holidays:
Hot Buttered Rum
Hot Buttered Rum is a festive and rich drink that's warmly spiced and sweetly aromatic with a beautiful foam top.
Instructions
Add all ingredients to a blender and process until smooth and frothy.

Serve hot.
Nutrition
Nutrition Facts
Hot Buttered Rum
Amount Per Serving
Calories 398
Calories from Fat 198
% Daily Value*
Fat 22g34%
Cholesterol 60mg20%
Sodium 60mg3%
Potassium 22mg1%
Carbohydrates 23g8%
Vitamin A 700IU14%
Calcium 18mg2%
* Percent Daily Values are based on a 2000 calorie diet.
Disclosure: This post contains Amazon affiliate links to products I believe in, which means that even though it doesn't cost you anything extra, I will receive a small amount of money from the sale of these items. Thank you for helping to support An Edible Mosaic!