Easy No-Cook Tiramisu is easy enough to make any night, but special enough for a special occasion.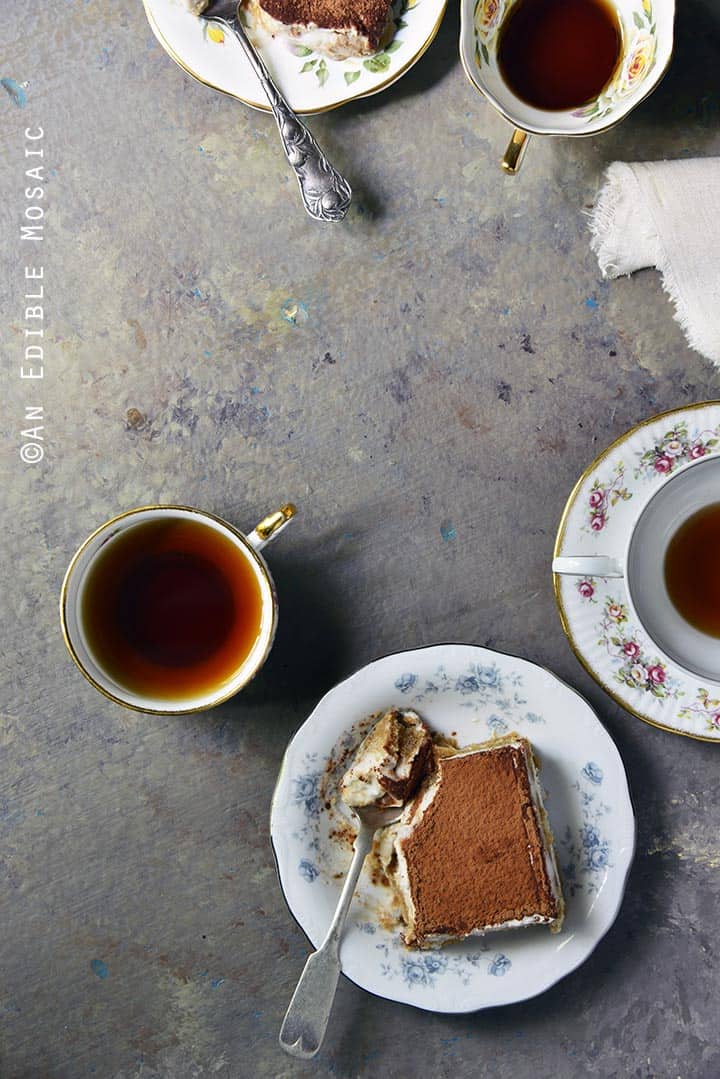 We all have that one thing that when we see on a menu, our eyes light up and we just can't resist ordering. For me, it's tiramisu.
I've had my fill of all kinds of tiramisu; some that's the stuff dreams are made of, some barely edible, some more like pudding, some more like cake. It's actually pretty surprising just how many variations there are! If you've never had tiramisu, it's an Italian dessert that literally means "pick me up" that's typically made of ladyfingers, coffee, a sweet mascarpone-based cream, and cocoa powder. I don't know what it is, but there's something irresistible about that combination.
I've been wanting to make tiramisu at home for a while now. This version couldn't be easier to put together. There's no cooking involved; it's basically just a matter of brewing up some coffee (or saving some from your morning pot), whipping up that creamy layer, and assembling it.
Here I went with GO VEGGIE Vegan Classic Plain Cream Cheese as the base of my sweet creamy layer; this cream cheese is non-GMO verified, made with healthy coconut, and has no cholesterol, lactose, or gluten. If keeping the whole recipe gluten-free is a concern, be sure to look for gluten-free ladyfingers as well.
In this dessert, the coffee-laced cookies are layered with vanilla and almond-scented sweet cream and it ends up being the perfect balance of flavors. This dessert is easy enough to whip up anytime, but it feels special enough to serve for a special occasion. Serve it up at your next party and you'll have some very excited guests!
What's that one menu item that you can't resist ordering?
Easy No-Cook Tiramisu
Yield:
1 (9 by 9-inch) pan, about 12 servings
Easy No-Cook Tiramisu is easy enough to make any night, but special enough for a special occasion.
Ingredients
2 (8 oz/227 g) tubs GO VEGGIE Vegan Classic Plain Cream Cheese
½ cup (120 ml) canned, full-fat unsweetened coconut milk, stirred before measuring
2 teaspoons pure vanilla extract
½ teaspoon rum extract (optional)
¼ teaspoon almond extract
¾ cup (150 g) sugar
28 ladyfingers cookies
1½ cups (355 ml) brewed black coffee, cooled
Unsweetened cocoa powder, for dusting on top
Instructions
Use a handheld electric beater to beat the cream cheese, coconut milk, vanilla extract, rum extract, almond extract, and sugar together in a large bowl until smooth.
Arrange a layer of ladyfingers in the bottom of a 9 by 9-inch pan (for the pan I used, 14 ladyfingers fit perfectly), dipping each ladyfinger in the coffee briefly and letting any excess coffee drip out before placing it in the pan.
Spread half of the cream cheese mixture on top of the ladyfingers.
Top the cream cheese with another layer of coffee-dipped ladyfingers, and then spread the remaining half of the cream cheese on top.
Cover with plastic wrap and refrigerate at least 2 hours, or overnight.
Sprinkle cocoa powder on top and serve.
Disclosure: I received the GO VEGGIE products that I used in this recipe for free, and I also received compensation for this post. I am happy for the opportunity to share brands that I believe in with my readers, and I hope you enjoy my recipe. As always, opinions stated are my own.