New potatoes are basically just baby potatoes that have been harvested early while they're still small. The skin of new potatoes is much thinner than the skin of mature potatoes, so new potatoes are typically not peeled. I've seen baby red potatoes and baby gold potatoes, and either would be delicious in this recipe.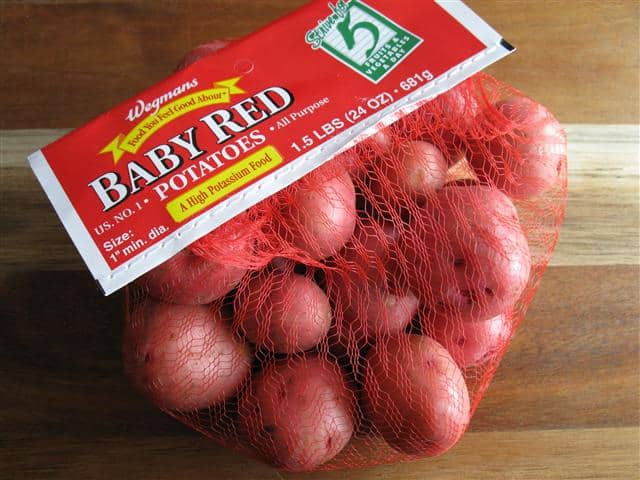 New Potatoes (or Baby Potatoes)
Chives give this potato salad a subtle onion-y flavor. I garnished the top of the salad with a few chive flower buds, which are actually edible. (I think it would be even prettier to let the chive buds blossom into pretty purple flowers (also edible) and use that as a garnish.)
Herbed New Potato Salad
(Yield: 6-8 servings)
1 ½ lb new potatoes (also called baby red potatoes or baby spuds)
2 TB olive oil
2 teaspoon apple cider vinegar
½ teaspoon Dijon mustard
½ teaspoon honey
3-4 TB fresh minced chives (or other fresh herbs, such as parsley or basil)
Salt and pepper to taste
Cut the potatoes into bite-sized pieces (depending on their size, some potatoes might need to be cut in half or quartered and some potatoes might not need to be cut at all). Put the potatoes in a medium pot and cover with cold water; heat over medium to medium high heat until the water boils, then turn the heat down to medium-low and cook the potatoes until just fork-tender (about 5-7 minutes). Drain the potatoes and let them cool slightly.
In a medium bowl, whisk together the oil, vinegar, mustard, honey, and a pinch of salt and pepper. Toss the potatoes with the vinaigrette and chives, then season to taste with salt and pepper. Can be served warm, room temperature, or chilled.