It was fairly recently that I was introduced to Saganaki. When I first had it, I was living in Florida and one of my best friends was Greek. The first time we went to a local Greek restaurant together I asked her to recommend something and she immediately suggested Saganaki. I tried it and have loved it ever since. Recently, my boss (who is Greek) was kind enough to give me a copy of her Greek church's cookbook, which is called The Midas Touch (thank you so much, Katie!). After thumbing through the lovely book I knew right away that I wanted to make Saganaki first.
The recipe for Saganaki is listed in the cookbook without amounts or measurements, so the version I have below is my adaptation, which serves about 4 people as an appetizer.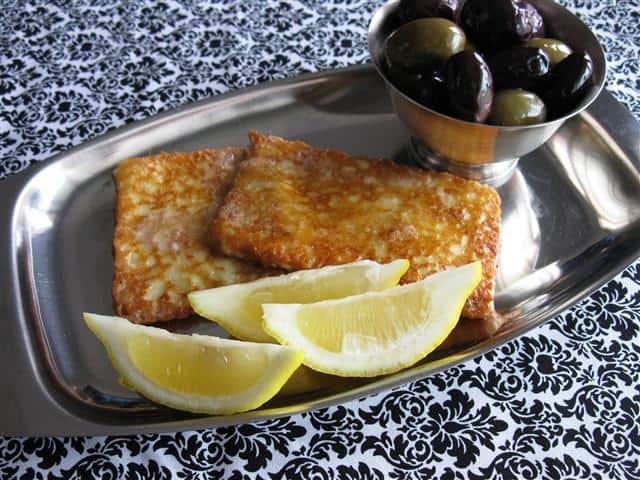 Saganaki (Fried Kefalotiri Cheese) (Adapted from The Midas Touch by the Women's Philoptochos Committee of the Hellenic Orthodox Church, Buffalo, New York)
(Yield: serves 4 as an appetizer)
4-6 oz Kefalotiri cheese, sliced into about ¼-inch thick slabs
1 TB flour
1 TB unsalted butter
Lemon wedges, for serving
Coat the cheese with flour and gently rub off the excess. In a medium pan, melt the butter over medium heat. Once melted, add the cheese and fry until golden brown on both sides. Serve immediately, with lemon wedges to squeeze on top.