This gluten free Low Carb Moussaka (Greek Beef Eggplant Casserole) recipe has a couple non-traditional elements that make it truly special.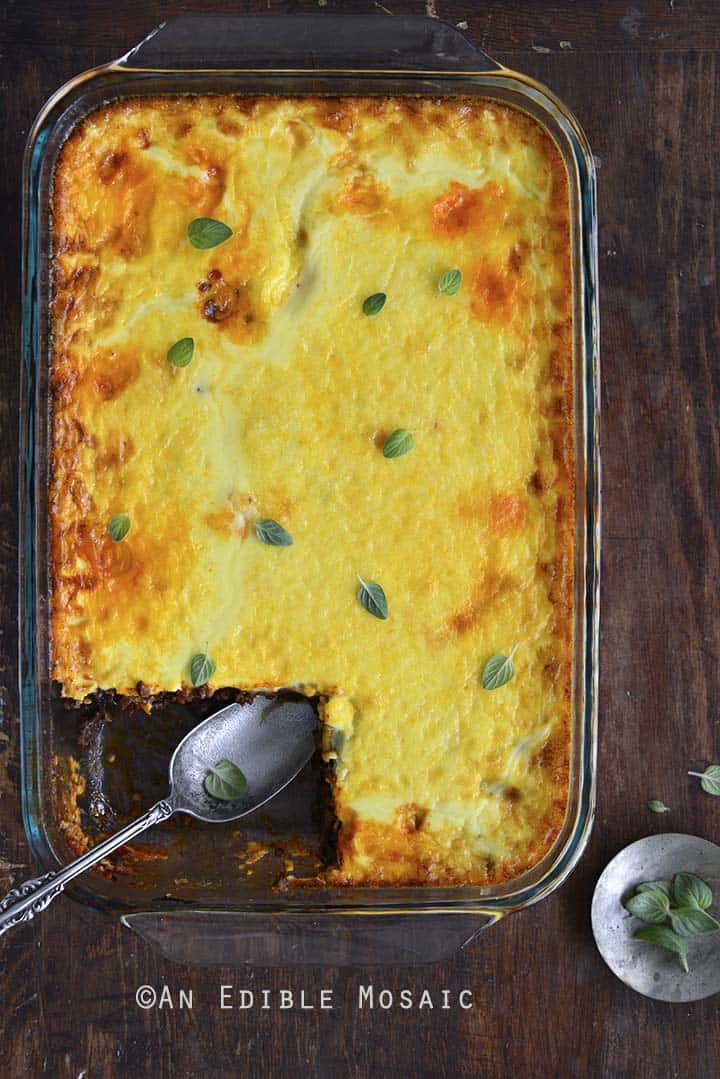 Greece has been on my bucket list of travel destinations for forever now. When I think of Greece, I think of ancient ruins. The brilliant blue of the Aegean Sea, contrasted by the pristine white houses. And the food, of course the food.
My knowledge of Greek food is limited to my experiences at Greek diners and homemade meals at my Greek friend's house in high school, which were actually quite a bit more authentic than my diner experiences. One of my favorites that my mom's friend would make was always Moussaka.
I have literally made this dish twice in the past month (which is unheard of for me, especially because it makes a big batch so I've been eating it a lot!), so that should tell you how much I love it. It's one of those dishes that is so much more than the sum of its parts; everything comes together for a perfect marriage of flavors.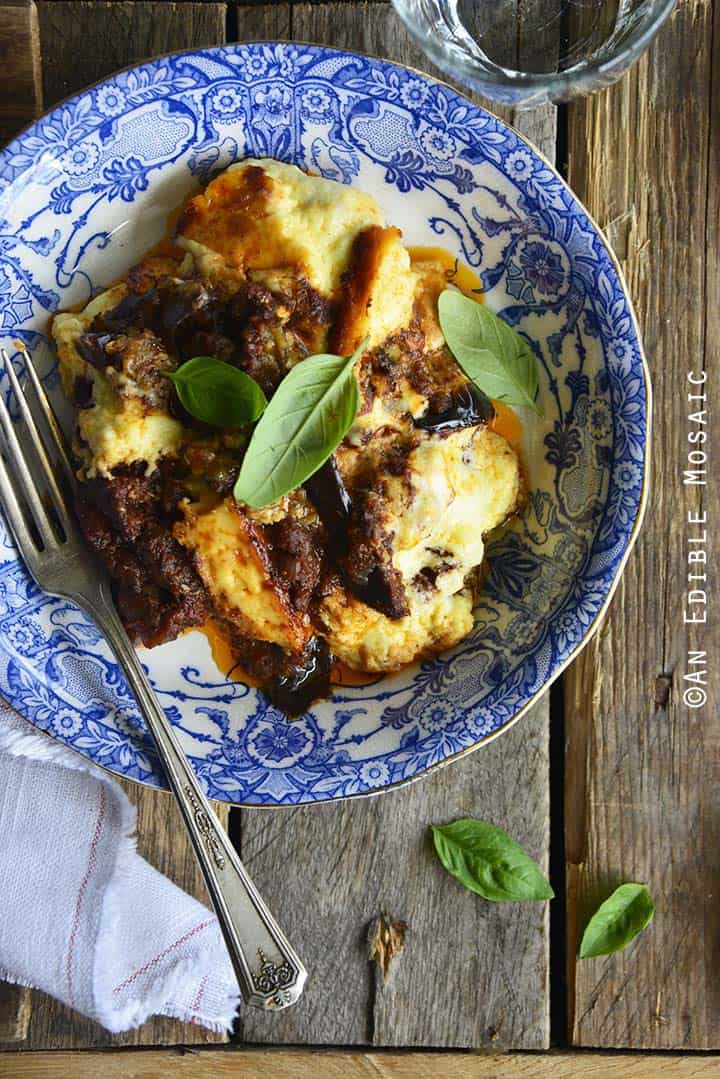 What is the Difference Between Lasagna and Moussaka?
Moussaka is widely accepted as a Greek dish; however, I've heard different things from different people regarding the origin of lasagna, some saying it's from Italy, others saying ancient Greece. Both moussaka and lasagna are layered casseroles, but lasagna is layers of pasta and moussaka is typically layers of eggplant or potato. Also, moussaka usually includes warm spices, such as cinnamon and allspice.
Additionally, the topping is different for moussaka and lasagna. Moussaka is made with some kind of white sauce (such as béchamel or mornay), while lasagna frequently is topped with a mixture of mozzarella, ricotta, and/or Parmesan cheeses. They are both delicious in their own right, but when you want to keep your carbs lower, moussaka is a good route to take.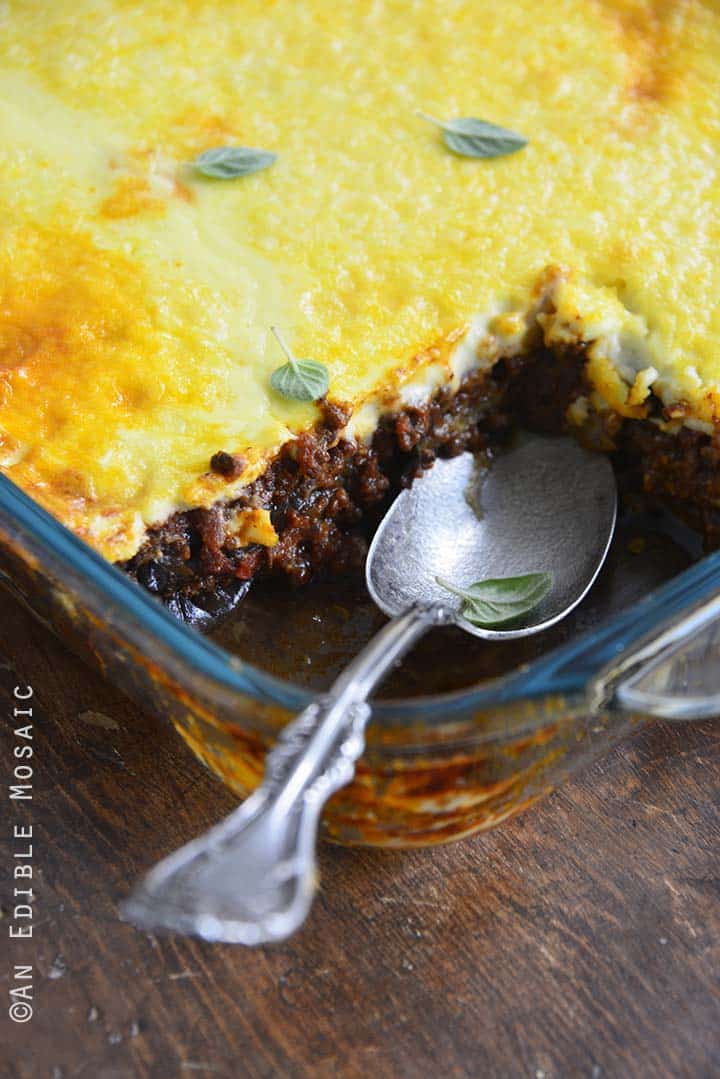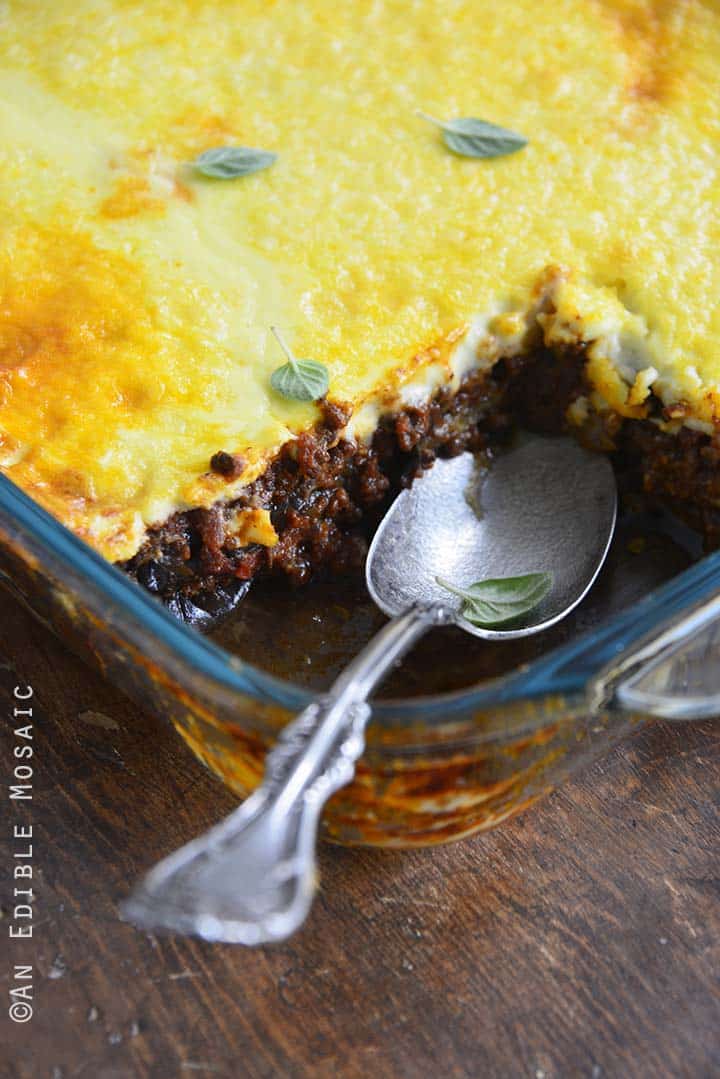 Different Ways to Make Moussaka
There are quite a few variations of this dish; some include potato, some have eggplant. Most recipes call for a cinnamon, black pepper, allspice-scented tomato-based meat sauce (frequently lamb, but sometimes beef). Quite a few versions feature a thick béchamel or mornay on top. Today I'm sharing my absolute favorite way to make moussaka.
Eggplant, Potato, and Other Vegetables in Moussaka
I like to use all eggplant instead of a mix of eggplant and potato, or other veggies (like zucchini) because it's such a great compliment to the other flavors.
Pro Tip: Whatever vegetable you use, make sure to cook it first! Otherwise, it will add to much water to the casserole.
Meat Sauce for Moussaka
For my meat sauce, I use beef because I've never been a big fan of lamb (by all means, use lamb if that's your preference though). I make a super easy sauce from scratch that literally only requires a little patience, but no specialized skill. I use a few classic spices, as well as a somewhat surprising herb mix (see below for more info), and I deglaze the pan with a fruity, full-bodied red wine, which adds another level of complexity to the dish.
The key to the complex flavor of this sauce lies in the fact that it needs to cook for a while (at least 2 hours), so the flavors can develop and the sauce can thicken. Give yourself enough time so you don't rush this step.
Pro Tip: You can make the meat sauce 2 to 3 days ahead of time and keep it in the fridge until you make the casserole.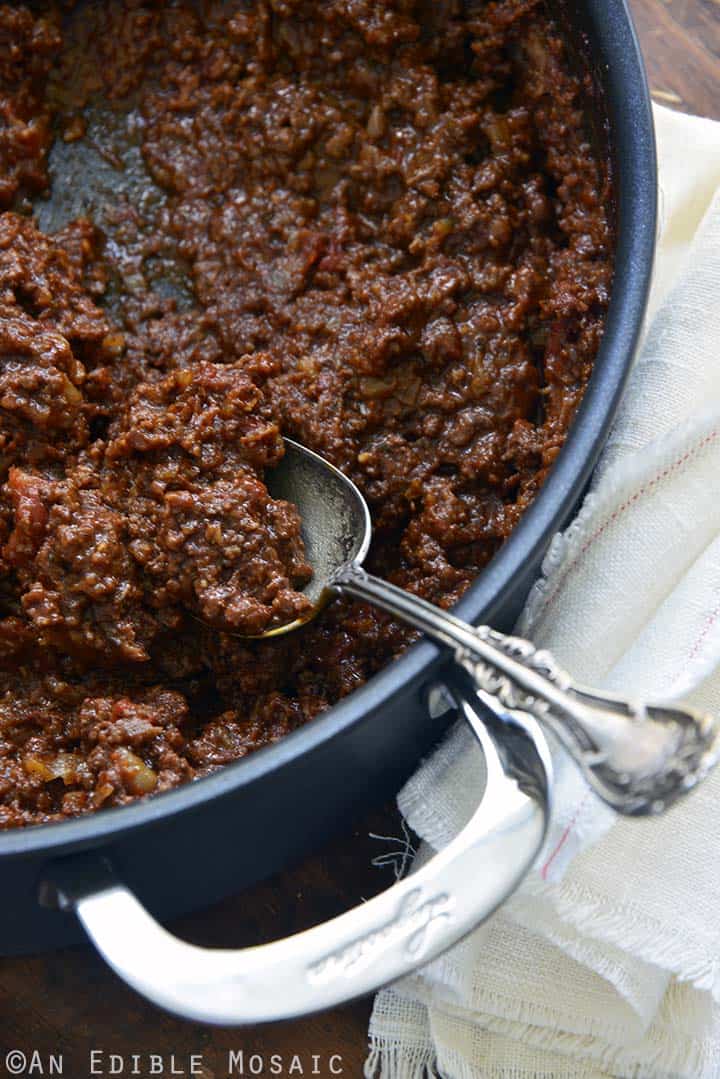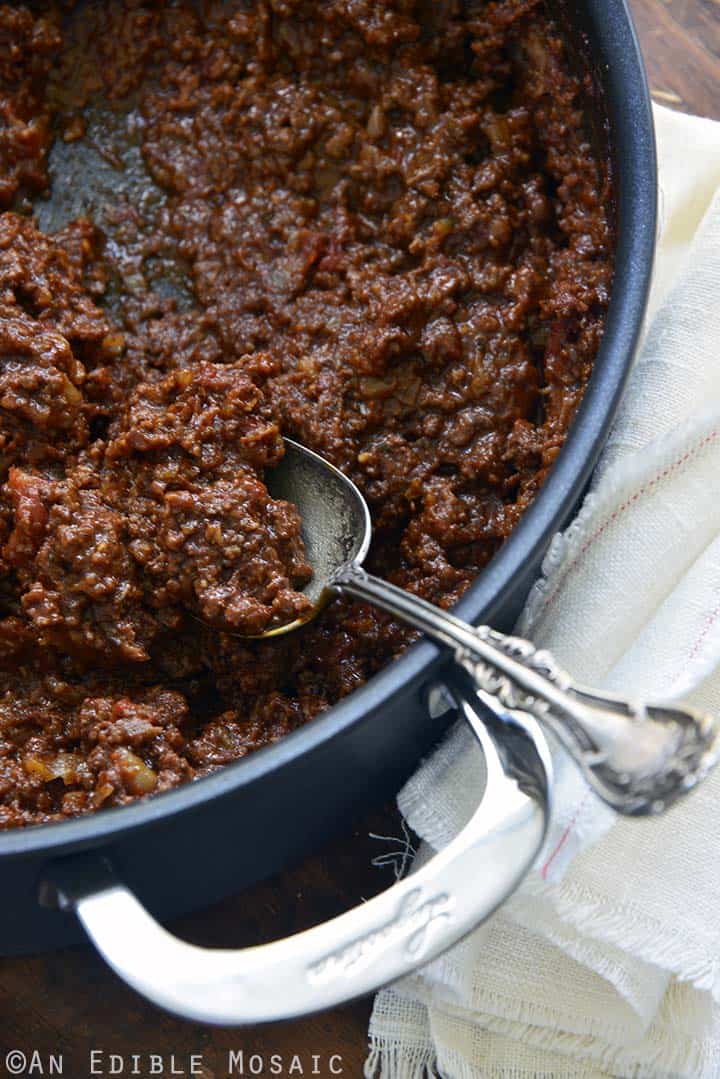 You'll need to cook the meat sauce until it's thick like this.
Spices in Moussaka
Of course I go with cinnamon, black pepper, and allspice, but what really takes my meat sauce to the next level is Herbes de Provence. This is a blend that (according to Wikipedia) typically contains savory, marjoram, rosemary, thyme, oregano, and sometimes lavender.
In the past I used to use just rosemary, thyme, and oregano to make Moussaka. However, one day when I found myself out of both fresh and dried, I found my little jar of Herbes de Provence. I realized that it has the three herbs I normally would use, and I thought why not give it a try. I haven't looked back since!
White Sauce
Béchamel sauce is one of the French mother sauces; it is milk thickened with a butter/flour mixture. If you add shredded cheese, it becomes mornay sauce. If you add egg and/or egg yolk, the sauce becomes more like a savory custard. Most commonly, I've seen béchamel sauce with egg yolk used as a topping for moussaka. To keep the carbs down, to top my moussaka I like to use more of a cheesy savory custard so there's no need for all-purpose flour.
More Low Carb Casserole Recipes: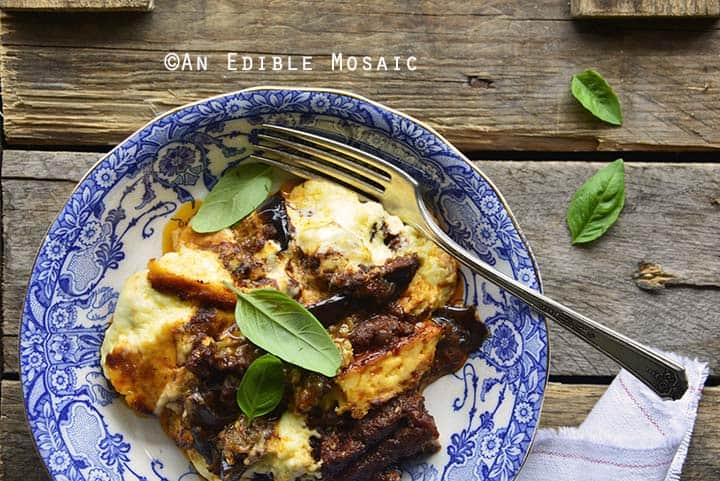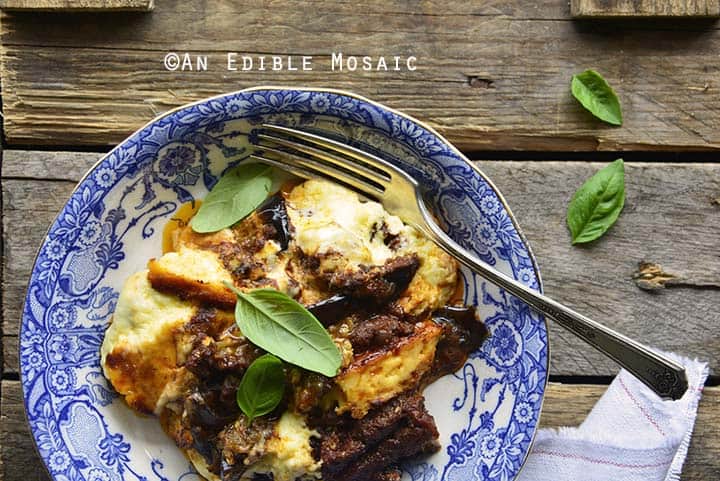 Did you make this recipe? Please rate it and leave a comment below because I love hearing from you! You can also tag @anediblemosaic on social media. To stay up-to-date FOLLOW ME on Instagram, Twitter, and Facebook. Xoxo, Faith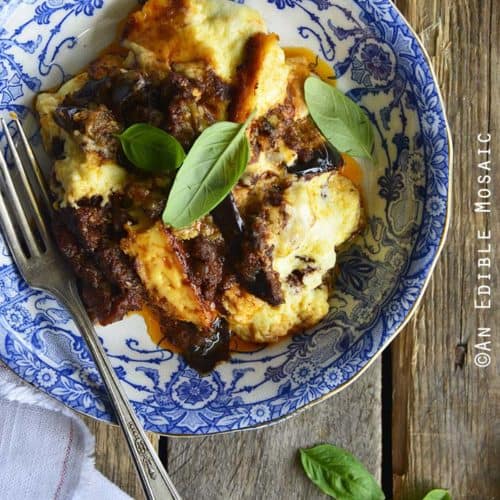 Low Carb Moussaka (Greek Beef Eggplant Casserole)
This gluten free Low Carb Moussaka (Greek Beef Eggplant Casserole) recipe has a couple non-traditional elements that make it truly special.
Ingredients
White Cheese Custard Sauce:
2

cups

heavy cream

¼

teaspoon

coarse sea salt

2

large

eggs

lightly beaten with the 2 large egg yolks

2

large

egg yolks

lightly beaten with the 2 large eggs

8

ounces

cream cheese

6

ounces

hard aged cheese

such as Gruyere, sharp white Cheddar, or a mixture, shredded
Optional:
A few fresh herbs

such as oregano or basil, for topping
Instructions
For the Meat Sauce:
Add the beef, onion, and garlic to a large, deep-sided skillet over high heat; cook (uncovered) until the meat is browned well, about 8 to 10 minutes, stirring occasionally. Add the wine and cook (uncovered) until the liquid is mostly evaporated off, stirring frequently. Add the diced tomatoes, tomato paste, Herbes de Provence, salt, cinnamon, allspice, black pepper, and water.

Bring up to a boil, and then cover the skillet, turn the heat down to simmer, and cook until it's a rich, thick sauce (see photo in the post above for how the meat sauce should look), stirring occasionally. It took me about 2 hours, and I uncovered the sauce for the last 30 minutes to help speed the process up a bit. Note that if you uncover the sauce you have to stir it quite a bit more frequently.
For the Eggplant (make this while the meat sauce is cooking):
Once the eggplant is sliced, sprinkle a little salt on each slice and place it in a colander in the sink; let it sit for 15 minutes. Rinse the eggplant under cool running water, gently wring out each slice, and arrange the slices in even layers on 2 large baking sheets. Drizzle the olive oil on top and use your hands to coat each slice. Sprinkle on a little black pepper.

Roast the eggplant in a 425F oven until the slices are tender and starting to turn golden, about 35 minutes, rotating the trays and flipping the slices over once halfway through.
For the White Cheese Custard Sauce (make this toward the end while the meat sauce is cooking):
Heat the cream and salt in a medium saucepan over medium-low heat until steaming. Beat the eggs and egg yolks together in a medium bow.. To temper the eggs, gradually whisk ½ cup of hot cream into the eggs, starting out with just a drop at a time, until the full ½ cup is incorporated. Turn the heat down to low; add the tempered egg mixture to the hot cream and heat until steaming. Whisk in the cream cheese until melted, and then and whisk in the shredded cheese a handful at a time until the sauce is smooth. Turn off the heat.
To Assemble and Cook the Casserole:
Preheat the oven to 375F. Spread half of the eggplant out in a 5-quart casserole dish and spread half of the meat mixture on top; repeat. Pour the sauce on top.

Bake until the sauce is set and starting to turn golden, about 35 to 45 minutes.

Let the casserole cool for 15 minutes before cutting and serving.
Faith's Tips
Net Carbs: 7g per serving
White Cheese Custard Sauce: Adapted from this recipe on New York Times Cooking.
What Kind of Cheese to Use: You could always go with a mix of Gruyere and sharp white Cheddar, but I like to use Cabot Alpine Cheddar because otherwise, I'd probably use a combination of Gruyere and sharp white cheddar to the get the flavor profile I'm going for. If you're not familiar with this cheese, it has a lovely nutty flavor, and at the same time is creamy-textured with a slight grana similar to Parmesan.
Make Ahead: You can make the meat sauce 2 to 3 days ahead of time and keep it in the fridge until you make the casserole.
Freezer Friendly: This casserole is freezer friendly! Once this casserole is cooked, I like to portion it into individual portions and freeze it like that so I can grab out a single serving whenever I need a quick meal. You can also freeze the entire casserole.
To Reheat the Whole Casserole: Thaw the casserole at room temperature overnight. Cover it with foil. Place it in an 350F oven until hot and bubbling throughout.
Nutrition
Nutrition Facts
Low Carb Moussaka (Greek Beef Eggplant Casserole)
Amount Per Serving
Calories 355
Calories from Fat 252
% Daily Value*
Fat 28g43%
Cholesterol 140mg47%
Sodium 512mg22%
Potassium 515mg15%
Carbohydrates 10g3%
Protein 16g32%
Vitamin A 964IU19%
Vitamin C 7mg8%
Calcium 149mg15%
Iron 2mg11%
* Percent Daily Values are based on a 2000 calorie diet.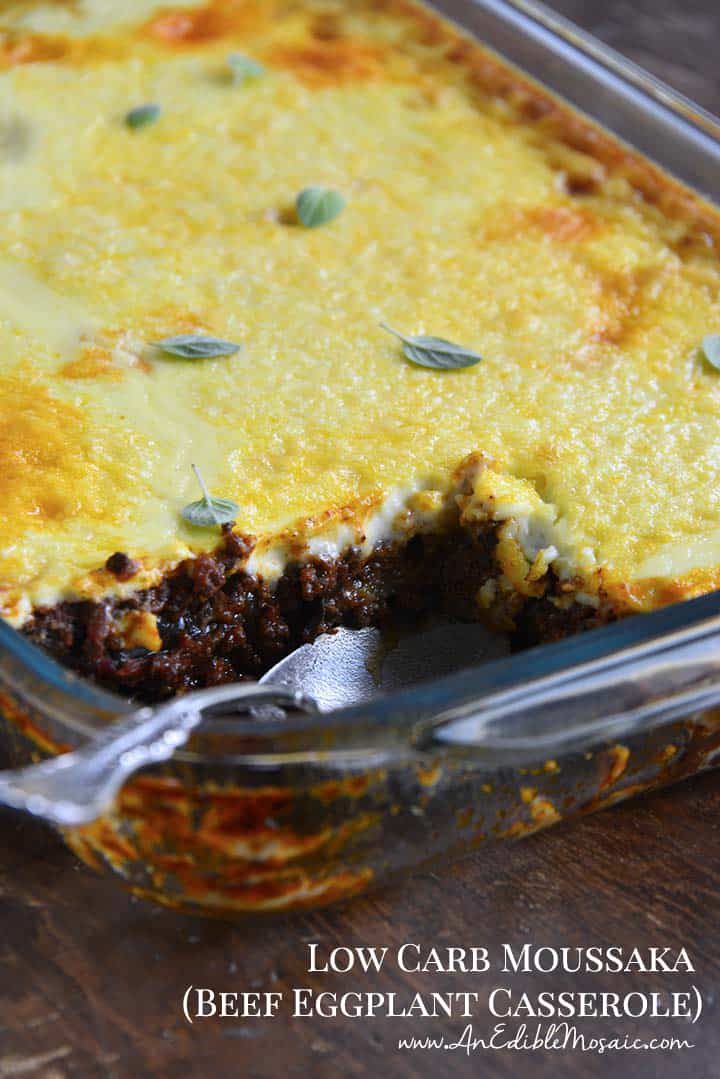 Disclosure: This post contains Amazon affiliate links to products I believe in, which means that even though it doesn't cost you anything extra, I will receive a small amount of money from the sale of these items. Thank you for helping to support An Edible Mosaic!