I know of a few characteristics of traditional New England fish chowder:  no tomatoes, no flour, and a light, delicately-flavored broth that's thickened only by potatoes and cream (or in this case, milk…just be sure to use whole milk, as low-fat milk may curdle and won't give it the thickness you're looking for).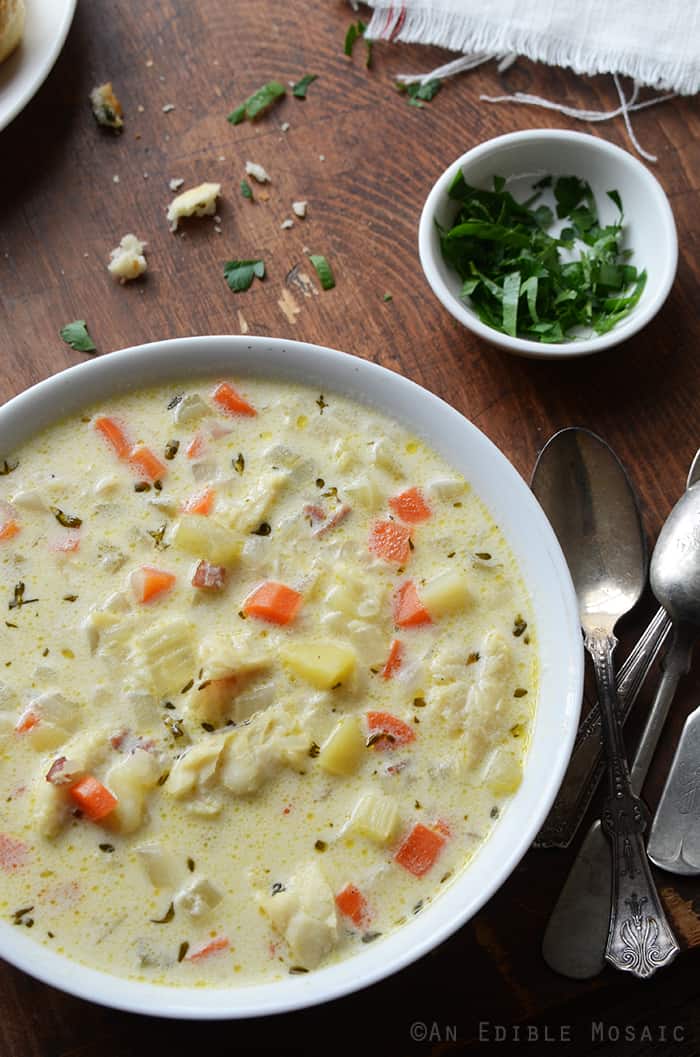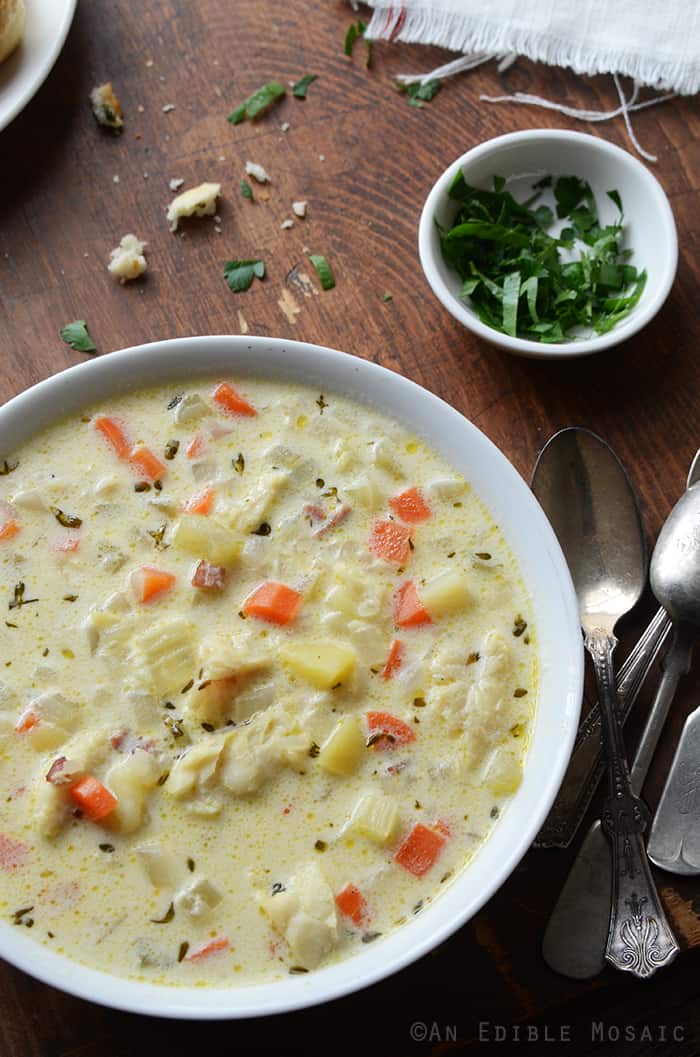 My version doesn't have tomatoes, but I like to add just a teensy bit of flour to give the broth a touch of body. Leave it out for a more authentic version, and to keep this soup gluten-free!
Many fish chowder recipes I've seen also have bacon or salt pork; I use turkey bacon in my version for a hint of smoky flavor.
For me, this dish is really all about the broth. There is a subtle sweetness from the milk and veggies, smokiness from the bacon, brightness from the thyme, and complexity from the white wine. I first made this soup about two weeks ago and just made it again yesterday because I was already craving it again. It's pure comfort food.
Recipe adapted from The Heart of New England's recipe for Authentic New England Fish Chowder.
New England Style Fish Chowder
Prep time:
Cook time:
Total time:
Ingredients
2 tablespoons unsalted butter
2 slices turkey bacon, chopped
1 medium onion, diced small
2 medium-large carrots, diced small
1 large stalk celery, diced small
2 large cloves garlic, minced
2 teaspoons minced fresh thyme
1½ teaspoons all-purpose flour (optional; see Note)
¾ cup dry white wine
1 bay leaf
¾ teaspoon coarse salt
⅛ teaspoon ground black pepper
1 medium waxy potato (such as Yukon Gold), peeled cut into about 1-inch cubes
1½ cups low-sodium fish stock (or 1½ cups water + ¼ teaspoon coarse salt)
1½ cups whole milk (or use a mix of milk and cream for a richer chowder)
1 lb fresh white fish fillet, bones and skin removed (such as Pacific cod, which is sustainable)
Instructions
Heat the butter in a 3-quart pot over medium heat; once melted, add the turkey bacon and sauté until starting to get crispy, about 3 minutes, stirring occasionally. Add the onion, carrot, and celery, and cook until starting to soften, about 5 minutes, stirring occasionally. Add the garlic and thyme and cook 30 seconds, then add the flour and cook 30 seconds more, stirring constantly.
Add the wine, bay leaf, salt, and pepper; turn the heat up to medium-high and cook until the liquid is reduced by ½ to ¾, about 3 to 5 minutes.
Add the potato and fish stock and let it come up to a boil (the veggies should be just barely covered with liquid). Turn the heat down to low, cover the pot, and simmer until the veggies are fork-tender, about 5 to 10 minutes.
Add the milk and whole fish fillets, making sure they are completely submerged in liquid (they will break into smaller pieces while cooking). Cover the pot and cook until the fish is cooked, about 10 minutes; don't stir until it's done. (Make sure it doesn't boil so the milk doesn't curdle; the fish is done when it is opaque and flakes easily with a fork.)
Taste the chowder and season with additional salt and pepper as desired.
Notes
To Reheat: Cook gently over low heat until warm; be sure not to boil, as this can cause the milk to curdle and the fish to completely disintegrate.

Gluten-Free Option: Omit the flour to keep this gluten-free.
Update (January 23, 2015): I made this dish again and perfected the recipe and snapped a few pictures, so I decided to update both the recipe and the photos in this post. As a point of comparison to show how much my photography has evolved, I kept one of my original photos (below).