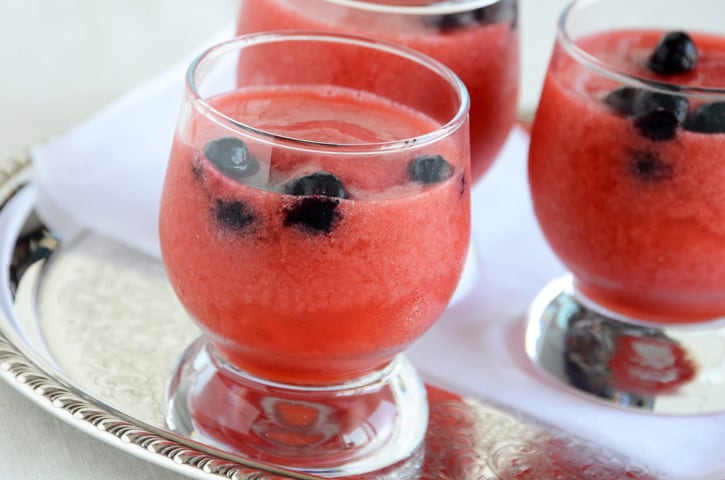 This fruity treat is like a cross between sorbet and lemonade. Not only will this drink rehydrate and recharge you, but it's full of antioxidants and anti-inflammatory phytonutrients (thanks to the strawberries and blueberries!), is a decent source of fiber, and has no added sugar. Basically, it's the ultimate refreshment for a hot day.
On a hot day we all know a drink like this will melt fast. To help keep it cool for a little longer, instead of using ice cubes I use a handful of frozen blueberries. It gives additional nutrition plus little berry bursts of flavor…a total win-win in my book.
I promised to share this recipe with you a while ago...sorry it took me so long but hopefully you'll agree it was worth the wait. I thought this would be the perfect time now that summer is here! :)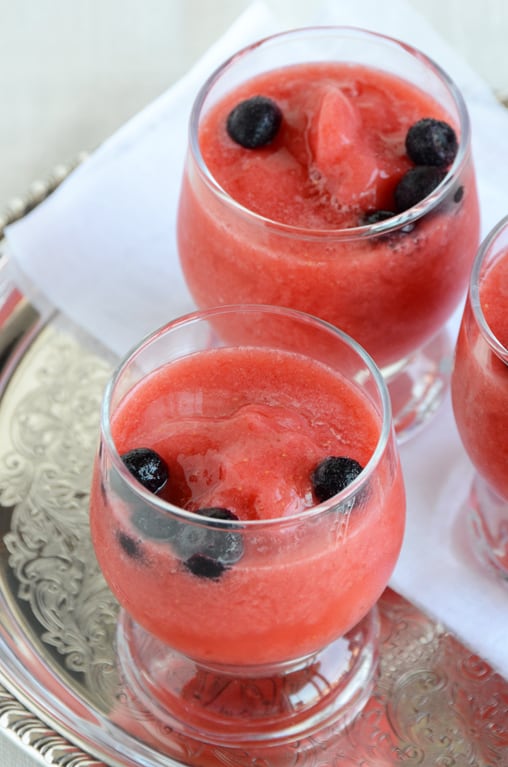 Sparkling Frozen Strawberry Lemonade
Serves 2 to 3
2 cups whole strawberries, frozen
1 ½ cups water
1 tablespoon fresh lemon juice
2 packets stevia or other sweetener (more or less to taste depending how sweet your fruit is)
Splash of sparkling water
A handful of frozen blueberries (for garnish)
Add the strawberries, water, lemon juice, and stevia into a blender and process until smooth. Transfer to individual glasses and add a splash of sparkling water. Top with frozen blueberries and serve.