Thank you to I Can't Believe It's Not Butter® for sponsoring this post. I am happy for the opportunity to share products that I enjoy with my readers, and I hope you like my recipe for Stovetop Tuscan Mac and Cheese.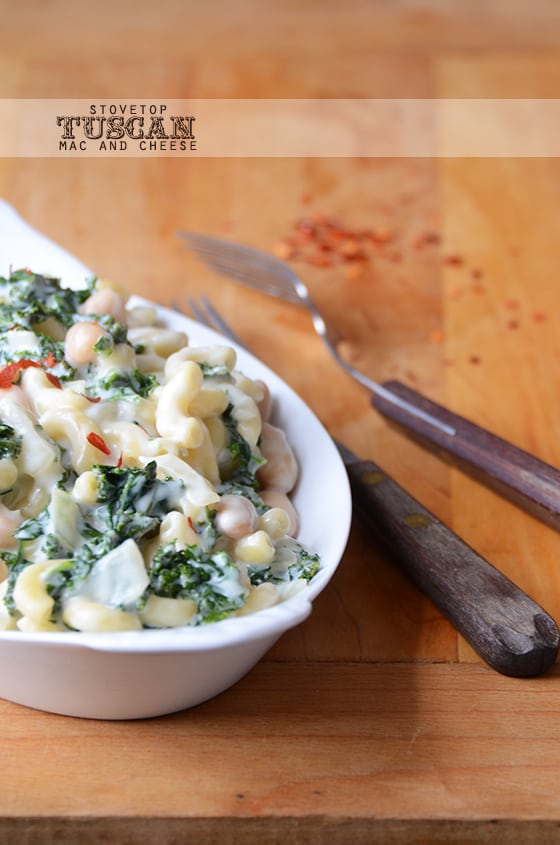 There are the obvious sources of mealtime inspiration, like cookbooks, food magazines, and food blogs. There are friends' recommendations, and remakes of restaurant favorites.
But how often do we really go to our moms for recipe advice? (I mean after college anyway…my mom was my cooking guru during undergrad!)
The other day my mom and I were talking about dinner recipes, which is something I'd like to share more frequently on my blog. She reminded me that so many home cooks need to get a nutritious meal on the table for their families in a hurry. Slow-cooker dishes or one-pot recipes work well, and so do stovetop recipes that can be whipped up in 30 minutes or less.
As she was talking, an idea took shape. Mac and cheese is always a crowd-pleaser. And what if there was such a thing as healthy mac and cheese? The idea isn't as far-fetched as you might think.
For starters, this mac and cheese is light on the pasta and heavy on the veggies. Even though there's only two ounces of pasta per serving, you'll be lucky if you can finish your serving because the veggies and beans bulk it up so much. This dish boasts an entire bunch of kale, along with nutritional powerhouses onion and garlic. White beans bump up the fiber and protein. And although it's a little lighter on the cheese than many other cheese sauces, this sauce is still rich and velvety thanks to a secret ingredient: cream cheese. If you haven't tried mac and cheese with cream cheese added, give it a try and I think you'll have a new favorite secret ingredient.
There's another winning ingredient in this dish; I recently tried I Can't Believe It's Not Butter!® Deliciously Simple™ spread for the first time. It's made with simple ingredients like non-fat yogurt and vegetable oil, and has a creamy, buttery taste. I used it instead of butter or oil to sauté the vegetables for my Stovetop Tuscan Mac and Cheese; I also used it instead of butter to make the roux (which is usually melted butter and flour) for my cheese sauce. I found Deliciously Simple™ spread to be really versatile; I also enjoy it spread on toast or bread so the flavor can really shine. You can find out more about Deliciously Simple™ spread here.
This recipe is pretty perfect for a healthier version of mac and cheese for a quick weeknight meal!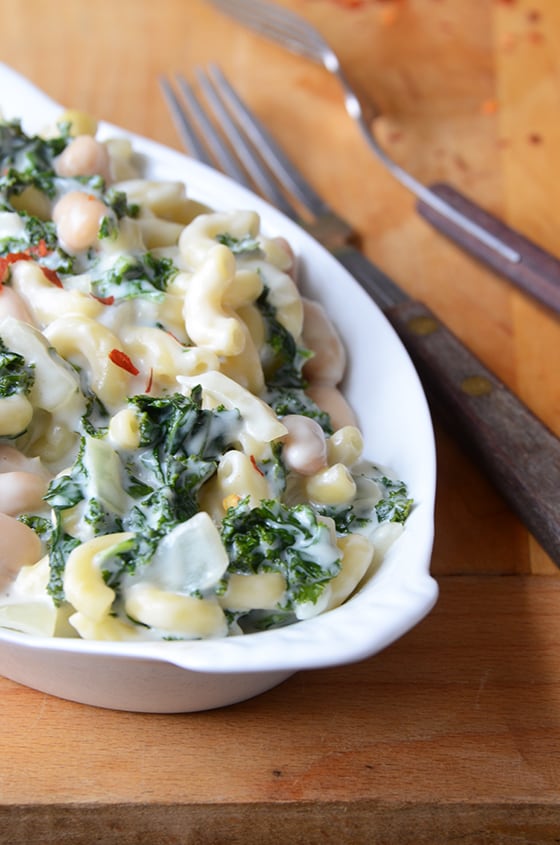 Stovetop Tuscan Mac and Cheese
Prep time:
Cook time:
Total time:
Ingredients
8 oz (230 g) elbow noodles (or any small pasta shape you like)
4 tablespoons I Can't Believe It's Not Butter!® Deliciously Simple™ spread, divided
1 bunch kale, washed, de-stemmed, and chopped
1 medium-large onion, chopped
2 large cloves garlic, crushed
1 teaspoon salt
½ teaspoon crushed red pepper flakes (more or less to taste), plus more for garnish if desired
¼ teaspoon ground black pepper
½ cup (120 ml) water
1 (15.5 oz/439 g) can no-salt-added cannellini beans (or other white beans), rinsed and drained
2 tablespoons all-purpose flour
1½ cups (355 ml) milk (I used 1%), warmed
4 oz (115 g) cream cheese (regular or low-fat)
4 oz (115 g) provolone cheese, shredded
Instructions
Cook the noodles to al dente according to the package directions; drain and set aside.
Meanwhile, heat 2 tablespoons of I Can't Believe It's Not Butter!® Deliciously Simple™ spread in a large, deep lidded skillet over medium-high heat. Add the kale, onion, garlic, salt, crushed red pepper flakes, black pepper, and water. Cover the skillet and cook until the onion is soft, the kale is wilted, and the water is evaporated, about 7 to 8 minutes, stirring occasionally. Add the beans during the last minute of cooking to warm them up. (You can add a splash more water if the pan starts to look too dry before the veggies are cooked.)
Add the remaining 2 tablespoons of I Can't Believe It's Not Butter!® Deliciously Simple™ spread to a medium saucepan over medium heat. Once melted, add whisk in the flour and cook 1 minute. Slowly whisk in the milk; once the milk is added, whisk in the cream cheese a little at a time. Bring to a simmer, then turn off the heat and whisk in the provolone cheese until smooth.
Stir the cheese sauce and pasta into the kale mixture; serve with additional crushed red pepper flakes on top if desired.
Notes
Baked Variation: If you have a few extra minutes and you want to make this into a quick baked mac and cheese, generously grease an 8 by 8-inch casserole dish with I Can't Believe It's Not Butter!® Deliciously Simple™ spread, and preheat the broiler. When the pasta is still hot, instead of serving it immediately, pour it into the prepared casserole dish and top it with an additional 2 oz (60 g) shredded provolone cheese and 2 tablespoons shredded parmesan cheese. Run it under the broiler until the cheese on top is melted and browned in spots; stay with it, because this can happen fast!
If you have a few extra minutes, you could make the Baked Variation!
Disclosure: This post was sponsored by I Can't Believe It's Not Butter® through their partnership with POPSUGAR. While I was compensated to write a post about I Can't Believe It's Not Butter® Deliciously Simple™, all opinions are my own.