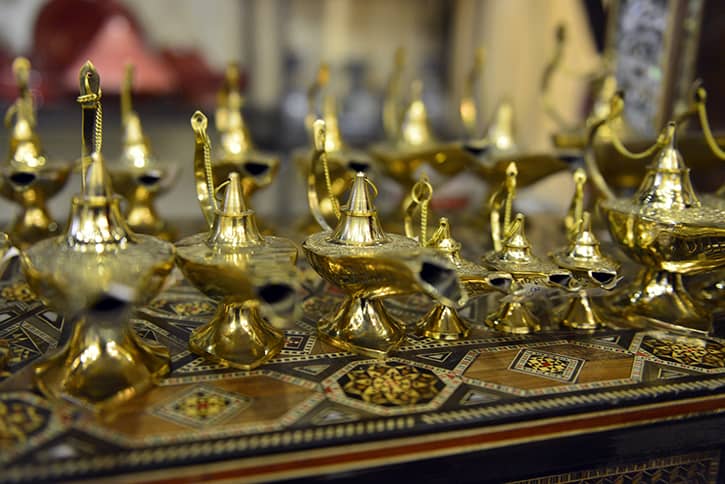 A couple weeks ago, we spent a long weekend in Dubai. Even though the weekend was a long one, I wish we had had triple the amount of time because if you want to cover most of what Dubai has to offer, you'll need 10 days at least.
Dubai is an absolutely gorgeous city. It's clean, well-designed, and modern. It has a completely different feel from the other cities in the Middle East that I've been to (Damascus – my favorite city in the world, Amman, and Kuwait City). Dubai has a decidedly Western feel. Actually, it feels more like a city in Florida or California than a city located in the heart of the Middle East. And in addition to the architecture, this feeling is intensified by the fact that everywhere you look you'll find American companies and restaurants.
I really enjoyed the ambiance and atmosphere in Dubai; it was amazing to find a little piece of home in a completely unexpected place. But I have to admit, with how bright, shiny, and new the city feels, it lacks the same old-world Middle Eastern intrigue, charm, and authenticity that I love about Damascus and even Amman. In fairness I have to say though, even though I was dying to go to see more of Dubai's heritage, we didn't make the trek over to the historical area or old souks around Dubai Creek…there just wasn't enough time!
We visited Burj Khalifa (the tallest building in the world), Burj al Arab (the building that's designed to look like a billowing sail), Jumeirah Beach, Souq Madinat Jumeirah (which is a lovely new market designed to look like an old-world market where they sell beautiful things like carpets, ceramics, metal wares, clothing, and jewelry from all over the world), the Dubai Mall (which boasts a beautiful aquarium and ice rink, as well as over 1,200 shops), and the Mall of the Emirates (which is home to the Middle East's first ski resort and snow park). We also enjoyed a nice bit of much needed leisure time, and took advantage of a few of our hotel's amenities like beautiful pools and full-service breakfast in-room.
A couple things we wanted to get to but just didn't have time (in addition to seeing the old souks on Dubai Creek) were Palm Islands (two man-made islands in the shape of palm trees), and a desert safari. Next time we will definitely be staying longer!
Another thing I want to mention about Dubai is the food, which is generally amazing quality. Like in New York City, you can find really good, authentic food from any cuisine around the world. The difference between Dubai and New York City is that New York never sleeps, but after midnight in Dubai, you'll have trouble finding a place that's open.
I feel like I have to talk for a brief moment about the weather. We were there the third week of April and temps were in the upper 90's with humidity. We currently live in Kuwait, so we're used to weather like that, but if you're not used to it, just be warned…it is hot!
All in all, it was a short, but lovely trip and I hope to visit Dubai again at some point.
Here are a few random pretty pictures from our trip that I thought you might enjoy (and if you're interested, I shared a few other pictures on my Instagram feed)…
Burj Khalifa (above)
Burj al Arab (above)