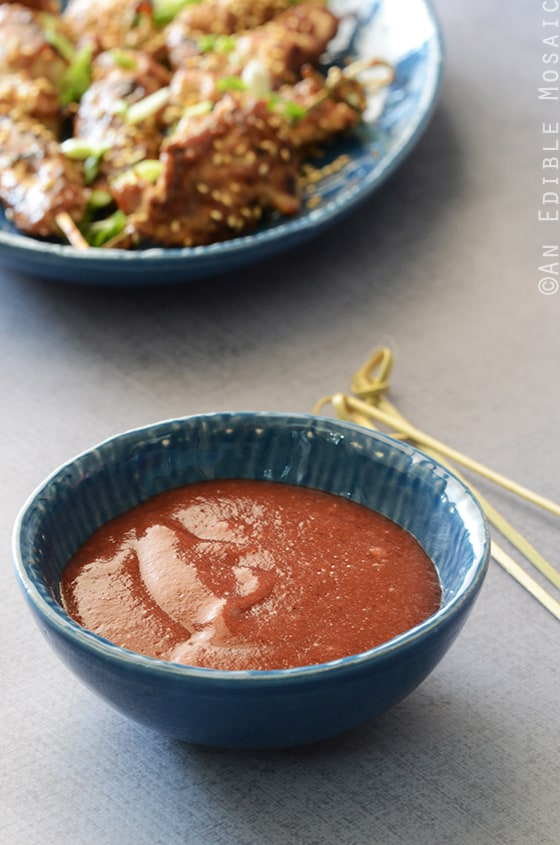 I got you some fruit – your favorite!, Mike said with a huge smile one day a while ago when he came home from work.
I ran over eagerly and peered into the large brown paper bag he was holding, wondering if it was housing apples, grapes, figs, or maybe even dragon fruit.
Plums?!, I asked, laughing and wondering when I had ever given him the idea that plums were my favorite fruit. Not wanting to seem ungrateful (and run the risk of eliminating such sweet surprise gifts of my "favorites" in the future), I thanked him sweetly.
And then I wondered how to set about using up a pretty huge bag of plums. I roasted a few (a few times), and then decided to get creative. Chinese plum sauce came to mind, and I set out to make a healthier version that wasn't quite so cloyingly sweet.
To make Plum Sauce Chicken Skewers (above), which are the easiest appetizer ever, brush plum sauce onto raw skewered chicken and broil until golden brown on both sides (flipping once) and fully cooked throughout (no pink inside). Serve the skewers with scallion and sesame seeds sprinkled on top.
My version of homemade plum sauce couldn't be easier to make, and if you're a condiment-loving girl like me, you'll be much happier dousing this much healthier homemade variety on whatever you like than the store-bought variety.
This makes a great sauce for stir-fry, and it's also great used as a bbq-sauce-style marinade or condiment for chicken. I've also used it as dressing for a cabbage-based Asian slaw, which was insanely delicious. So many uses, so few plums. ;)
Ingredients
1 lb (450 g) plums, washed, quartered, and pitted
3 tablespoons apple cider vinegar
3 tablespoons honey
2 tablespoons tamari sauce, coconut aminos, or soy sauce
2 large cloves garlic, minced
2 tablespoons fresh grated ginger
1/4 teaspoon sea salt
1/4 teaspoon crushed red pepper flakes
1/4 teaspoon ground black pepper
1/4 teaspoon ground cinnamon
1/8 teaspoon ground cloves
1/8 teaspoon ground star anise
Instructions
Add all ingredients to a medium saucepan over medium heat; cover the saucepan and cook until the plums are disintegrated, about 20 minutes, stirring occasionally.
Transfer to a blender or food processor and process until smooth. Taste and adjust seasonings as desired.
Cool to room temperature, then store in an airtight container in the fridge for up to 2 weeks.
Notes
To Make This Dish Paleo: Make sure you use coconut aminos.
http://www.anediblemosaic.com/chinese-inspired-plum-sauce-paleo/