Oh bloody hell!, I told my niece after told me she was in the mood for tacos again. (What is it with kids and tacos?)
And then I realized that our Harry Potter movie marathon had gone on for far too long, as evidenced by me using Ron's catch phrase again.
(Side Note: I'm not quite sure of the exact vernacular meaning of bloody hell, but gosh that phrase is catchy! Can anyone shed some light on what it actually means?)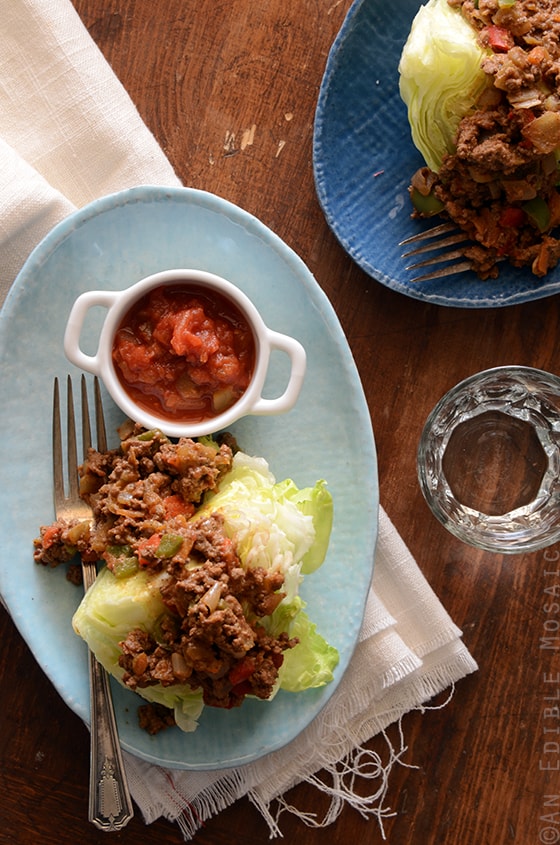 I was all but taco-ed out, so I decided to put a new spin on things; taco salad, but served wedge-style (like blue cheese wedge salad) instead of in a fried taco shell.
The meat mixture is full of veggies, but if you cut them small enough, I bet even the pickiest of eaters won't waste time picking them out. This meal is a fun one to serve with a topping bar: avocado, olives, salsa, and sliced scallions are a few goodies to keep it paleo, but of course you could also go with shredded cheese, sour cream, and crushed tortilla chips. And a drizzle of Ranch for the kiddos is always a hit.
So, three cheers for reinventing a classic favorite and keeping everyone happy with a fresh new spin on taco night!
Ingredients
2 tablespoons olive oil
1 lb (450 g) lean ground beef
1 large onion, diced
2 medium bell peppers (any color), seeded and diced
1 small carrot, peeled and shredded
4 large cloves garlic, minced
2 teaspoons chili powder
1 teaspoon ground cumin
1 teaspoon dried oregano
3/4 teaspoon salt
1/4 teaspoon ground black pepper
1 bay leaf
1/2 cup tomato salsa (homemade or store-bought), plus more for serving if desired
1 1/2 teaspoons Worcestershire sauce (see Note below)
2 tablespoons nutritional yeast (see Note below)
2 large heads Iceberg lettuce, outer leaves removed if wilted and each head cut in quarters
Instructions
Heat the oil in a large, deep skillet over medium-high heat. Add the beef, onion, bell pepper, carrot, garlic, chili powder, cumin, oregano, salt, black pepper, and bay leaf, and cook (covered) until the meat is browned and the vegetables are tender, about 12 to 15 minutes, stirring occasionally.
Add the salsa, Worcestershire sauce, nutritional yeast, and cook (uncovered) 2 minutes, stirring constantly.
To serve, put 2 wedges of lettuce (1/2 head total) onto a plate and top with the meat mixture. Serve with additional salsa on the side if desired.
Notes
Worcestershire Sauce: This ingredient is NOT paleo; however, I know many people who follow an 80/20 paleo lifestyle and still use Worcestershire sauce. If you follow a strict paleo lifestyle and don't use Worcestershire, omit it and instead use 1 teaspoon coconut aminos and 1 teaspoon apple cider vinegar.
Nutritional Yeast: There is much debate as to whether this product is paleo, so use it at your own discretion if you follow a strict paleo lifestyle. It is highly nutritional; it is high in protein, high in fiber, and adds a nice dose of B vitamins, among other things. I use it in this recipe to add a slightly cheesy, nutty flavor.
http://www.anediblemosaic.com/vegetable-beef-taco-wedge-salad-paleo/