Thank you to Fiji Water for sponsoring this post. I have been working on writing up a few of my favorite places to eat in Kuwait for a while now, and I couldn't be more excited to share them with my readers.
Like so many who enjoy traveling, my favorite way to experience a culture is to dive head-first into their cuisine. Not only do you get the obvious benefit of trying new food and expanding your palate, but you also get to experience the customs that are part of the cuisine.
For example, did you know that guests in the Middle East are traditionally served several kinds of meat dishes? The purpose of this goes past the obvious reason of making sure the guest has variety and can choose a dish that he or she likes; it is also a way for the host to show appreciation to the guest who is honoring the host with a visit. I think it's a really lovely tradition. And for another of my favorite food traditions in the Middle East, if you have my cookbook, you probably already know what serving coffee to a guest at the end of a visit means in Jordan: it signifies the end of a visit. Basically, it is the host's polite way of asking the guests to leave without having to actually ask.
Since Mike and I moved to Kuwait last August, I've had an incredible time exploring the country through its cuisine. The wonderful thing about Kuwait is that I've found it to be a little bit like New York City in that you can easily find just about any kind of cuisine (and I mean good quality food) you're looking for. Within short walking distance from our apartment we have favorite Japanese, Thai, Indian, and Iranian restaurants (not to mention about 20 American restaurants, but unless we're craving a great steak or burger, we tend to gravitate toward international cuisine).
In the short time we've been here, we already know exactly where we want to go when we're in a certain mood or want to satisfy a certain craving. Here are five of our favorite restaurants and markets in Kuwait…
#1: Souk Al Mubarakiya. (Located between Mubarak Al Kabir, Ahmad Al Jaber, and Ali Al Salem Streets in Kuwait City.) The old markets sell just about anything and everything you can imagine; to name just a few: clothes, scarves, shoes, perfumes, cosmetics, fabrics, Persian carpets, traditional Kuwaiti décor, kitchen wares, antiques, fresh produce, fresh seafood, spices, olives, tea, coffee, nuts, etc. There are also several food stands and a restaurant area with seating.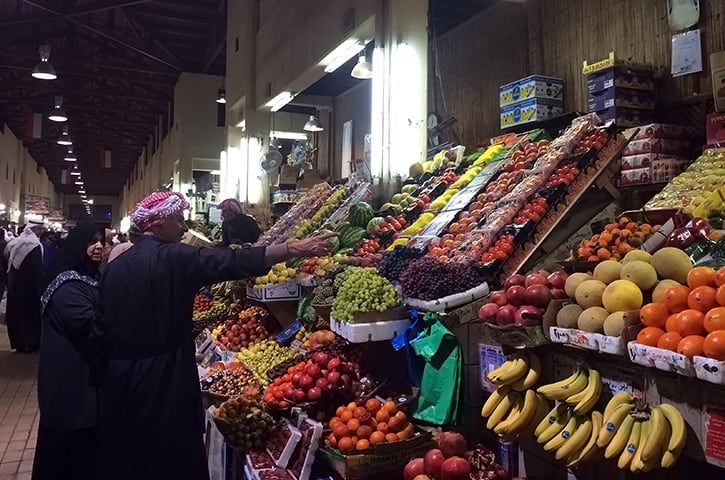 Fresh Produce Stand at Souk Al Mubarakiya
There are a few things I never miss on a trip to Mubarakiya. The first is the grocery area; they offer a huge variety of amazingly fresh produce at good prices. (I found the best figs I've ever had there.)
Some of the Goods Available in Bait Ahmed
Barazek Cookies in Bait Ahmed
I never miss Bait Ahmed (meaning "Ahmed's House" in Arabic), which is a boutique shop selling vintage-style housewares and décor, along with a few chic accessory pieces. They also have a super small café serving coffee and sweets, including the best barazek (crunchy sesame-pistachio cookies) ever. I usually can't resist picking up a small box of barazek to take home for when guests pop over for tea.
Al Fakhira Mill
We always buy our Turkish coffee, nuts, and dried fruits (as well as some specialty items like culinary-grade dried rose buds and apricot leather) from a shop called Al Fakhira Mill. The Turkish coffee is the best we've found in Kuwait and Mike, who is incredibly picky about his nuts, adores their nuts. The customer service is fabulous too, and they offer you samples of anything you want as you wait in line.
Koshari
And if we're hungry (which we usually are after a couple hours of walking around the Souk), we stop in the seated outdoor restaurant area. Mike always orders a grilled meat platter and I always order koshari, which is a classic Egyptian street food dish of rice, noodles, lentils, chickpeas, and fried onions served with hot, spicy tomato sauce to spoon on top.
If you come to Kuwait, don't leave before visiting Souk Al Mubarakiya – you won't regret a trip there and odds are you'll probably want to go back!
#2: Naranj. (There are two locations: the original and larger location is in Olympia Towers on Salem Al Mubarak Street in Salmiya, and the newer location is in the Hilton Hotel in Fahaheel.) This is the lovely Syrian restaurant that I gushed about in this post. The atmosphere is gorgeous; stepping inside is like stepping into a Syrian courtyard and it sort-of takes your breath away a little.
They have authentic Levantine dishes like fattoush (herb and purslane salad with flatbread croutons and tangy dressing), tabbouleh (parsley salad with bulgur wheat), fried kibbeh (torpedo-shaped meat-stuffed bulgur wheat), sheesh barak (little meat dumplings in a yogurt-based stew), and stuffed vegetables like kousa mahshi (which is a vegetable similar to zucchini that's stuffed with a mix of spiced meat and rice). Additionally, they have a dessert buffet with classic treats like harissa (sticky sweet semolina cake), ma'amoul (cookies filled with things like dates, walnuts, or pistachios), and graibeh (orange blossom-scented shortbread cookies), and they also offer a large drink menu with fresh juices and several types of coffee.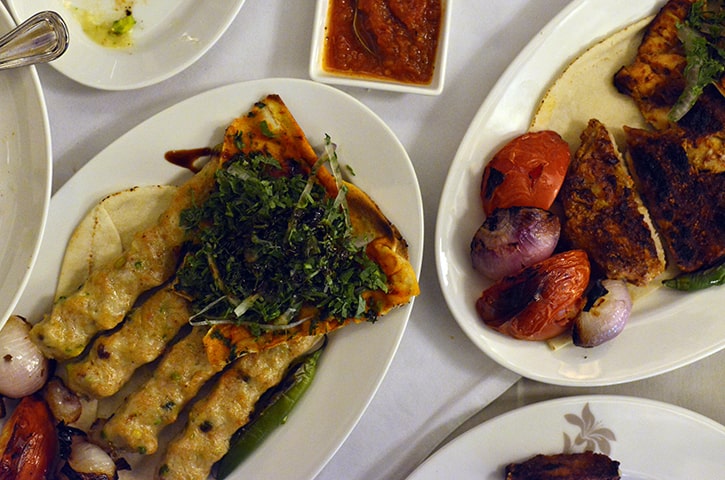 Chicken Kebabs at Naranj
My favorite dishes are the tabbouleh (which is perfectly fresh, grassy, and tangy as great tabbouleh should be) and the chicken kebabs with ground nuts (which are incredibly moist and flavorful). Mike adores their hummus and grilled half chicken. Outside of my mother-in-law's kitchen, I haven't had better Syrian food.
In addition to ambiance and high quality food, the service at Naranj is impeccable: they're kind, courteous, informative, and very adept at their work – which takes some doing, as they are always busy. They are a fabulous example of Syrian hospitality.
If you're in Kuwait, I would highly recommend an evening at Naranj.
#3: Fresh Fish Markets. (We typically go to the fish market in Al Kout, which is located in Fahaheel, but there is also one in Souk Al Mubarakiya.) Please note that I'm talking about the markets that are chock full of fresh seafood, not to be confused with the restaurant called Fish Market. (Side Note: Fish Market Restaurant does have great seafood though!)
You won't find a bigger variety of fresh seafood than the fresh fish markets, plus the prices are reasonable and the vendors are open to haggling. I typically buy a kilo of fresh shrimp for 2KD and they clean it in about 10 minutes for an extra 1KD (when it would have taken me about an hour and a half at home!).
#4: Thakkara. (Located next to Lu&Lu Center in Fahaheel.) This restaurant features authentic food from the Malabar Coast of India, and while the restaurant's décor isn't anything to look at aesthetically, it is a hidden gem when it comes to quality. The service is good, but take note that they prepare most foods fresh so your order may take a while longer to arrive than at most places (or they may not have the dish you want available on a particular day). Also note that on the day we went, there was only one waiter (out of about five) who spoke English, so it's hit or miss as to whether or not you'll be able to communicate with ease if you only speak English.
Fish Curry Meal at Thakkara for just 1.250KD!
But their seafood dishes in particular are wonderful (including the fried fish and fish mango curry), and when it comes to getting the best quality for your money, I haven't found a better place. They offer a Fish Curry Meal that comes with fried fish, rice, and a variety of side dishes for 1.250KD (about $4.40); you can even substitute chicken curry instead of fish if you prefer. If you're hungry in Fahaheel and you like Indian food, this place is a must-try.
#5: Scoop A Cone. (Locations can be found here.) Admittedly, the name is a little corny, but the quality is reliably great from this 100% Kuwaiti-owned gelato shop; if you like smooth, creamy gelato in fun flavors, you'll love this place. And with summer's heat right around the corner (summer comes early and stays late in Kuwait!), a go-to place for reliably delicious frozen treats is a must-have. As a plus, if you're only in the mood for a tiny little sweet treat, they sell adorable single-scoop "bonbons" and "mini cones".
Tiny Treats at Scoop A Cone
Other than that, I recommend exploring the backstreets in your area to see what local restaurants are nearby; you'll probably find a variety of international cuisines within walking distance. Another tip is to ask around and find out where the locals eat; there you're likely to find consistently good food for a more reasonable price than what is available from mainstream restaurants. Some of the backstreet restaurants in my area don't even have a name, just an "open" sign in the front window; those are places I can't resist going into though, and they're usually the places that serve authentic, home-cooked-style meals for a fraction of what they'd cost at a big-name restaurant.
Here are a few other places I recommend checking out in Kuwait…
If you live in Kuwait or have visited here, what are some of your must-visit places?
Show us your favorite spots to eat, stay, and play in your hometown and win a getaway to any of the US cities featured in Earth's Finest City Guide! To participate, just upload an image of your favorite spot in your hometown to Twitter or Instagram with hashtag #myhometownguide and tell us where you live and what makes the image special, and you will automatically be entered to win.
Disclosure: This post is sponsored by Fiji Water; as always, opinions stated are my own. This post contains Amazon affiliate links to products I believe in, which means that even though it doesn't cost you anything extra, I will receive a small amount of money from the sale of these items, which helps me keep this site alive – thank you for helping to support An Edible Mosaic!